Overview
Rome Business School's Online Master in Political Marketing and Communication is aimed at providing the knowledge and abilities necessary to effectively and professionally manage the communication and marketing processes through marketing and communication techniques that support political campaigns, political branding, political events, and any type of political activity. The program delivers an intensive and all-encompassing training aimed to produce professional figures who can skilfully work in every environment and successfully structure campaigns and strategies for institutions, companies, organizations and political parties.
In addition, being this master in online version, you can have a quality learning anywhere! We have more than 10 years in online learning education and we are member of Grupo Planeta deAgostini, leader in providing programs in online mode, our "distance" courses offer all the contents of classroom learning, in order to use a complete and professionalizing experience.
The Reasons Why
Our online version of the master allows you to study and learn content directly from your home or from anywhere else. Our teachers are experts in distance teaching and use the interactive synchronous methods typical of participative class lessons. You can get all the advantages to be part of an interactive class with lecturers and classmates, easily following lessons from anywhere else. Our online learning is also available in an asynchronous mode to also give the possibility to those who can't attend lessons to watch the content and learn in an asynchronous way.
The Bootcamp in Rome for International Business Leaders
Rome Business School offers you the opportunity to hone your skills and enrich your knowledge on entrepreneurship, innovation and other key topics in the world of management by taking part in our International Bootcamp in Rome which, only for online students, is included in the tuition fee! This bootcamp is designed to train participants to manage businesses situations on a global scale, international business projects and crosscultural communication, all with a learningby-doing methodology based on working with real cases and scenarios, with the support of international mentors who share their insight on global relations. In addition, this experience is an opportunity for exposure among international leading companies (Enel, Fendi, Jaguar Land Rover, IBM and many more) and a professional environment to boost your career.
Soft skills are the 'secret key' of a well-managed workplace and progressive career path. Soft skills are personal attributes that can affect relationships, communication, and interaction with others and are crucial for business success and effective leadership, in this high-tech world in which we live. With the Soft Skills Program, we offer you the opportunity to develop the soft skills necessary for your personal and professional growth. The Self Growth Program is optional and is structured as follows: 10 hours in total for 5 interactive and self-reflective soft skills courses (Certificate will be provided upon completion of the program):
Emotional Intelligence
Public Speaking for Business
Time, Stress & Self-Management
Cross Cultural Communication
Conflict, Problem Solving & Negotiations
Our skilled and professional Career Services Team provides our attendants with a personalized Career Path specifically designed to shape your professional profile in order to become a competitive figure in the actual working environment.  Join our online activities, like workshops, webinars, company meetings focusing on the valuable topic of job seeking and career networking, individual career counseling meetings! Thanks to our worldwide network of partners, Rome Business School can provide you with access to a wide range of internship opportunities. These and more invaluable benefits are at your disposal to boost your career.
At Rome Business School we have solid partnerships in place with several globally renowned leading companies, such as FAO, Lega Ambiente, ARTS Media, Spencer & Lewis, Palazzo Chigi and many more. To ensure our students can build a strong professional network, we constantly organize workshop, meetings, visits, events and guest lectures with representatives from elite business ecosystems, encouraging interaction between leading professionals and the students, and facilitating the learning process. Obviously, all these activities are accessible to our students online, thanks to real-time calls and videos.
Online learning allows easier training thanks to audio lessons, videos and lecture notes from all disciplines for a better understanding of the contents. Interactive videos, learning test tools and many other multimedia supports will allow you to better understand the course content and facilitate the assimilation of the concepts.

Structure
The Online format of Rome Business School's Master Political Marketing and Communication is structured to provide participants with a though preparation for the Political and electoral communication sector and crucial aspects of other related fields, starting with a wide overview of the broader management world and then proceeding to analyze all the specific subjects and aspects of Political communication development and management, as well as providing an in-depth insight of marketing and communication and their application to politics, its trends and best practices, as well as how they can be successful among the masses.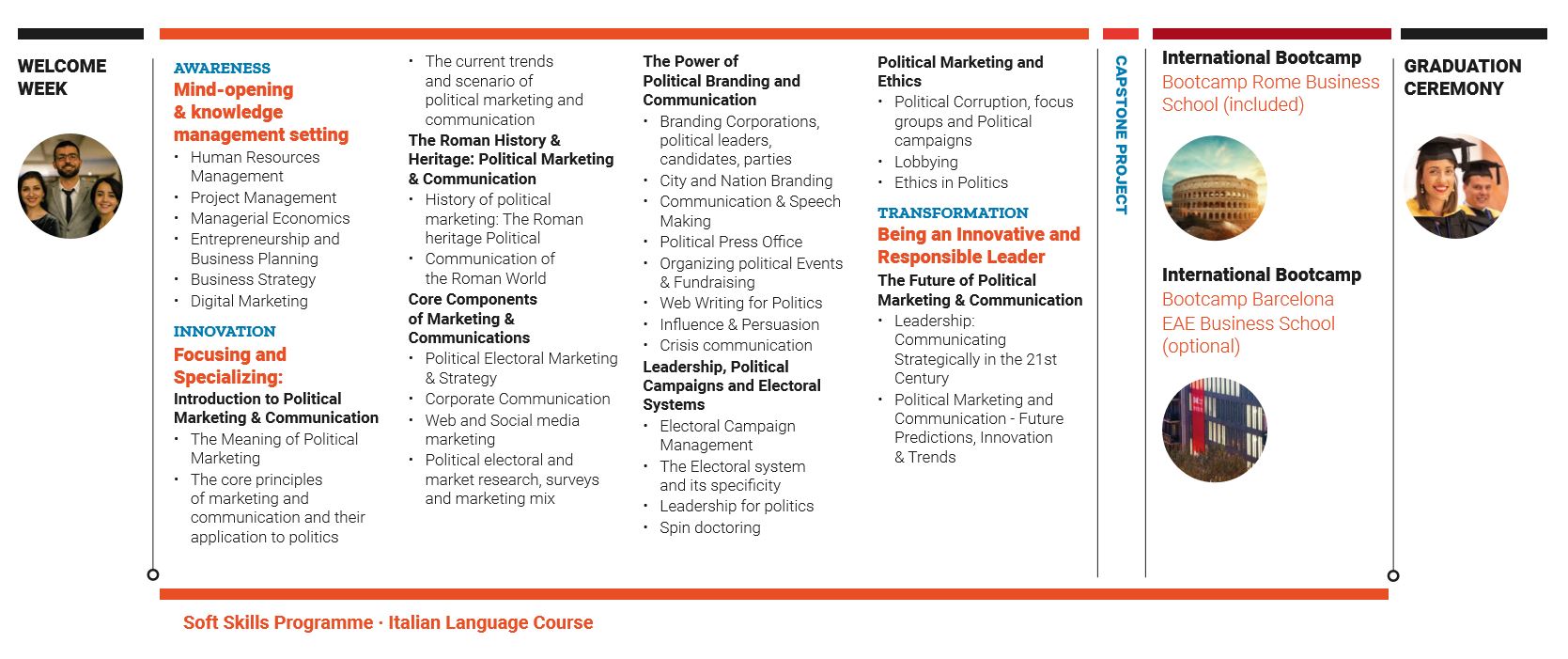 Capstone Project:  Management Plan
Teamwork project with a scope to develop a Report that solves a political marketing problem or work on an opportunity in the area of Political Marketing & Communication of an existing political agency, institution, electoral campaign, political candidate etc. All teams are guided from the initial phase of the project.
After the completion of the capstone project, students should be able to:
Think critically
Implement creative solutions and solve managerial problems
Apply and connect theory with practice
Communicate and present business reports/ideas more effectively
Carry out business research and business analysis
Demonstrate collaborative leadership skills
Work effectively in teams
Communicate cross culturally and make compromises for a common goal
Set goals and implement projects effectively
Methodology
The Master will be taught through interactive lectures, case study analysis, in-class exercises, discussions, roleplays, teamwork exercises, video discussions, business analysis and student presentation sessions.
Case studies will be utilized to engender discussion and illustrate real business and communication issues. Students will be encouraged to read widely and engage in discussion and debate. The didactic methodology is based on action learning, through which teachers implement a learner-centered approach, engage students and provide activities which allow students to apply the acquired knowledge. All teachers use active learning methods in class, which are also suitable for interactively engaging distance learning students.
Faculty
Rome Business School's Online Master in Political and Communication is given by highly selected international university professors, entrepreneurs, consultants, industry experts, trainers and business managers, drawn from a variety of operational and professional fields, from advertising to sales, from entrepreneurship to digital marketing.  The teaching approach is aimed at the acquisition of know-how, in order to transfer truly useful competencies for the attendees' professional development.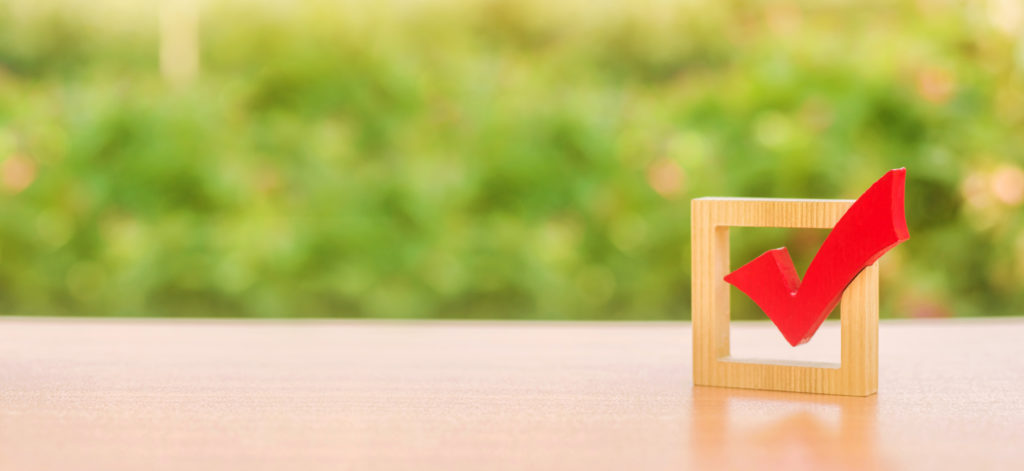 ALESSIO POSTIGLIONE – Alessio Postiglione is a journalist, political adviser and political communications specialist. He has worked as a policy adviser of former 1st Vice President of the European Parliament and current president of the S&D group Gianni Pittella; he served for 6 years as a campaign manager and social media specialist/press secretary to Luigi de Magistris, both in the capacity as Mayor of Naples and Member of the European Parliament, as staffer of his cabinet, from 2010 to 2016. Alessio then became a political adviser for Obiettivo Italia, a think tank led by Italian MPs Gianfranco Librandi and Forza Europa, a political movement led by Benedetto Della Vedova, currently Italian Under-Secretary of State for Foreign Affairs. Alessio has directed and managed many political campaigns, including the two mayoral elections of Luigi de Magistris (2011, 2016) and the national campaign of Rivoluzione Civile(2013). He has also held the position of editor-in-chief of "Napoli in Comune", the house organ of the Comunedi Napoli. His latest book is "Sahara, desertodi mafiee jihad", which he publicly discussed at the United Nations, New York, 4th Commission, in 2017.
ALDO TORCHIARO – Ph.D. Candidate in Political Communication, professional journalist since 15 years, he has been Editor-in-chief of magazine sand tv anchorman for national tv channels. He works on new media, social media, campaigning and lobbying for politics, as Head of media relations and external relations for public bodies, political parties and foundations. Currently working as a Senior Media Relations Manager at Spencer & Lewis in Rome and has worked as well as a Media Relations Officer at DOL. He has published papers with Rubbettino, Ebook, etc.
VALERIO MANCINI- Expert in international relations with experience in the development and management of several projects related to the transnational crime prevention, fight against terrorism and drug trafficking with international organizations, in particular with the United Nations (UNODC and UNICRI) and the OECD. He worked in Italian diplomatic missions abroad, as a consultant/project manager for the development of social projects related to crime prevention in Latin America, as export manager for public and private sector and as a university assistant. He worked as an Operational Support Officer at the MAOC (N), The Maritime Analysis and Operations Centre – Narcotics based in Lisbon. He was Secretary General of the association BluAction.org (linked with the UN SDGs) and at the same time collaborated with various research institutes in Italy and abroad and worked as a reporter for the Colombian newspaper "El Espectador". He is author of several articles and scientific publications in Italy and abroad. He is reporter for the Colombian Radio network "Un Analisis" (Universidad Nacional de Colombia), export manager/consultant for Italian private companies and International development advisor for the International Academy for Security and Defense Mastery".
STEFANO ORIGLIA – Stefano Origlia, 1980, is an Italian senior consultant with more than a decade spent in the fields of political consulting and public affairs. His know-how ranges from the design and management of old-media campaigns and political branding operations to the building of large motivated communities through traditional and digital tools. During his career, he has provided strategic consultancy to a number of candidates to local elections, elected officials, members of the Italian and the European Parliament, parties, as well as to heads of trade organizations all over the country. Among the client he worked for, he can boast the Lombardia and Piemonte Regional Governments, the Province of Milan and the Pisa Municipality, along with a number of Confindustria associations of local businesses. During the past two years, he served as strategic advisor for the center-left candidate for Governor of Campania Vincenzo De Luca (2015) and was hired as campaign manager of Beppe Sala, the center-left runner for Mayor of Milan (2016). In both campaigns he cooperated with Quorum Sas. In November 2015 he was invited as aspeakertothe48th World Conference of the IAPC (International Association of Political Consultans) in Mexico City.
Career Services
With our help, you can create your career strategy via a journey of self-reflection, exploration, and achievement. This program is designed to help you build a solid path towards a succesful career and professional future as well as to find opportunities in line with your ambitions and expectations. In particular, the school offers the following services to the enrolled students:
Individual Career Counselling Meeting
Rome Business School's Official Career Portal
Professional Workshops
Entrepreneurial webinars
Rome Business School's Talent Focus
Rome Business School supports its students even beyond the academic environment, providing them with guidance and assistance in developing a strong professional profile that reflects the most sought competencies in the current job market.
Thanks to the commitment of our students and the continuous work of our assistance service, we have achieved important results in terms of employment and achievement of the aspirations of the individual participants in our courses.
In particular, according to the most recent statistics:
38% of our students have pursued an international career;
43% of our students have obtained a job position in large multinational companies;
37% of our students are currently successful managers;
72% of our students benefited from a salary increase at the end of the course of study (in the case of the Master Part Time, a growth in the pay packet of 27% was noted);
68% of our students have increased their job responsibilities at the end of the master;
92% of our students received new job offers upon completing their studies.
Placement rate
At the end of the Master, 96% of the students obtained an internship in internationally renowned companies. Some of our professional partners:


Scholarships and Tuition
The tuition fee for this Master is 5.900 euros (VAT included) the payment of the participation fee is installable.
It can be paid:
in 4 instalments without interest
in a single solution (this option grants the student a 10% discount on the overall amount of the tuition fee)
According to the individual profile, experience, and proved motivation, the candidate can be awarded a scholarship covering part of the overall tuition fee (up to 20%). Indeed, Rome Business School offers the opportunity to the most deserving candidates to benefit from 7 different types of scholarships. These partial economic coverages can consist of 6 months of interest-free financing.
The competition for scholarships increases as the start date approaches and funds are limited, so it is advisable to make the request as soon as possible.
Bootcamp around the world
Hone your entrepreneurial skills and test them with the ultimate challenge: Rome Business School's exclusive Bootcamp in Barcelona, organized in partnership with EAE Business School, a beautiful city at the forefront of innovation and among the most productive start-up ecosystems. "Rome Business School's Bootcamp in Rome focus on international business leaders and all the skills needed to be a succesful manager. This Bootcamp in Rome is included in the registration price: just think about the flight and accommodation, we'll take care of the rest!
Admission process
Rome Business School works hard to maintain the highest standard of quality in the programs we offer. That's why, in order to ensure the eligibility of the candidates, all applicants must undergo and successfully pass a selection process structured as follows:


The admission process is aimed to verify the candidate's eligibility to attend the Master. The candidate's academic history, previous experiences in the topics covered in the Master and motivation will be matters of the evaluation. Once it's sent, the application will be evaluated by the Rome Business School's academic committee. In order to ensure the application's suitability, it is important to deliver all of the required documentation.
Degree
Students who successfully complete the program will receive a double certification: Rome Business School's diploma and an official certification by Universidad Internacional de Valencia (VIU), which provides 60 internationally recognized credits (60 ECTS).
Jump start the rest of your life!
If you are looking for top-quality advanced training in a particular business area, countless opportunities for skills development and testing yourself, ways to expand your professional network and make contact with elite professionals working in several business fields, we have exactly the program for you. From there, it's all up to you! Your determination and willingness to learn and experience new ways of thinking are all you need to make the most of one of our programs and start making your way along the path towards success in your career.
CONTACT US