Master Online in Arts and Culture Management's Overview
Thanks to the Specialized Master Online in Arts and Culture Management it will be possible to develop key managerial skills to manage and lead creative companies, organizations, creative and cultural events and artistic products. In addition, by holding this master in Rome, the Italian city of art par excellence, students will be in contact with works and museums "in the open" every day, thanks to ad hoc cultural programs to fully experience the "dolce vita" capitoline ".
Rome Business School guarantees a multidisciplinary experience oriented to an increasingly interconnected market: a guarantee of this, we boast belonging to the most ambitious group "Planeta Formación y Universidades", an international network created in 2003 by De Agostini and the Planeta group, market leader in university and continuing professional education.
Why choose our Specialized Master Online in Arts and Culture Management?
A job offer at the end of the master
+16% salary increase upon completion of the master's degree
Networking: we have more than 221 partners of the largest companies in the world market and, thanks to our workshops and company visits in companies such as Rai, Maxxi, Arteconomy, students will have continuous opportunities and networking.

Global Experience:

International Bootcamp in Silicon Valley, Barcelona, Paris, Rome or Tuscany
During 2022 RBS has decided to upgrade the Bootcamps offer, adding 3 more international experiences, in which students will experience an intensive and fully immersive business experience, meeting international managers and developing new bonds with foreign students.
Career Service


Structured and divided in two main pillars

RBS4ENTREPREUNERSHIP




Dare to think differently. Dare to act innovatively.
A 5-step structure is built to help you discover how to organize, choose and bring to life your business idea. 
Career Accelerator Program


Explore, Build, Engage, Act, Evolve
An entire team of professionals provides our attendants with a personalized Career Path specifically designed to shape his or her own professional profile in order to become a competitive figure in nowadays' job market. 
Among our partners:
Program
The Online format of Rome Business School's Specialized Master in Arts and Culture Management aims to introduce and develop an understanding of the concepts, principles, tools and techniques of cultural management, and to highlight how to deal with current issues in the field of culture and arts. Moreover, the programme will equip professionals with analytical and managerial tools expected to help them design effective management strategies while organizing cultural events and managing cultural institutions, galleries, theatres and museums.
Structure

Be aware
Mind-Opening & Knowledge Management Setting 
25% Program 
Core Management Competences 
Human Resources Management ​

 

Project & Operations Management ​

 

Managerial Economics​

 

Accounting and Budgeting ​

 

Entrepreneurship and Business Planning ​

 

Business Strategy​

 

Marketing: Traditional & Digital

 
Innovate
Focusing and specializing 
60% Program 
The Art og Managing International Arts and Culture
Management of Cultural and Creative Industries
Management of Cultural Institutions
Legal and Economic Perspectives of Arts and Culture
Transform
Being an innovative and responsible leader 
15% Program 
Intercultural Management and Sustainable Businesses ​ 
Digital, Crypto Art and Future trends.
Better Managers for a Better World.




Leadership Program
Soft skills are personal attributes that can affect relationships, communication, and interaction with others, which are crucial for business success and effective leadership in the high-tech world and digital transformation in which we live. None of the new technology and innovation can be applied without proper leadership. The Leadership Program is a path towards self-discovery, empowerment and reinvention, enabling participants to become leaders of the future. The program is practice-based, consisting of 5 interactive courses, including a self-assessment test, role-plays and quizzes. 
Communication & Persuasion in the Digital Age.

Mindfulness, Focus & Awareness.

 

Agile Leadership.

 

Negotiation.

 

Emotional Intelligence.

 
Business Practice
Practice Lab | In partnership with Museo Nazional delle Arti del XXI secolo. 
Rome Business School Practice Lab is the place where theoretical concepts are put in practice and participants learn through experience. The Lab is run by managers from leading national or international companies in the sector/industry, who will examine different specialist knowledge, work on exercises and network, while sharing their experience and expertise with the students. The Lab is entirely run by the School's Partner Companies and the activities included are specific for each Master program and goal. 
The Practice Lab consists of 3 main phases:
Phase 1 | Manager Meet-Ups
Students meet two managers from the Partner Company, from different areas or divisions, such as finance and marketing, who share their experience of their day-to-day work and business, with a specific and relevant focus for the Master. 
Phase 2 | Hands-on Class
Students gain first-hand insight from the direct experience of company managers, enhancing the knowledge and skillset acquired on the Master. They will analyze, assess, create and develop, a certain plan or strategy given by the company in relation to what they have studied in class and the company's business operations. 
Phase 3 | Get on Task
The company managers present two in-class business scenarios (business cases), so that, by implementing the concepts learned, the students find solutions and create strategies. At the end of the class, they orally present the final results and ideas.
Captstone Project:
At the end of the path, a group project is envisaged that aims to develop a plan to solve a problem of an existing or fictitious company. All teams are led from the initial phase of the project. Upon completion of the Capstone project, students will be able to:
Think critically
Implement creative solutions and solve management problems
Apply and link theory with practice
Communicate and present business reports / ideas more effectively
Carry out commercial research and commercial analysis
Demonstrate collaborative leadership skills
Work effectively in a team
Communicate interculturally and compromise for a common goal
Set goals and implement projects effectively
Methodology: " Circular Learning " based on the EFMD Circle for Quality Assurance
By adhering to the highest standards regarding the teaching methodology provided by EFMD, the Master will be taught through interactive lectures, case study analyzes, exercises, discussions, role plays, teamwork exercises, video conferences, business analysis and sessions presentation of students. Case studies will be used to generate discussions and illustrate business problems. Students will be encouraged to read and engage in discussions and debates. The teaching methodology is based on learning by doing, through which teachers implement a student-centered approach, involve students and provide activities that allow students to apply the knowledge acquired.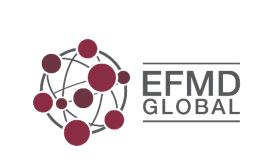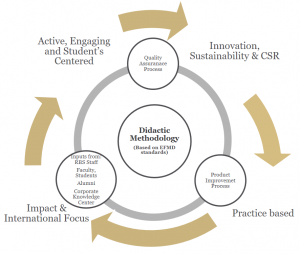 Soft Skill Program
Soft skills are the "secret key" of a well managed workplace and a progressive career path. With the Soft Skills Program, we offer you the opportunity to develop the soft skills necessary for your personal and professional growth.
The personal growth program is optional and is structured as follows: 10 hours in total for 5 interactive and self-reflective courses on soft skills (the certificate will be provided upon completion of the program):
Emotional intelligence
Public Speaking for Business
Time, stress and self-management
Intercultural communication
Conflict, problem solving and negotiations
Rome Business School International Bootcamps Experiences

During the full week you will experience an intensive and fully immersive business experience, facing challenges, dealing with managers, students and lecturers, and creating your own project that will be presented at the end of the Bootcamp Experience. 
Silicon Valley –

 "Silicon Valley Bootcamp" to open your mind 360°

 

Paris –

 ESLSCA | "Bootcamp: When Art meets Fashion and Luxury"

 

Barcelona –

 EAE Business School | "Bootcamp on Entrepreneurship & Design Sprint"

 

Rome –

 Rome Business School | "Bootcamp on International Business Leadership"

 

Tuscany –

 Castle Volognano | "Bootcamp on Tourism, Food, Wine & Experiential Luxury"

 
Your Mentors
An International Leading Team | CAB
The Corporate Advisory Board embodies the spirit of collaboration between the academic world and the real management sphere by becoming one of the key players in the Quality Assurance Process, the process of continuous improvement of the Rome Business School's range of Management Training programs. 
Composed of 87 Leaders, Managers and Professionals from key areas of National and International Businesses, through the Corporate Advisory Board, Rome Business School activates a process of continuously updating its training programs, relying on numerous business interactions and inputs provided by the members of the committee in the annual meetings and discussions with the school. 
14
CEO and General Management
29
Marketing and Sales Communication
Faculty
Rome Business School's Online Specialized Master in Arts and Culture Management is given by highly selected international university professors, entrepreneurs, consultants, industry experts, trainers and business managers, drawn from a variety of operational and professional fields, from advertising to sales, from entrepreneurship to digital marketing.  The teaching approach is aimed at the acquisition of know-how, in order to transfer truly useful competencies for the attendees' professional development.
PROGRAM DIRECTOR
ALEXANDRA SOLEA
She is an international relations and cultural affairs professional with more than 16 years of work experience in the culture and creativity sector. He has held high profile positions that complemented his experience in senior art administration, enabling collaborations with high-level international institutions in the field of artistic management and cultural affairs, including: Teatro dell'Opera di Roma, Teatro Olimpico (Rome ), "George Enescu" Festival and International Competition (Bucharest), "La Fenice" Opera House (Venice), National Academy of Santa Cecilia (Rome), Youth Music of the World (Virginia, USA), BOZAR (Brussels) , Sadler's Wells (UK), US State Department, Government of Romania. As visiting professor and lecturer, he collaborated with various academic institutions and universities such as: Royal Conservatoire in Den Haag (Holland), IULM University in Milan (Italy), University of Rome 2 "Tor Vergata" (Italy), Santa Cecilia Music Conservatoire in Rome (Italy), Benedetto Marcello Conservatory in Venice (Italy), United Nations Alliance of Civilizations (UNAOC) in New York (USA). He is Alumna of the European Music Council (Bonn), the largest European network of organizations and institutions operating in the music sector, and Fellow / Alumna of Stiftung Mercator (Essen) and TÜSİAD (Istanbul), the main business organization in Turkey, with the patronage of Federica Mogherini, former EU High Representative for Foreign Affairs. In addition, she was Resident Fellow of the Romanian Ministry of Foreign Affairs at the Romanian Academy in Rome, and I was awarded with several research grants from: Italian Ministry of Foreign Affairs, European Festivals Association (Brussels), The Asia-Europe Foundation – ASEF (Singapore), Third Pillar Foundation – International (Italy) etc.
PROFESSORS
ALESSANDRO BIANCHI
Coordinator of FACE Foundations of Arts for a Contemporary Europe, 2007–2009. Executive Director, MAXXI Foundation (Ministry for Cultural Heritage and Activities), MAXXI Museum of Contemporary Art and Architecture in Rome 2009-2012. Senior Advisor for Development, Foundation for Culture-Turin, 2014-2016. General Manager, Capri Foundation, Capri (NA) 2009. Senior Advisor for Development, San Luca National Academy, 2014. Senior Advisor for Development, Foundation. Senior Advisor for Development and Curatorship, Fondazione Giangiacomo Feltrine Teatro Regio Torino, Opera House, Milan, Research Institute, 2016. Senior Advisor for Development (Cinema dept.), MAXXI Museum of Contemporary art and architecture.
RAFFAELE PASSERINI
After a BFA in 'Fine Arts' and a BA in 'Cinema Studies' from the University of Bologna, Italy, Raffaele received a full postgraduate scholarship to study on the one-year filmmaking program at the New York Film Academy, where he held the position of Directing and Writing Instructor for US and EU programs. As a writer-director, he has signed the award-winning and internationally broadcast shorts "The Nurse", "The Birdman", the music video "The Likes of You" and the TV documentary "Soundlabs' People" for MTV Brand New.
DAMIANO FEMFERT
Damiano Femfert works in both the commercial and non-commercial sectors of the art world. Through the family art gallery "DIE GALERIE", which represents artists such as Masson, Ernst, Dalì, Chagall, Matta, Mitorajand Hundertwasser, he regularly participates in art fairs such as the Armory Show in New York, the BRAFA in Brussels or the Art Paris. In 2014 he curated a special stand during Art Basel proposing a dialogue between modern and contemporary art. In 2015 he curated AndréMasson's first major retrospective in Asia in Singapore. In 2016 he curated the great exhibition "CoBrA. A Great European Avantgarde" at the Museo del Corso in Rome, with over 150 works from the most prestigious museums in Europe.
GILLES DEMONET
A lawyer by training, Gilles Demonet was director of the Opéra-Comique, director of the French office of IMG Artists and co-founder of the Ostinato orchestra. He is currently a lecturer, head of the Masters in Music Administration and Management (Paris-Sorbonne University) and Performing Arts Management (Paris-Sorbonne Abu Dhabi). He is also a visiting professor at the Shanghai Conservatory and teaches at several other universities, in France and abroad. Co-edited the work on screen: opera for all (L'Harmattan, 2013)
VALENTINA LO SURDO
Broadcast Speaker, Anchorwoman, Music Coach, Public Speaking Trainer, TV Presenter, Concert and Event Manager, Talent Scout, Music Critic, Pianist, Teacher of self-management for musicians. After a long experience as a writer for newspapers and magazines (Il Sole 24 Ore, Il Messaggero, Il Manifesto, The magazine il Mulino, De Agostini, Suonare news, Roma Sette), and organizer of cultural events (with the company she founded the Mr. Philharmonica), his most relevant experience is certainly at RAI Radio 2, where he has been working for 15 years as Anchowoman.
SIMONA MANZONI
For more than 10 years she has been working as marketing director at the Olympic Theater in Rome. Previously, he had worked for other companies such as Expoglobe SRL, Group
PIERANGELO CONTE
Graduated in Composition, in Choral Music and Choral Conducting and in Electronic Music at the "Benedetto Marcello di Venezia" Conservatory, Pierangelo Conte is a well-rounded musician, whose musical training is accompanied by a degree in Literature at the 'Ca' Foscari University of Venice, where he concentrated his thesis on Luigi Nono's Wandering Resonances. After a brilliant career at the La Fenice Theater Foundation, in which he held various roles, in 2014 Pierangelo left Venice to arrive in Florence, as Artistic Coordinator of the Maggio Musicale Fiorentino Foundation.
ANDREA CARACCIOLO
He works as a consultant at the Rome Fundraising School. He is a member of the board of the European Fundraising Association – EFA, ASSIF Italian Associaton for Fundraiser and EFA European Fundraising Association.
ANTONIO SUNSERI
Purchasing manager at Giulio Perrone Editore. Among his experiences, he worked as editor-in-chief for L'Erudita.
Career Services
With our help, you can create your career strategy through a journey of self-reflection, exploration and results. This program is designed to help you find internships or positions that match your ambitions and expectations. In particular, the master is particularly suitable for those who want to pursue a career in the following roles:
Cultural Manager,
Head of Cultural Events
Marketing and Communication Manager
Professional in cultural institutions and both profit and non profit organizations;
Professional in organizations which, although not belonging to the cultural system, intend to invest in national and supranational projects (sponsorships, patronages);
Innovative leader, manager and entrepreneur in the contemporary international artistic and cultural environment,
Fundraising expert for cultural organizations;
Project manager in artistic and cultural organizations
Each year, Rome Business School presents the Employment Report, a document that collects data on the official results achieved by our students and former students in terms of employment and professional growth following their master's degree at Rome Business School. The results obtained were possible thanks to the commitment of our students and the incredible professionalism of our Career Services who, with diligence and dedication, were able to direct students towards the desired career path in the world of work.
In particular, according to the most recent statistics:
60% of our students obtain a job offer within 6 months of the end of the master
92% of our students get a job offer at the end of the master
43% of our students have obtained a job position in large multinational companies;
37% of our students are currently successful managers;
72% of the students obtained a salary increase at the end of the master
RBS EXPERIENCE
Networking and partners
Rome Business School has established solid partnerships with several world-renowned leading companies, such as Rai, Arteconomy, Maxxi and many others. To ensure that our students can build a strong professional network, we constantly organize guest meetings, visits, events and lectures with representatives of elite business ecosystems, encouraging interaction between leading professionals and students, and facilitating the process learning.
Multicultural classes
Thanks to the school's purely international mold, students will have the opportunity to take part in classes with students from more than 150 countries. This will allow participants to increase their knowledge of other cultures other than their own.
Student Hub
Every year we welcome students from all over the world: from cities and small towns, of all cultural, ethnic and religious backgrounds. Rome Business School enhances the experience of students creating opportunities for learning, involvement, personal and cultural development that go well beyond the lessons.
Events
Our students will be able to participate in various activities: Coffee Meetings with the CEOs of prestigious multinational companies, company visits or simple events designed to promote socialization and intercultural exchange which has always been the central point of our school.
Admission process
Rome Business School works hard to maintain the highest standard of quality in the programs we offer. That's why, in order to ensure the eligibility of the candidates, all applicants must undergo and successfully pass a selection process structured as follows:
The admission process is aimed to verify the candidate's eligibility to attend the Master. The candidate's academic history, previous experiences in the topics covered in the Master and motivation will be matters of the evaluation. Once it's sent, the application will be evaluated by the Rome Business School's academic committee. In order to ensure the application's suitability, it is important to deliver all of the required documentation.
Scholarships and Tuition
Payment
Payment of the participation fee of € 6.400 can be made in the following ways:
In 6 interest-free installments
Single solution (this option guarantees a 10% discount on the total amount)
Scholarships
Based on their personal profile, experience and proven motivation, the candidate may be awarded a scholarship to partially cover the participation fee. In fact, Rome Business School offers the most deserving candidates the opportunity to benefit from 8 different types of scholarships. These partial economic hedges can consist of 6 months of interest-free financing.
Early Bird Enrollment Scholarship
Study in Italy Initiative Scholarship
Lifelong Learning Scholarship
Academic Excellence Scholarship
Executive Women Grant
Entrepreneurial Grant
Better Managers for a Better World

Student Loan Assistance Grant
Competition for scholarships increases as the starting date approaches and funds are limited, so it is advisable to apply as soon as possible.
CONTACT US