Overview
The Rome Business School's Master in Fashion Management is the ideal academic course for professionals seeking a world-class degree programme in these disciplines, leading to a successful global career in the global fashion market.With the Rome Business School's international perspective, the programme offers a unique learning experience and a global professional exposure, enabling participants to study in one of the best cities in the world or online. The Rome Business School's Master in Fashion Management is geared to provide all the tools necessary to interpret, forecast, and follow this sector's phases and trends, and is aimed at students, professionals, and entrepreneurs in the fashion, design, and luxury industries who wish to acquire the basics of and the ability to interpret the evolution of this special market, setting up and maintaining successful businesses.
Target Recipients
The Master in Fashion Management is designed both for those who are already professionally employed in the fashion industry and wish to update their competencies and acquire new ones in the field and for those who intend to get a specialization before their first experience in the industry.Thus, typical attendee profiles are:
graduates interested in specializing in fashion management and therefore in acquiring the specific competencies needed to operate in this context;
entrepreneurs interested in launching or revitalizing a retail business focussed on the sale of clothing, accessories, jewelry, and home and beauty products;
designers and stylists who also wish to acquire managerial competencies related to the management, distribution, and communication of their own brand or collection;
managers, professionals, and consultants seeking to specialize in the fashion industry.
Structure (duration – 1 year)
Six months of lectures
Six months dedicated to international internships and project work
Visits at international companies and organizations
Integrative cultural programme
Seminars and events
Modes of attendance
This Master can be attended in English, either on campus or by distance learning, in Part-Time formula (2 three hours lectures per week).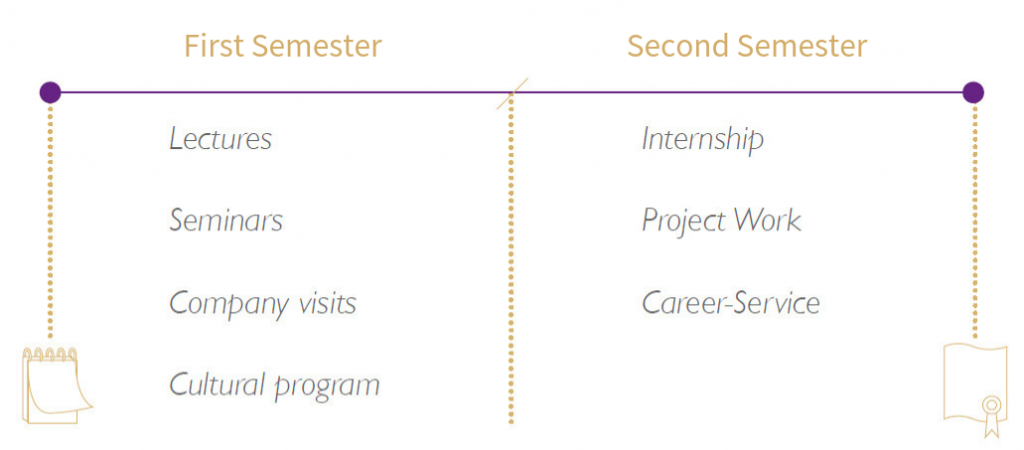 Contents
The Fashion Market
The fashion industry and its evolution in various cultural and geographical contexts;
The fashion system: types of businesses (from haute couture to fast fashion)
Elements of consumer sociology
Elements of fashion history
Managerial Competencies
Business strategy and company organization
Economics and company management
Marketing management
Digital marketing
Accounting and management control
Project Management
Business Planning
Human resource management
Fashion Products
Menswear, womenswear, childrenswear
Accessories
Jewelry
Home
Beauty and personal care
Fashion TouchPoints and Communication Strategies
Targeting, experiential branding, and holistic marketing in fashion
Luxury Fashion: direct marketing, heritage marketing, ambient marketing, and packaging
Naming, branding, and guidelines for their use
Visual Branding and Creative Direction: expressing exclusivity
Public relations, the press office, and institutional communication for fashion
Analysis and design of web-based supports, and elements of SEO
Social networking in the fashion sector
Brand monitoring for fashion
Retail branding: point of sale furnishing and layout
Shows and events
Technological innovation in Fashion
Point of sale and interfaces
Materials
Online presence and mobile app functionality
E-commerce and new forms of distribution
Fashion in the Made in Italy domain
Case histories, company visits and testimonials
Career Services
Attending this Master's Degree course entitles to:
International internships at leading companies and organizations;
The inclusion of your CV in the Rome Business School's database and its distribution to businesses, organizations and head hunters belonging to the Rome Business School's international network;
A free CV review;
Support in the management of job interviews;
Networking meetings with international managers, professionals and business owners;
A personalized search and flagging service for the best job opportunities in Italy and abroad.
At the end of the Master, the students will be able to strengthen their professionalism or start their careers in relation to professional profiles such as:
Entrepreneur or manager in companies specializing in production, distribution, or commercialization in the fashion context;
Store manager
Designer and stylist with managerial and communication abilities
Brand manager, marketing and/or communication director for fashion companies (also as a freelance consultant)
Press officer or PR director for a fashion brand
Social media manager or social media strategist for a fashion brand
Event manager specializing in fashion shows and events
Personal Shopper
Fashion blogger
Learning Objectives
On completing the programme, participants will be able to:
identify, analyze, and understand the fashion sector's characteristics, its market trends, and their evolution;
identify and develop effective managerial strategies for fashion sector businesses;
recognize and understand the specificities and differences between the various types of production and organization in fashion, haute couture, and fast fashion businesses;
develop a business plan for fashion companies;
identify the specificities of the various types of products in the clothing, accessories, jewelry, home and beauty contexts;
analyze and perfect offline, online, and performance integrated fashion system strategies pertaining to marketing, branding, and communication;
identify, analyze, and understand the innovative technologies, materials, and distribution opportunities found in the fashion sector;
utilize brand monitoring tools suited to continuously work on the constant improvement of a fashion brand's storytelling and reputation;
utilize the experience acquired during company visits and interactions with industry professionals to build their own professional networks in the fashion market.
Benefits
World Class Teachers
The Master's Degree course faculty is made up of highly selected international university professors, trainers and business managers, drawn from a variety of operational and professional fields and thus able to bring to the table a rich array of up-to-date experiences and competencies. The teaching approach is aimed at the acquisition of know-how, thus at transferring competencies truly useful for the attendees' professional development.
Accreditation
Rome Business School's Master in Fashion Management is accredited by VIU – Universidad Internacional de Valencia. At the completion of the course you will therefore be awarded with a double certification: a diploma from Rome Business School and one from VIU, with 60 internationally recognized university credits (60 ECTS).
Tutoring
For both the on-campus and the distance-learning courses, attendees can always count on the assistance of a tutor for any clarifications they may require, for the completion of the tests and exercises required by each module and for the final project
Learning Materials
Students registered for the Master's Degree course will be issued with a wealth of learning materials, including slides, textbooks, case studies, articles, videos, and useful internet links.
Registering In The Rome Business School's Alumni Association
Attendance in the Master's Degree course entitles to become part of the Rome Business School's Alumni Association, the international network through which students of the Rome Business School can share ideas, experiences, and projects. Many facilitations are also available for attending further training courses.
Internationality
The Rome Business School prizes intercultural exchange as a source of personal and professional development. Students from 5 continents regularly attend its courses.