During your time at Rome Business School, you will be taking the next important step on your career ladder. Our goal is to help our students build a solid path towards a succesful career and professional future; in order to accomplish that we don't just provide them with a top-class training, but also granting them the support and assistance of Rome Business School Career Services. From the very beginning of an academic programme through all the process until graduation, we help you choose the right professional area to direct your interest and efforts, and prepare you to effectively face nowaday's job market.
The RBS Career Services works every day to connect students and companies, to train future managers so that they are able to be agents of change right from their entry into the world of work. The Career Fair 2022 hosted more than 400 students and 34 top player companies in the world with the aim of connecting academia and the world of work by offering real career opportunities to young talents.
With our help, you can create your career strategy via a 3 steps journey of self questioning, exploration, and achievements. This program is designed to help you in finding internships or positions in line with your ambitions and expectations:
Build
Your journey towards a satisfying future career begins with self-discovery. There are many paths before you, and together we can find the right one to follow by assessing your skills, strenghts, interests, values and personality. We encourage students to attend a workshop to learn more about the process of CV writing and, afterwards, to benefit of our one-to-one Career Services individual meeting. A session on the specifics of the job market will also be part of this first phase to help you understand all of your possibilities in Italy and abroad.
Engage
The aim of this second phase is to prepare students for the competitive recruitment processes.  Students are given tools to define both strategies and objectives: who they are and what they want professionally as a turning point from which to approach the market. An online presence helps to build your professional brand and allows employers and recruiters to find you when searching for talent, while the workshop on 'how to handle different types of interviews' will help you refine your skills, provide a confidence boost for candidates as well as practical tips relating to interview questions, answers, and techniques.
Act
The third and final phase of the service is mainly focused on networking activities to enhance the student's professional visibility. Networking is a give – and – take process that involves making connections, sharing information and asking questions. It is a way of learning how to relate to others. Company meetings, RBS Talent Focus Initiative, Mock Interview Day among others will provide the perfect occasions to put in practice what you have learnt during the Career Services workshops and may lead you to rewarding employment prospects.
Benefits of our Career Services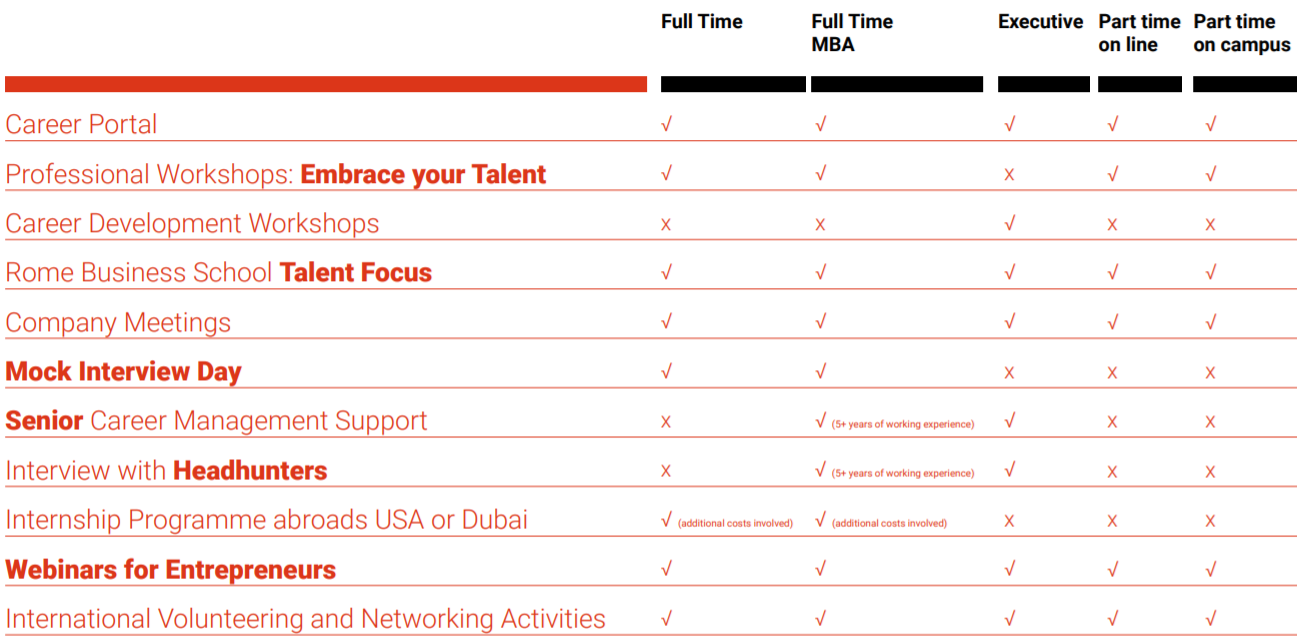 A support to your career
You will have access to Rome Business School's new career portal, where you can find all the vacancies that employers have shared with Career Services. You will also find all sorts of search websites for internships and graduate jobs. The platform helps improve job matching and posts new placement opportunities in Italy and abroad every week, aimed at our students and Alumni.
Depending on your course of study, Rome Business School's worldwide partners can give you access to a broad range of internship openings in USA and Dubai. With some of the best business opportunities, it's no surprise that these destinations attract students from all corners of the world. If you're looking to work in a cosmopolitan and business-oriented city, this is the right choice for you. Doing an internship abroad is not mandatory and, in order to be considered for this opportunity, students must successfully pass a selection process.

96% placement rate
The companies in which our students have been placed include: Adecco, AdSala, Amplifon, Brembo, World Food Program, Nova Talent, Bioversity International, Eataly, Groupama Assicurazioni, Radisson Hotel Group, Spot of minds, Vueling Airlines, Yellow Square, Italconsult Spa, Kelly Services, Dress X Success, Manpower Group, Jaguar and Land Rover, Atrain, Mercer and Tateossian.
If you'd like to know more about our Career Services Department, contact us by filling the form, we'll call you back as soon as possible!
Employment Report
Rome Business School annually sells a placement of its students of 96%, 43% of them in large multinationals, about 70% employed abroad, 37% in managerial positions, with excellent growth opportunities especially in the areas of Marketing, Resources Human, Administrations and Sales. With over 2590 job offers per year, Rome Business School has an average of 5 different job opportunities offered for each student and 72% growth not only personal and professional but also in terms of salary within about 3 years from the completion of the master. Find all information on the employment report 2022.