Overview

Top 50 – Global Ranking
Ranked N. 22 in Food and Beverage Management, Worldwide by Eduniversal
One of the best known and more competitive branches of business, the industry of food & beverage plays a crucial role as much in the Italian scenery as in the world. Rome Business School's Online Master in Food & Beverage Management offers complete training and the ideal skills to start a strong and productive career in this sector; the managerial training and the study of the mechanisms of production, distribution, and demand provided by this program are specifically designed to forge professional profiles able to work effectively and successfully in the business of food & beverage.
This Master is issued under the patronage of: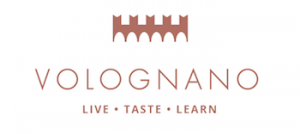 In addition, being this master in online version, you can have a quality learning anywhere! We have more than 10 years in online learning education and we are member of Grupo Planeta deAgostini, leader in providing programs in online mode, our "distance" courses offer all the contents of classroom learning, in order to use a complete and professionalizing experience.
The Reasons Why
Our online version of the master allows you to study and learn content directly from your home or from anywhere else. Our teachers are experts in distance teaching and use the interactive synchronous methods typical of participative class lessons. You can get all the advantages to be part of an interactive class with lecturers and classmates, easily following lessons from anywhere else. Our online learning is also available in an asynchronous mode to also give the possibility to those who can't attend lessons to watch the content and learn in an asynchronous way.
The Bootcamp in Rome for International Business Leaders
Rome Business School offers you the opportunity to hone your skills and enrich your knowledge on entrepreneurship, innovation and other key topics in the world of management by taking part in our International Bootcamp in Rome which, only for online students, is included in the tuition fee! This bootcamp is designed to train participants to manage businesses situations on a global scale, international business projects and crosscultural communication, all with a learningby-doing methodology based on working with real cases and scenarios, with the support of international mentors who share their insight on global relations. In addition, this experience is an opportunity for exposure among international leading companies (Enel, Fendi, Jaguar Land Rover, IBM and many more) and a professional environment to boost your career.
Soft skills are the 'secret key' of a well-managed workplace and progressive career path. Soft skills are personal attributes that can affect relationships, communication, and interaction with others and are crucial for business success and effective leadership, in this high-tech world in which we live. With the Soft Skills Program, we offer you the opportunity to develop the soft skills necessary for your personal and professional growth. The Self Growth Program is optional and is structured as follows: 10 hours in total for 5 interactive and self-reflective soft skills courses (Certificate will be provided upon completion of the program):
Emotional Intelligence
Public Speaking for Business
Time, Stress & Self-Management
Cross Cultural Communication
Conflict, Problem Solving & Negotiations
Our skilled and professional Career Services Team provides our attendants with a personalized Career Path specifically designed to shape your professional profile in order to become a competitive figure in the actual working environment.  Join our online activities, like workshops, webinars, company meetings focusing on the valuable topic of job seeking and career networking, individual career counseling meetings! Thanks to our worldwide network of partners, Rome Business School can provide you with access to a wide range of internship opportunities. These and more invaluable benefits are at your disposal to boost your career.
At Rome Business School we have solid partnerships in place with several globally renowned leading companies, such as FAO, WFP, Ikea, Hard Rock Cafè, Eataly, Sheraton Hotel, Radisson Hotel Group and many others. To ensure our students can build a strong professional network, we constantly organize workshop, meetings, visits, events and guest lectures with representatives from elite business ecosystems, encouraging interaction between leading professionals and the students, and facilitating the learning process. Obviously, all these activities are accessible to our students online, thanks to real-time calls and videos.
Online learning allows easier training thanks to audio lessons, videos and lecture notes from all disciplines for a better understanding of the contents. Interactive videos, learning test tools and many other multimedia supports will allow you to better understand the course content and facilitate the assimilation of the concepts.

Structure
The Online format of Rome Business School's Master in Food and Beverage Management offers general managerial training combined with production chain-specific competencies, to produce specialist professional managers, capable of dealing with the challenges of the food and beverage industry in an international and multicultural context. It starts with a wide overview of the broader management world and then proceeds to analyze all the specific subjects and aspects of Food and Beverage Development and Management, as well as providing an in-depth insight into innovative and responsible leadership, its trends and best practices, as well as how they can be effectively applied to the Gastronomic Industry.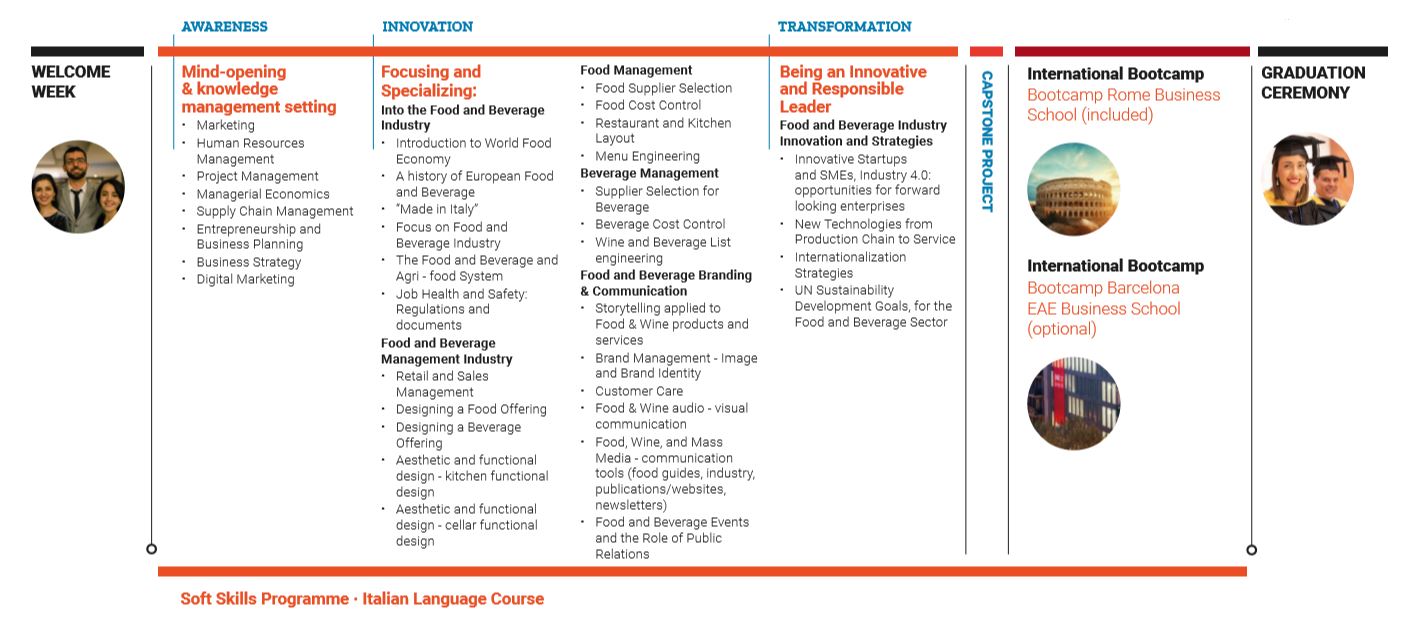 Capstone Project:  Food and Beverage Management Plan
Teamwork based project with a scope to develop a Management Report that solves a business problem or works on an opportunity in the area of food and beverage management of an existing or fictitious companies in the food Industry. All teams are guided from the initial phase of the project.
After the completion of the capstone project, students should be able to:
Think critically
Implement creative solutions and solve managerial problems
Apply and connect theory with practice
Communicate and present business reports/ideas more effectively
Carry out business research and business analysis
Demonstrate collaborative leadership skills
Work effectively in teams
Communicate cross culturally and make compromises for a common goal
Set goals and implement projects effectively
Methodology
The Master will be taught through interactive lectures, case study analysis, in-class exercises, discussions, roleplays, teamwork exercises, video discussions, business analysis and student presentation sessions.
Case studies will be utilized to engender discussion and illustrate real business and communication issues. Students will be encouraged to read widely and engage in discussion and debate. The didactic methodology is based on action learning, through which teachers implement a learner-centered approach, engage students and provide activities which allow students to apply the acquired knowledge. All teachers use active learning methods in class, which are also suitable for interactively engaging distance learning students.
Faculty
Rome Business School's Online Master in Food and Beverage Management is given by highly selected international university professors, entrepreneurs, consultants, industry experts, trainers and business managers, drawn from a variety of operational and professional fields, from advertising to sales, from entrepreneurship to digital marketing.  The teaching approach is aimed at the acquisition of know-how, in order to transfer truly useful competencies for the attendees' professional development.

CAMILLA CARREGA BERTOLINI – Wine Entrepreneur, Foodtrotter, Wine Teller, Experience and Travel Designer, Food & Beverage lecturer – "Tell me what you eat and I'll tell you who you are" this is the motto and how Camilla defines herself.
Graduated from the University of Florence with a degree in Viticulture and Oenology and a Master's degree in Oenology, she was Academic Coordinator of the Food and Wine Studies of Apicius – International School of Hospitality in Florence and of the Gambero Rosso Academy in its headquarters in Rome. He has promoted the Italian lifestyle around the world through food and wine, collaborating with international bodies such as the James Beard NY foundation and several American universities. Camilla is Mentor for StartupbootcampFoodTech, the main accelerator of startups that innovate the food industry, where she works as a guide for everything related to the management and integrated development of the agri-food sector, business models and international education. Today CEO of the Volognano Agricultural Company, Consultant specialized in F&B for Strategic Communication and Media Relations, where he develops and applies tailor made models of business acceleration and plans for the management of crisis moments as well as being a lecturer for several Italian and international universities in F&B Management, Communication, Strategy and Director of the Masters in F&B Management, Tourism Management at Rome Business School.
SONIA MASSARI –Dr. Sonia Massari has a PhD in Food Systems and Interaction Design. She is the Academic Director of the University of Illinois at Urbana-Champaign-Food Studies in Rome and the Director of Gustolab International Institute for Food Systems and Sustainability. Since 2011shecollaborates with Roma Tre University: Master in Languages for Tourism and Intercultural Communication and Gastronomic Sciences Dept. Since 2012 she is a scientific consultant and senior researcher for the BCFN Foundation. In 2014, she won the NAFSA TLS Knowledge Community's Innovative Research in International Education Award (for her work on creating innovative teaching formats for food studies abroad) and in 2012, she won the International "Le Tecno visionaries" Women Innovation Award, a prize which publicly recognizes women who have demonstrated an ability to combine creativity and innovation in order to improve quality of life (Food and Nutrition). She is member of the board of the Association for the Study of Food and Society. She is part of the editorial board of International Journal of Food Design, Frontiers (Sustainability Issues) and Temes.
LETIZIA SEBREGONDI – CEO & [email protected] – company for digital marketing campaigns and on line sales with a focus on wineries. Letizia has a degree in Economics and Marketing and enters in the world of Wine as an Export Manager for Castello del Terricio. She has also worked as a Sales Planning Manager at Tannico.it and as a Sales & Brand Manager at Vinci Importadora– Mistral Group.
TOMMASO CORSINI – He grew up in the sector of tourism. Together with his brother he has founded the CORSINI. EVENTS Group in 2015 dedicated to location management and consulting, coordination, planning and event production. Tommaso is also a gourmet and an avid wine collector.
VALERIO PAPPALARDO: Innovation and entrepreneurship consultant and trainer, specialized in the food sector. He collaborates with Fondazione Golinellifor various training programs focused on entrepreneurship through various tools including design thinking, with youth from high schools to university. Marketing and Economics background, with 4 years of experience in Linea Tecnica, a B2B commercial company of products, services and equipment for the metalworking industry. He worked for two years with Future Food, a foundation born in Italy but with international horizons that tries to face the challenges of the future with food, through innovation, education and network.
Career Services
With our help, you can create your career strategy via a journey of self-reflection, exploration, and achievement. This program is designed to help you build a solid path towards a succesful career and professional future as well as to find opportunities in line with your ambitions and expectations. In particular, the school offers the following services to the enrolled students:
Individual Career Counselling Meeting
Rome Business School's Official Career Portal
Professional Workshops
Entrepreneurial Webinars
Rome Business School's Talent Focus
Rome Business School supports its students even beyond the academic environment, providing them with guidance and assistance in developing a strong professional profile that reflects the most sought competencies in the current job market.
Thanks to the commitment of our students and the continuous work of our assistance service, we have achieved important results in terms of employment and achievement of the aspirations of the individual participants in our courses.
In particular, according to the most recent statistics:
38% of our students have pursued an international career;
43% of our students have obtained a job position in large multinational companies;
37% of our students are currently successful managers;
72% of our students benefited from a salary increase at the end of the course of study (in the case of the Master Part Time, a growth in the pay packet of 27% was noted);
68% of our students have increased their job responsibilities at the end of the master;
92% of our students received new job offers upon completing their studies.
Placement rate
At the end of the Master, 96% of the students obtained an internship in internationally renowned companies. Some of our professional partners:


Scholarship and Tuition
The tuition fee for this Master is 5.900 euros (VAT included) the payment of the participation fee is installable.
It can be paid:
in 4 instalments without interest
in a single solution (this option grants the student a 10% discount on the overall amount of the tuition fee)
According to the individual profile, experience, and proved motivation, the candidate can be awarded a scholarship covering part of the overall tuition fee (up to 20%). Indeed, Rome Business School offers the opportunity to the most deserving candidates to benefit from 7 different types of scholarships. These partial economic coverages can consist of 6 months of interest-free financing.
The competition for scholarships increases as the start date approaches and funds are limited, so it is advisable to make the request as soon as possible.
Bootcamp around the world
Hone your entrepreneurial skills and test them with the ultimate challenge: Rome Business School's exclusive Bootcamp in Barcelona, organized in partnership with EAE Business School, a beautiful city at the forefront of innovation and among the most productive start-up ecosystems. "Rome Business School's Bootcamp in Rome focus on international business leaders and all the skills needed to be a succesful manager. This Bootcamp in Rome is included in the registration price: just think about the flight and accommodation, we'll take care of the rest!
Admission process
Rome Business School works hard to maintain the highest standard of quality in the programs we offer. That's why, in order to ensure the eligibility of the candidates, all applicants must undergo and successfully pass a selection process structured as follows:


The admission process is aimed to verify the candidate's eligibility to attend the Master. The candidate's academic history, previous experiences in the topics covered in the Master and motivation will be matters of the evaluation. Once it's sent, the application will be evaluated by the Rome Business School's academic committee. In order to ensure the application's suitability, it is important to deliver all of the required documentation.
Degree
Students who successfully complete the programme will receive a double certification: Rome Business School's diploma and an official certification by Universidad Internacional de Valencia (VIU), which provides 60 internationally recognized credits (60 ECTS).
Jump start the rest of your life!
If you are looking for top-quality advanced training in a particular business area, countless opportunities for skills development and testing yourself, ways to expand your professional network and make contact with elite professionals working in several business fields, we have exactly the program for you. From there, it's all up to you! Your determination and willingness to learn and experience new ways of thinking are all you need to make the most of one of our programs and start making your way along the path towards success in your career.
CONTACT US