Rome Business School Partnership with Nigeria
  The meeting of the National Universities Commission of Nigeria and prof. Ignatius Uvah.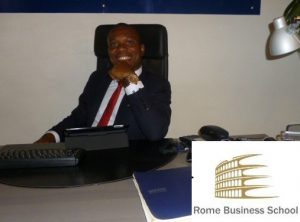 Nigeria, with her Brazilian counterpart, has featured among the top countries having serious academic cooperation and business partnership in the international relations of the Rome Business School.
Since the inception of the RBS, her international relationship activities have begun serious meetings and cooperation with the National Universities Commission of Nigeria, Hemsey Education Services Services Limited, Infomall Nigeria Limited, Banks, consulting firms, State Education Commissions, and a host of other private companies and institutions. There are several on-going discussions with the International Bio-Research Institute, Enugu – Nigeria and the congress of the Certificate in European Business in Rome where many Nigerian young entrepreneurs will demonstrate their potentialities in international business.
Through the help of the Embassy of Nigeria in Rome and a renowned Quality Assurance specialist – Professor Ignatius Uvah, the Rome Business School will be holding its first International Conference in Nigeria on Entrepreneurship Education.
The Rome Business School has, since its partnership with Nigeria, developed series of academic education services tailored to the Nigerian market both through e-learning and presencial education with its partnering firms and contacts in Nigeria. Such services include:
MBA
Master in Human Resources
Master in Web Marketing
Master in International Policy Makers
Management in Opera
Management in Mediterranean tourism
Benchmarking Groups and Reports
New courses in catalogo
———> Business Plan
———> Secretary Management
———> Italian courses for foreign students, business men, entrepreneurs visiting Italy, diplomats and politicians visiting Italy.
Read more..