Meeting between Rome Business School e London School of Business and Finance
New Projects of growth in Europe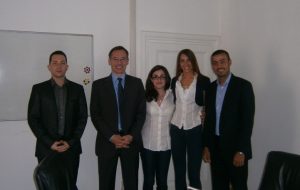 On the 19th of June in Rome took place a meeting between the Rome Business School and the London School of Business and Finance for the purpose to identify collaboration opportunities that permit students of both business schools to enhance their professional and linguistic competences and to live an international and excellent training experience.
Representing the London Business and Finance were Jhon Valencia (Associate Director – Europe) and Francesco Zoffoli (Business Development Manager); for Rome Business School, Antonio Ragusa (Founding President), Sidita Kasemi (International Programs and Alumni Network), Martina Di Loreto (Department of Research and Web management) and Salvatore Antonio Fiorelli (Career Service).
This meeting highlighted the common will of both the business schools to structure excellent didactic programs and to create real growth opportunities for youth and professionals on a global scale.
This first meeting will be followed by other contacts in order to deepen partnership opportunities between Rome Business School and London School of Business and Finance, with the important task to find new strategies to support students exchanges between Italy and United Kingdom, in an international perspective aimed at gathering and get the best from these two great realities.