Cooperation Agreement between Rome Business School and Servicios Edsegovi
Synergy with the Mexican consulting firm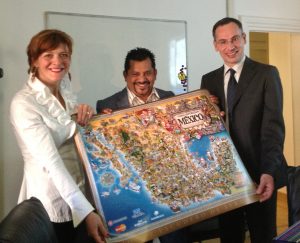 Rome Business School keeps growing and expanding in Latin America. On May 18, 2012 a Cooperation Agreement was signed between the Rome Business School – represented by the Founding President Antonio Ragusa and the Director of International Programs Valeria Caggiano – and the Mexican consulting firm Edsegovi Servicios SA de CV, represented by the General Director Arturo Segovia.
Servicios Edsegovi was also represented by Ixba Juan Francisco Hernandez, Manager, and Iker Belsaguy Alor Omar, Director of International Affairs Asia-Mexico; for Rome Business School also participated Gabriela Contreras Escobar – Country Correspondent Mexico, Federico Jorio – Country Correspondent Brazil, and Sidita Kasemi, International Programs.
The cooperation agreement between Rome Business School and Edsegovi Servicios SA de CV aims to create and promote synergistic activity between the Italian school of management and the Mexican consulting firm, thus creating opportunities for mutual promotion and growth.
The Rome Business School will provide Servicios Edsegovi with opportunities to collaborate on the development of international training programs and in turn Edsegovi SA CV will provide students of Rome Business School the opportunity to do an internship and / or project work, thereby enriching their education with real work experience. The Edsegovi will also promote the activities and services of the Rome Business School in Mexico and other countries where it operates.
This agreement with an important company from Mexico, increases the Rome Business School's international network, which offers additional and valuable professional development opportunities to its students on a global scale.