Cooperation agreement between Rome Business School and Belgrade Business School
Joint programs with the prestigious Serbian business school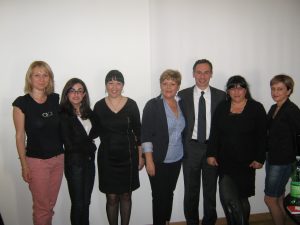 The Rome Business School, keeps expanding its network also to the countries of Eastern Europe. On 3 May 2012 an Agreement of Academic Cooperation was signed between Rome Businesss School, represented by the Founding President Dr. Antonio Ragusa, and Belgrade Business School represented by the Director Ilija Samardzic.
The Belgrade Business School delegation in Rome included Vesna Jokanovic, Business English lecturer and coordinator for Cooperation with the University of Cooperative Education in Stuttgart, Ljiljana Malesevic, PhD, Professor, Zdravka Petkovic, PhD, Professor, Snezana Lekic, PhD, Professor, Slavica Mandic, lecturer, Ivan Mandic, head of service for students affairs. For the Rome Business School also Dr. Sidita Kasemi, International Programs.
The agreement provides for collaboration on the development of educational programs and research programs on a national and international scale.
The program of work between the Rome Business School and Belgrade Business School includes exchange opportunities for students, faculty and staff, joint research, information exchange and opportunities for professional practice for members of both institutes.
With this link with Serbia, the Rome International Business School increases its network with another valuable partner, always with the aim of offering the best cultural and professional development opportunities to its students on a global scale.