Graduation Ceremony March 2015
On Saturday, March 14th, 2015, the Rome Business School celebrated the Graduation Ceremony of the students who received Master's degrees in Marketing and Communication and International Human Resource Management.
During the ceremony, the Founding President and Director of the Rome Business School, Dr. Antonio Ragusa, greeted guests and highlighted the importance of the goals that the students had achieved through their hard work. In a year of academic growth, the students gained new and fundamental technical skills and interpersonal abilities. Dr. Ragusa once more underlined the key factors behind the Rome Business School's approach, first of all the centrality of the individual, the concept of value for the society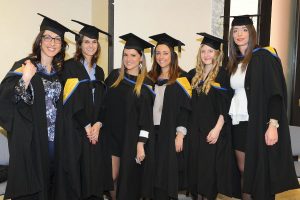 we live in, the social and sustainable approach, the importance of establishing relationships based on quality and trust, and, last but not least, multiculturalism and internationalism. Every year, we host students from all over the world in order to promote the interaction between different cultures as a tool to open our minds to new perspectives and take the best from different cultures.
The following graduates received their awards at the ceremony:
Carolina Odette Angulo Pereira – Master's Degree in Marketing and Communications
Chiara Chirico Pisacane – Master's Degree in Marketing and Communications
Jamile Londero Cruz – Master's Degree in International Human Resources Management
Lorenza Mazzocato – Master's Degree in Marketing and Communications
Fiorella Isabel Navarro Honores – Master's Degree in Marketing and Communications
Laura Polato – Master's Degree in Marketing and Communications
Veronika Rak – Master's Degree in International Human Resources Management
Valentina Ranaldi – Master's Degree in International Human Resources Management
Boyinkere Orion Rwizibuka – Master's Degree in Marketing and Communications
Gulnaz Sharipova – Mas er's Degree in Marketing and Communications
Valentina Zancla Candido – Master's Degree in Marketing and Communications
Chiara Zanetti – Master's Degree in International Human Resources Management
Emese Turcsak – Master's Degree in Marketing and Communications
Anna Muriel Etame – Master's Degree in International Human Resources Management
Antonella Sorvillo – Master's Degree in Marketing and Communications
Yekaterina Podobed – Master's Degree in Marketing and Communications
Ana Maria Marin – Master's Degree in Marketing and Communications