Overview
Four of our Masters are officially recognized among the best at an international level by Eduniversal, in which the Marketing area is also featured
Top 200 – Regional ranking within the 9 geographical zones
Ranked N 60 in Marketing, Western Europe

Rome Business School's Executive Master in Marketing & Sales offers a top quality training, career services, networking and many other advantages for self development and professional growth. The educational program is designed to provide the participants with advanced professional skills, allowing them to enhance their knowledge and develop managerial or enterpreneurial career paths.
The methodology is oriented towards a practical approach and aimed at acquiring skills in the marketing & sales sector to be used in any operational environment. This master meets the needs of professionals and junior managers willing to strenghten their competencies in this sector in order to boost their career.
The weekend executive formula allows working attendants to carry on their full time job and study at the same time, allowing them to follow their professional objectives while increasing their skills.
Why studying in Rome
The ultimate education experience in the eternal city
The cradle of civilization and homeland of an invaluable cultural and artistic heritage, Rome is the ultimate location to live a higher education experience; take advantage of the many beautiful places and enriching initiatives offered by the roman landscape and learn in one of the most proficuous centers of made in Italy production.
An always growing business ecosystem
With more than 650.000 companies registered in the region and more than 1.000 new startups in the city territory, a growing rate of entreprises of 1,81% in just last year, the italian capital is the second city for number of new business on a national level.
There's no business you can't find
From fashion to food & beverage, from arts to tourism, Rome is the birthplace of multiple renowned enterprises and activities of made in Italy products and services, all of them operating in the business sectors tackled in the school's programmes: an aspect that allows the students to experience first hand the reality they're aiming to access to.
Study in Rome, experience everywhere
Through the company visits and study tours organized by Rome Business School, you'll have the chance to get in contact with worldwide-known institutions and renowned companies, become familiar with different professional environments and expand your network. Our school also offers the opportunity to take part in internships, in Italy and abroad, at prestigious and successful companies.

Structure
⇒ 6 months of lectures
⇒ 6 months dedicated to the Capstone project 
⇒ 1 week for the Bootcamp in Barcelona or Rome
⇒ Soft Skills programme
⇒ Integrative cultural programme
⇒ Seminars and events
Attendance Mode

Saturdays, from 10-00 am to 5.00 pm
Benefits
Didactic Benefits
International Study tour: Bootcamp in Barcelona or Rome in July 2020
Cultural Program –Walking Tours in Rome
Soft skills programme
Research Methods for Business
Marketing & Sales Plan
Career Benefits
Career Development Workshops
CV and Cover Letter
Job searching tools and self-promotion strategies
Handling different types of interview
Career Services Support
Individual career counseling meetings – to identify your individual job search strategy
Career Services online Platform – where to find internship opportunities available through the school
Workshop on salaries and negotiations techniques
CV circulation in Rome Business School's network
Logistic Benefits
Accommodation support – Accommodation Provider
International Student ID card – ISIC
Contents
Programme of the Master in Marketing & Sales – Executive
Managerial Skills
Business Strategy
Business Economics
Entrepreneurship and Business Planning
Project Management
Supply Chain Management
HR Management
Specialistic Skills
Marketing
Marketing Strategy
Marketing Tactics
Marketing Organization
Sales management
Sales techniques and Process
Management of Network and Channels for Sales
Negotiation
International Marketing & Sales
Nnalysis of international markets and defining a sales strategy
Marketing mix and the commercial system for international expansion
Digital Marketing & Sales 
Web design and CMS, SEO, SEM, Emailing, Social Media Marketing, E-commerce, Web analytics,
Online sales funnels.
Innovative and Sustainable Leadership 
Neuromarketing and new technologies for marketing & sales
Marketing & Sales for the circular economy
Sustainability, corporate social responsibility and ethics in marketing & sales
Capstone Project:  Marketing & Sales Plan
A team project aimed to develop a Marketing & Sales plan designed to accomplish a business goal in the area of Marketing & Sales, of an existing or fictitious company in the Marketing & Sales Industry. All teams are guided from the very initial phase of the project.
Objectives:
Developing the skills and techniques required to conduct a research project.
Enhancing the capacity to solve problems in unfamiliar environments, within contexts related to marketing and sales.
Integrating the knowledge you have acquired on the Master.
Teamwork skills development. Understanding the dynamics of the roles and productivity in relation to a business project.
The Marketing capstone Project work has to be presented verbally to the Academic committee composed of: The Dean of the School, Academic Supervisor, Master's Supervisor and in front of Marketing Industry experts and Managers who will all together evaluate the project.
Faculty
Rome Business School's Master in Marketing & Sales are held by highly selected international university professors, trainers and business managers, drawn from a variety of operational and professional fields, from advertising to sales, from entrepreneurship to digital marketing.  The teaching approach is aimed at the acquisition of know-how, in order to transfer truly useful competencies for the attendees' professional development.
Some of our teachers
GIULIANA BALDO CHIARON – Graduated in Foreign Languages and Literature in Padua (Italy); International Business, General Management e Marketing at Royal Holloway University of London (UK); Digital Marketing and Business Development Manager in the Prepaid Services & E-Commerce Department of Clouditalia Telecomunicazioni; International Relations and Communications Manager at C3 Europe e Alphatelecom in London (UK) from 2008 to 2010.
ANDREA SOLIMENE –Digital entrepreneur and project manager, expert in smart working and creative entrepreneur, emotionally intelligent manager, decision maker and great coordinator. Intuitive, with strong organiztional and problem-solving skills. Expert in smart working.
FRANCESCO LANDOLFI: Francesco Landolfi matured all his professional career developing and managing innovative and high tech projects in two main industries : Information Technology and Healthcare . Francesco held several Sales & Marketing managerial positions in multinational companies such as Microsoft, IBM , Baxter. He ran as Managing/Senior Director innovative entrepreneurial projects for start ups and small enterprises (Net for Care; Privatassistenza; Telbios). Today he is Senior Partner for Arventia Capital a firm involved in private equity and venture capital investments. Francesco holds a Master in Business Administration from Harvard University and a Laurea cum Laude in Economics from LUISS University.
Master's Supervisor
STEFANO CORSINI – Stefano Corsini has gained a 25-years experience in the world of Food & Beverage, an experience acquired from a passion that ultimately turned into a profession.  He has worked as Account Manager in the Italian Sales and Marketing division of Unilever Food Italia in 1997. This role further extended his management capacities in the world of F&B, with particular regard to Marketing & Sales, Product Development, Customer Satisfaction, both at a national and international level.
Now, Manager, he provides top-ranking experience in the management of entire Business Units – both in Italy and abroad. These are some of the Companies he worked for. Compass Group, Italia Zuccheri, Unigrà, Modecor Italiana, Tate & Lyle Sugars, managing the B2B, B2C, Retail, Foodservice, and HoReCa channels. Today, as a Executive Director, he also provides consulting services.
Career Services
Rome Business School supports its students even beyond the academic environment, providing them with guidance and assistance in developing a strong professional profile which reflects the most sought competencies in the current job market. In particular, the school offers the following services to the enrolled students:
Support in the management of job interviews
Free review and inclusion of the student's CV in the Rome Business School's database, and its distribution to businesses, organizations and head hunters belonging to the school's international network;
Networking meetings with international managers, professionals and business owners
A personalized search and flagging service for the best job opportunities in Italy and abroad
A one of a kind experience: Bootcamp around the world
Hone your entrepreneurial skills and test them with the ultimate challenge: Rome Business School's exclusive Bootcamp in Rome and Barcelona, organized in partnership with EAE Business School, two beautiful cities at the forefront of innovation and among the most productive start-up ecosystems. An advanced programme designed to put you face to face with realistic business scenarios to solve and provide you with a practical way of learning and skills development. All with the professional support of a tutor from top-class working companies!
Placement rate
At the end of the Master, 96% of the students obtained an internship in internationally renowned companies, such as: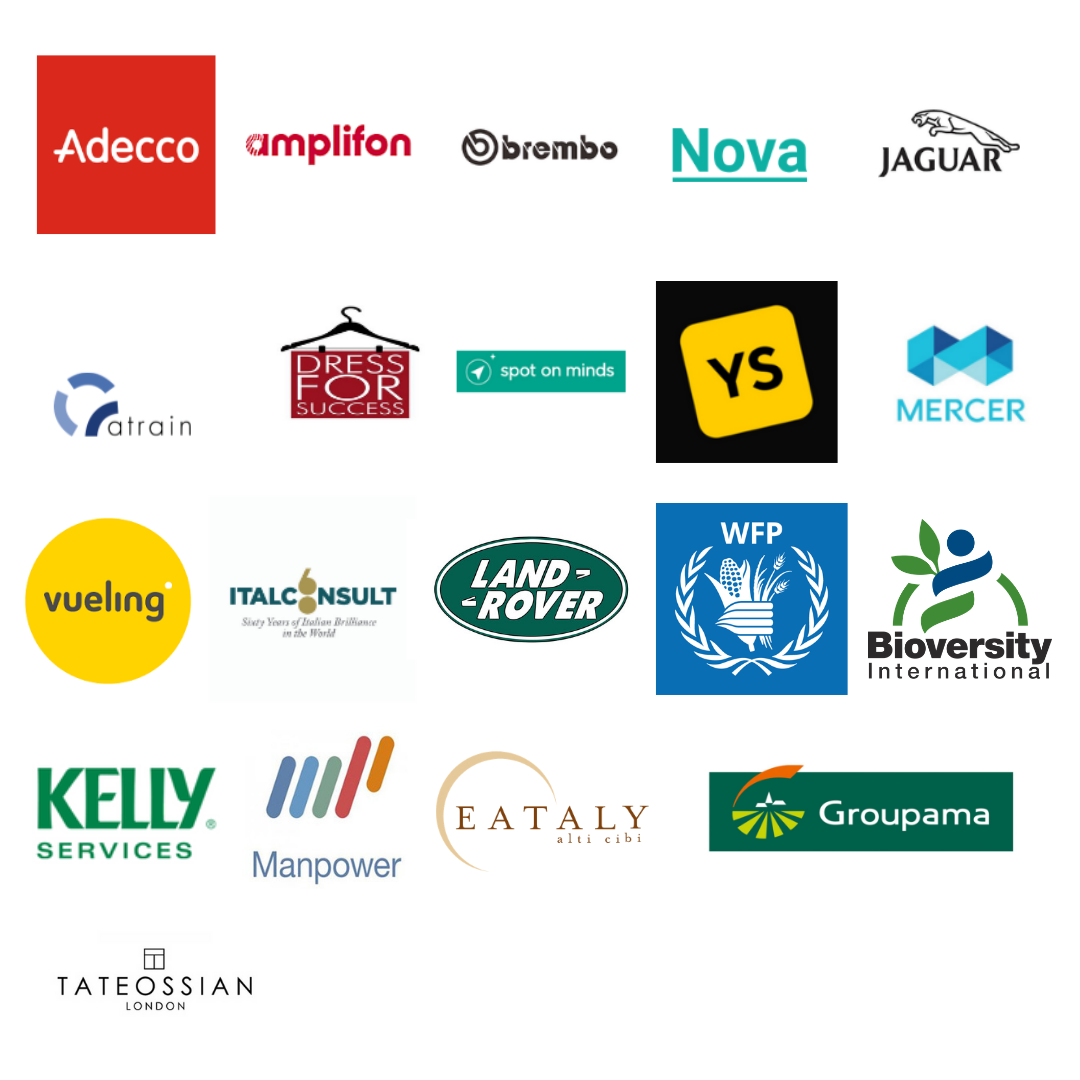 Admission process and graduation
The admission process is aimed to verify the candidate's eligibility to attend the Master. The candidate's academic history, previous experiences in the topics covered in the Master and motivation will be matters of the evaluation.
Once it's sent, the application will be evaluated by Rome Business School's academic committee. In order to ensure the application's suitability, it is important to deliver all of the required documentation.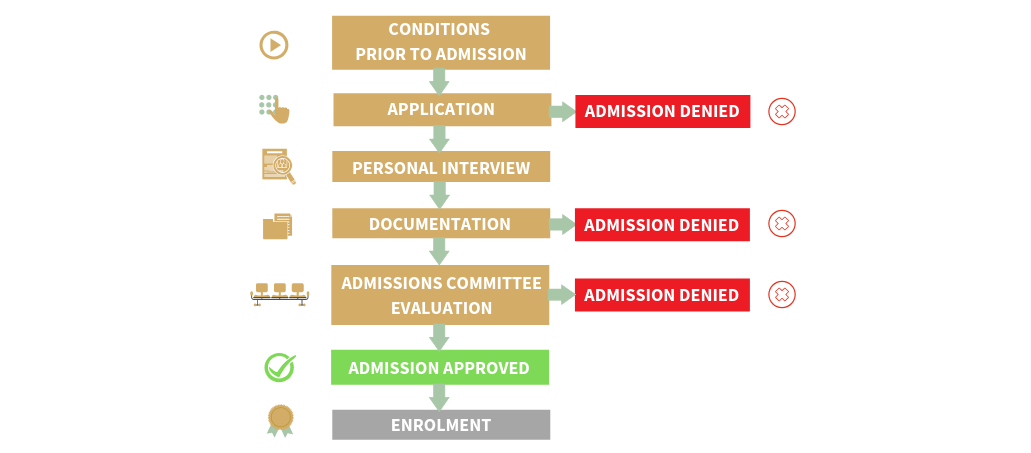 Students who successfully complete the programme will receive a double certification: Rome Business School's diploma and an official certification by Universidad Internacional de Valencia (VIU), which provides 60 internationally recognized credits (60 ECTS).
Scholarships and Tuition
Scholarships
According to the individual profile, experience, and proved motivation, the candidate can be awarded a scholarship covering part of the overall tuition fee (up to 20%). The eligibility for a possible scholarship will be decided by Rome Business School's academic committee during the evaluation of the candidate's application.
Scholarships are available for all of the didactic formulas.
Tuition fee
The tuition fee for this Master is: 6.500 Euros
It can be paid:
in installments
in a single solution (this option grants the student a 10% discount on the overall amount of the tuition fee)
CONTACT US