Theresa Perez: my life as an entrepreneur after Rome Business School
Theresa Perez lives in Brooklyn, NY. She is a business and marketing consultant for entrepreneurs in arts & culture, having worked with clients such as Esperanza Spalding and Listen Creative Agency.
She will also be launching a new business called IN Arts Creative Agency (inarts.nyc) this November. You can learn more about Theresa or contact her on her website: www.theresaperez.com
She recently graduated from Rome Business School with a Master in Arts and Culture Management.
Her final project work was a business plan for the agency she actually launched.
INTERVIEW
How/when did you start your professional activity of cultural manager?
I began working independently with artists in mid 2015. I had spent the last 10 years working as a performer, and an administrator – both in non-profits and at a corporate music company, Sony Music – and I felt ready to start my own business and begin working with artists directly. My initial concept was to work with artists on a project basis, helping them to improve their business operations. I began connecting with local artists in New York city, to better understand how I could support them, and created a structure for interviewing them about their work and trouble-shooting some basic business aspects that could be improved. This led me to working with Esperanza Spalding, a highly accomplished, world-renowned musician. My work with her began as a consulting project that looked at how all the members of her team were working together and how this could be improved. From there, I was invited to begin working as a member of her management team and as a consultant for Red Light Management. So, I wasn't necessarily planning to be in artist management, but one thing led to another, and eventually I was a full member of this management team. Through this process I learned that it was actually quite challenging for me to work with artists in a consulting capacity, unless they clearly wanted to start or grow a business and already had strong revenue or funding. Most artists were looking for someone to help them build their artistic career or run it on a day-to-day basis – both of which were aspects of artist management, not really consulting. After working with Ms. Spalding for a couple of years, I took a step back from artist management and began exploring other ways I could support artists. As I was talking to different people, I realized that entrepreneurs who wanted to start a business actually had a lot in common with artists: they had something they were very passionate about creating and sharing with the world, and they were trying to figure out how to make it financially viable. One of the entrepreneurs I spoke with at this time asked if I would help him raise a first round of funding for his start-up. Excited about the challenge, I accepted the invitation and began working with him as a consultant. I worked to create process and organization around basic things like finance and marketing, created a business plan, investor decks, and five-year financial models, and we worked tirelessly together on presentations and product development. After a year of working together, I am proud to say that we were successful, and the money was raised to grow his business. Though this work was technically outside the field of arts & culture, the experience I gained has been invaluable, and will only be applied to my work with artists and cultural organizations. In fact, my next client was an innovative creative agency that works with musicians and cutting-edge technology to create one-of-a-kind experiences, like virtual reality concerts. This company has been so successful and grown so fast, that their existing organizational structure was no longer able to support their operations. They asked me to come in and evaluate their finance and human resource functions and create recommendations about how they can be improved. So, I've been able to apply all of my past experiences to help this business, which is in the arts & culture sector, to meet it's growing operational demands.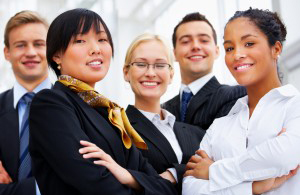 What did you study? How was your experience at the Rome Business School?
For my undergraduate degree, I studied Contemporary Writing & Production at the Berklee College of Music. My principal instrument was piano, and I also wrote and performed with a band on the guitar. Recently, I completed a Master's degree in Arts & Cultural Management from the Rome Business School. Throughout my career I have also taken trainings on project management, contract negotiation, conflict resolution, and facilitation.
What are the major challenges and difficulties in your work?
Being self-employed and working with highly motivated people is very exhilarating and never boring. The biggest challenge for me has been maintaining a sales pipeline: having a constant stream of projects to generate more predictable income. What I experience is that in order for my business to run, I always have to be getting new business. I never thought of myself as a sales person, and I wouldn't necessarily say I enjoy doing it. But, when it's tied to something I'm passionate about it doesn't really feel like selling. It's more about wanting to give what I have to offer, making sure it's financially sound, of course. When I tune into that, it's not so hard, and the right people usually come along. But waiting for the right people only takes me so far. I've found I have to be much more proactive in order to generate a pipeline of projects.
What would you recommend to other people who are interested in this career?
There are so many things that one can do from the perspective of building business or administering business operations of the artistic and cultural fields. This is both exciting and sometimes daunting. In my experience, it requires a tremendous amount of self-determination, perseverance, and inner clarity to pursue this kind of career in the arts – especially if you are self-employed. But, even if you secure jobs in a museum or record label, it's still important to constantly be aware of how you want to grow and shape your career in the arts. No one will do it for you, and there is no "one way" to do it.
One thing I would recommend is to approach someone who knows more than you and ask for their advice. If you get good advice, you may want to develop a mentor-mentee relationship, which is usually of mutual benefit. A good mentor will share the result of their experience with you and will help you as you're making important decisions. Sometimes they might even give you opportunities for work. This kind of relationship is invaluable.
The other thing I would recommend is getting a master's degree and gaining a few years of solid experience in business. Neither of these is necessary, but I have found them both helpful. It's been of particular benefit for me to have a background in Finance and Human Resources.
What are your new plans and goals?
Through working with artists and partner agencies over the last 15 years, I have seen the constant demand for visual marketing materials like photos, videos, and websites. As a consultant, many clients would ask for these services and I would either do them myself or find the partners for the projects. To address this need, I started a creative agency specifically to produce this type of work. The impetus to create the business plan for this agency came from my final project at the Rome Business School. The basic concept is to provide world-class promotional materials for arts & culture businesses and to give back to the local artist community by providing discounted or free marketing materials and business advice. Our official launch will be November 8, 2018. In addition to launching this new creative agency, I will continue growing my consulting practice, working with entrepreneurs in the arts & culture space to help them grow and run their businesses better.