The Success Story of CETA (Comprehensive Economic and Trade Agreement)
Recently, in Brussels, the European Union and Canada signed a Comprehensive Economic and Trade Agreement (CETA). This is a bilateral international treaty aimed at establishing free trade relations. Negotiations started many years ago but (owing to Belgium's opposition) no concrete outcome was reached until Saturday, the 29th of October 2016. There is a lot of controversy surrounding CETA, which needs to be thoroughly analysed.
What needs to be clarified first is the background of the relationship between the two parties; this must be done in order to understand why the delegates of Canada and of the EU Member States had been struggling for so long with this agreement. It is important to point out that Canada is the 12th most important trading partner of the European Union, accounting for 10% of Europe's external trade, while the latter is Canada's second biggest trading partner (after the US). The EU mainly exports machinery, transport equipment and chemicals to Canada, importing in return natural resources, energy, raw materials, as well as well as vacancies to European population, know-how. For these reasons, CETA has been established to help both trade and investment to be conducted in an easier, wider and more democratic way. In total and respectively, the yearly trade in goods and services accounts for €60 billion and more than €120 billion.
What could be healthier and more beneficial for the European Union than a treaty with a sizeable, healthy market such as Canada's? In these times of economic uncertainty, this agreement pursues the objectives set by the European Union within its "Europe 2020" Strategy, in terms of achieving employment of 75% of its population aged 20 to 64, as well as making Europe a more sustainable place in which to work by creating conditions for a more competitive economy. The agreement is expected to increase trade in goods and services between the EU and Canada by nearly a quarter by prioritising promotion of growth, effective investment, and research innovation. Furthermore, CETA is a progressive treaty that, with regard to the business world, will contribute to the elimination of import duties (European exporters will save around €500 million a year), the establishment of EU public contracts in Canada, the transfer of personnel between the two parties, the limitation of the unlawful copies Canada used to make of European innovations, traditional food products and artworks. Concerning farming, the open market will allow consumers to have more variety of products from which to choose, enabling the companies to keep their prices low. As a major producer of high-quality food, the EU will become able to sell more to a high-income market and thus increase its earnings.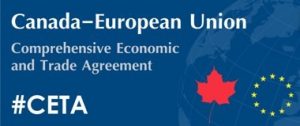 In case this was not convincing enough, the guarantees offered by CETA may be encouraging even for the more sceptical European citizens. According to the draft resolution (Chapter 21, Article 21.1, par.2), there is going to be a Regulatory Cooperation Forum, which will ensure respect for the already existing treaties—like GATT for products or GATS for services—as well as protection for human, animal, and plant life, or health and the environment. It will play an advisory role by suggesting technical solutions to legislators, but will never interfere in the countries' decision-making processes and domestic policies. It will be like a conformity assessment body testing EU products for export to the Canadian market according to Canadian rules and vice versa, deterring even smaller companies from wasting money for that reason. CETA will not even be able to negatively influence food safety (no danger from growth hormones or GMOs) or the environment, as cooperation between the two parties is 'limited' to policy development issues. Furthermore, there is no possibility of influencing the public sector, given the fact that CETA does not have a mandate to put pressure on governments to privatize or deregulate public services. Equality, respect, transparency and democratic process are also ensured through the counter investment dispute. The fact that a country has a strong legal system does not always mean that the law will protect foreign investors from discrimination by governments.  In other words, CETA can prevent investors from being unfairly treated in foreign countries by establishing a strong and independent investment dispute settlement system and enacting rules on members of the tribunal to avoid frivolous claims. By setting such rules, investors will be enjoying the legal certainty they need, while making sure that the system cannot be abused.
Such a progressive treaty with a major world economy like Canada means a lot more than just addressing a wide range of issues pertaining to the trade of products and services. The almost 1960-page draft promises a real, transparent and mutually beneficial environment for producers, traders and investors, against which no conspiracy theorists can ever speak.
---
Symeon Christofyllidis
Master in Political Marketing