More than 200 students at the RBS International Bootcamps 22
Silicon Valley, Paris, Rome, Barcelona and Tuscany for a global challenging experience
The RBS  International Bootcamps embody the spirit of internationality between students and management world in a learning-by-doing program, offering networking opportunities with leading companies and institutions.
RBS International Bootcamps 22 are a 360° global experience, designed to embody the spirit of internationality between students and the reality of the management world that take place between July and September in five of the world's most important business hubs: Silicon Valley, Paris, Rome, Barcelona and Tuscany.
More than 20 companies visited such Meta, Cisco, Salesforce, Christian Dior Couture, DFactory, Canon, and 5 top partners: EAE, Sup de Lux, Volognano, La Storia nel Futuro Association.
They are challenging, practical, international accelerated learning-by-doing programs for students who wish to learn and practice the latest World Technology, Innovation, International Business, Entrepreneurship, and Project Development principles connected to key sectors like Fashion and Food, offering networking opportunities with companies and students from all over the world.
More than 200 students are part of the RBS International Bootcamps 22, involved in lectures given by highly qualified, internationally acclaimed instructors, working on project teams, getting realistic business challenges to resolve, experiencing a practical way of learning, a global mindset and enhancing their skills development.
Silicon Valley Bootcamp, Innovation and tech
Students experienced an incredible week-long experience in Silicon Valley where the world's biggest new technology and innovations were born and grew-from microprocessors to computers, browsers to social media, sharing economy to cryptocurrency. The program gave participants first-hand experience in Silicon Valley's high-tech industry and taught them how entrepreneurs generate new ideas, assemble teams, start their companies, raise money, and scale-up. They had the chance to meet companies such as Meta, Cisco, Salesforce, and also visit incredible educational hubs: the University of California, Berkeley Campus and Stanford University.
The bootcamp was off to a good start with day 1 being dedicated to visiting the Meta headquarters, guided by Matteo Melani, engineer at Meta, discussing NFTs, creator economy and Web3 and later stopping by Stanford University. Not only Meta, but also Cisco: "Failing is ok, use crisis as an opportunity and be brave," stated Massimo Malizia, Director Corporate Development Integration at Cisco perfectly summarizing the mindset of the Silicon Valley Area, which applies to both big and small companies.
Students also learned about the intersection between the corporate world and the startup world with Mind the Bridge and, while at Onda, Flavio Bonomi discussed the startup environment stating: "Timing is fundamental to be profitable. Being a unicorn means that you go alone against the big companies until you grow and become their competitor." Participants even had the chance to sit in a real Silicon Valley basement and discuss innovation, like many successful people before them.
Of course the experience also involved learning about the technical aspects of innovation with VMware, Juniper Networks, Synopsys: companies behind some of our most used apps and technology and that play a huge role in our everyday life. It was a week of challenges, learning and opening for our participants who delved into new scenarios between strategy, digital technology, innovation and entrepreneurship. They learned about effective leadership and were mentored by inspiring professionals.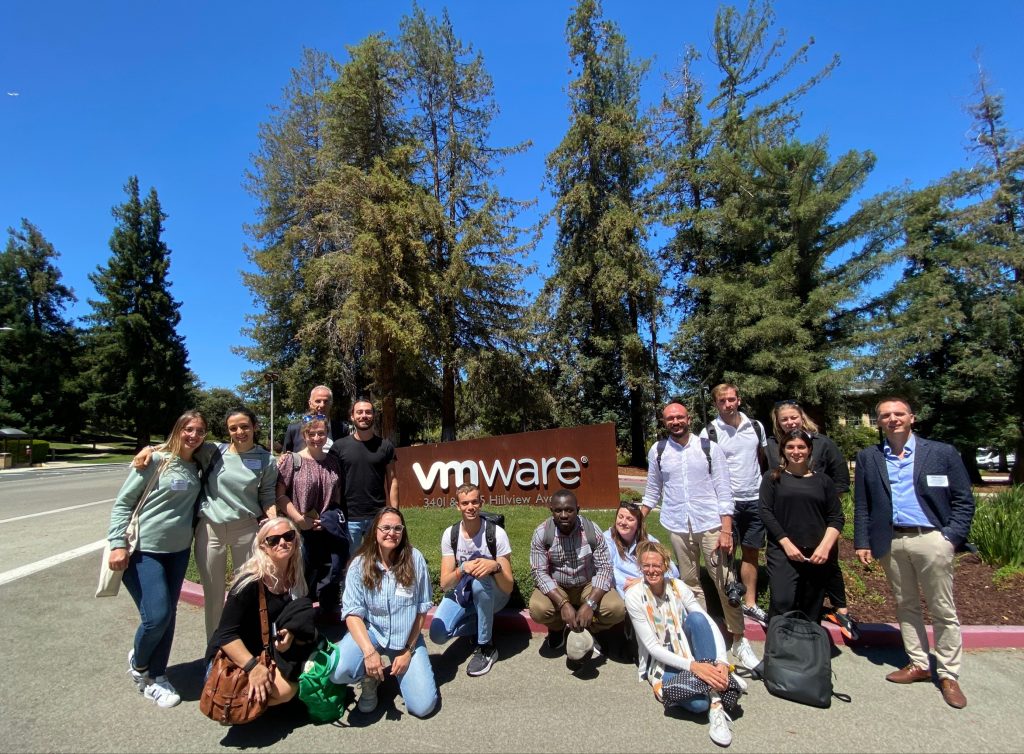 Barcelona Bootcamp, learning about entrepreneurship
In this program dedicated to innovation, participating teams created new business ideas through rapid prototyping techniques based on Google Ventures' Design Sprint methodology. The bootcamp is in partnership with EAE Business School, one of the most successful and accredited business schools in Spain with over 60 years being present as a higher education institute, and designed together with the EAE Entrepreneurship team. The Bootcamp is designed together with the EAE Entrepreneurship team. Participating in this Executive Bootcamp in Barcelona means not only investing in cultural enrichment and life experience, but also accessing a world of opportunities in the hometown of many leading companies and a favorite destination for entrepreneurs.
Students had the opportunity to visit industry-leading companies, such as DFactory and many startups whose entrepreneurial and innovative methodology are at the core of their value proposition and experienced firsthand how #innovation and #entrepreneurship are driving global market change.
During the five-day program, participants connected with a coach during dynamic workshops and be guided by mentors and experts. At the end of the program, participating teams presented their business ideas and related prototypes at a Demo day in front of a selected panel of experts.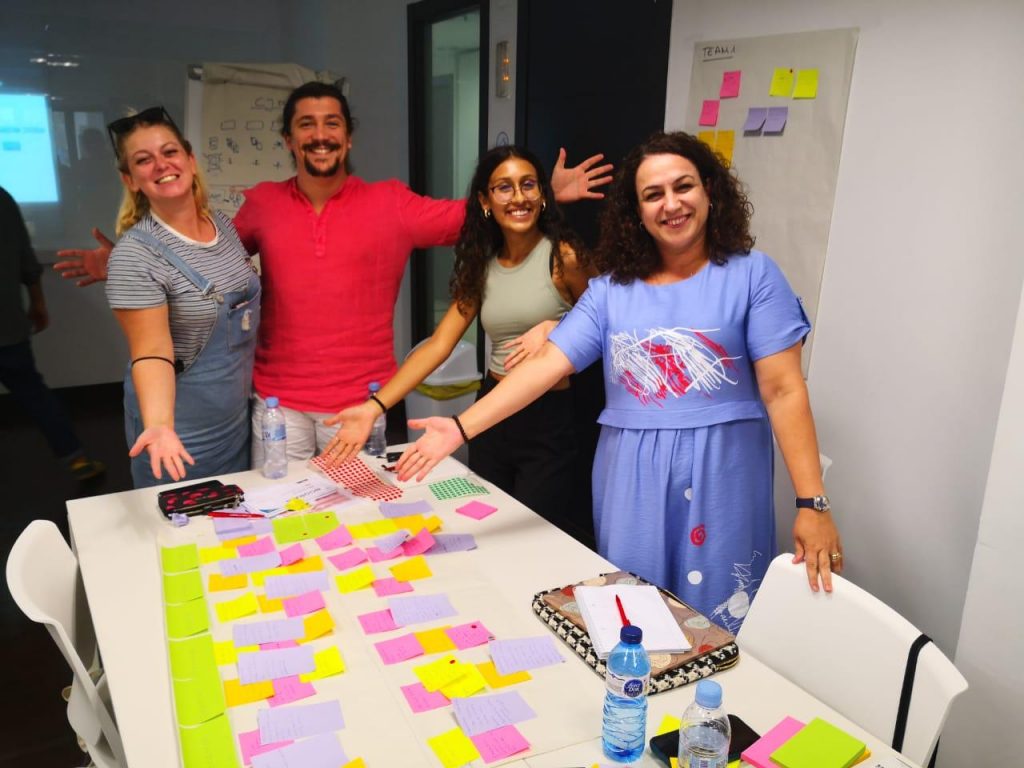 Paris Bootcamp, diving into the luxury sector
The Bootcamp focused on the luxury sector and the brands' s evolving strategy as they face challenges of creativity, sustainability and business.
During this intensive week, students attended classes, meetings and workshops with stakeholders of the luxury world as they learn about the methods, benefits and pitfalls of creative management, but not only that, visits to iconic sites, shops, luxury landmarks, foundations were also included allowing students to make the most and discover Paris, the capital of luxury.
The Bootcamp was in partnership with Sup de Luxe, the institute founded by Cartier and well known for its reference luxury programs. Thanks to the intervention of mentors such as Catherine Champeyrol, Michel Dalonneau, Anne Flogny and Thibaut de la Rivière, participants delved into key concepts: "When you work for a luxury brand you have to be clear about what that brand stands for" shared Michael Dalonneau in his class on selling luxury, while Catherine Champeyrol shared "Creativity is the process at the core of the luxury brands. In fact, the more you work on your creativity the more you appreciate other people's creativity".

However the Bootcamp is a 360° experience taking place not just inside the class, but outside as well. Visiting Christian Dior Couture's historical parisian flagship store, learning about jewelry making at COURBET, visiting the auction house Artcurial, and also the department store La Samaritaine, these are just some of the activities students partook in, all while breathing the ultimate Paris atmosphere and being there during the Haute Couture Fashion Week.
During their stay, students benefited from a tailor-made program that allowed them to combine learning and the discovery of Paris, the capital of luxury.
"Thanks to the bootcamp I had access to exclusive places that I could not have visited as a tourist. One of the most interesting things is that I got a chance to observe how my colleagues, from different nationalities perceive luxury, and so now my mind is more open about it" shared Mayra Rada, from the Specialized Master in Fashion Management.
Rome Bootcamp, Italy and business leadership
This Bootcamp was a full week plenty of activities: starting from Networking breakfasts, and then lectures, Challenges presentations, Mentoring Sessions, Guest Speakers sessions with companies such as Oracle, Canon, Ferrovie dello Stato, Canon and Carrefour. The Bootcamp
every year brings together international students from all over the world, many of which attending the RBS online programs and who have so far met exclusively online, and as such it is a joy-filled week: meeting course-mates for the first time, exchanging stories in person and combining different skills and backgrounds while working together on a business challenge.
The bootcamp focused on topics such as: business ethics, sustainability, new trends in tech and corporate social responsibility. During this intensive week, participants, attend guest lectures but especially they are be expected to apply their management skills and abilities to develop a strategic business plan for a globally operating company, identifying opportunities and solving problems, all while benefitting from the mentorship of RBS professors.
In fact, during the Bootcamp, companies such as Canon and Carrefour have launched their own challenges, represented by Giuseppe D'Amelio, Director Marketing Innovation DP & S at Canon, Elisa Pettenati, Talent Acquistion, Learning & Development Director at Carrefour and Aniello Bove, HR Business Partner, Central and Southern Italy Carrefour.
For Canon, students had to identify new areas and applications for production printing solutions that embrace the trends of mass customization and total experience in order to stimulate sell-out. Carrefour, on the other hand, was asking participants to identify solutions and tools that can be put in place to promote an agile mindset, spread direct communication among employees and increase well-being. Students divided into groups had until Friday to work and present their solutions, with the help of mentoring sessions with RBS professors. Once outside of the classroom students will have the opportunity to fully experience the Eternal City, the Italian lifestyle, culture and architecture, many for the first time ever.
Commenting on the learning process the RBS student Arfa Fatima found she especially appreciated the Carrefour Italia challenge as she "found it really stimulating from an HR point of view" and Khadijah Binti Abdullah marveled on how "everyone is willing to share their skills and experience and combine them towards the solution of the challenge presented."
Tuscany Bootcamp, Experimential luxury
Bootcamp participants had the opportunity to experience Italy from an indigenous perspective through cultural exploration and understanding not only the wine-making process, but more importantly the convivial importance of food and wine, from a managerial perspective.
The Tuscany Bootcamp 2022 focuses on key themes: food, wine and experiential luxury. During the intense week, students stay at Volognano, a place where participants will experience hospitality, history, classicism, and at the same time extreme convenience in both logistics and technology. All academic Field Trips and masterclasses enriched the course content in a stimulating way, contextualizing the information received in class through hands-on involvement, site visits, participation in local events, and communication with other participants and Italians.
The students also participated in a walking food tour in Florence, visiting several wineries, including All'Antico Vinaio, Ginori 1735, Antinori, and for dinner they had the opportunity to meet with Marco Ferretti, President of the Chianti Colli Fiorentini, to learn more about the wine traditions of the area.
Camilla Carrega Bertolini, Director of the Master in Food and Beverage Management and the Master in Tourism and Hospitality Management at Rome Business School accompanying the students throughout the Bootcamps experience commented as follows: "Students are getting to know and experience Italy through the perspective of a native, with cultural exploration and understanding not only of the wine production process, but especially of the convivial importance of food and wine."
The week's schedule was quite busy, designed to allow students to get the most out of the experience: Il Borro, which is Ferragamo's famous winery, where students had the opportunity to meet Vittoria Ferragamo, the beautiful Tenuta il Palagio, Castello di Ama, a day dedicated to get to know more about the Chianti Classico, meeting then Dario Cecchini and Massimo Coppetti to learn about their business, and many more.
"I am overwhelmed by how much I'm learning and my mind is expanding. Not just from the technical aspects of how how different wines are made and processed, and what a consortium does, but also listening to other students' (from different parts of the world) perspectives on food, beverage and culture and what brings them to Tuscany," told us Ching-Mei Chen, participating student from the Master in Tourism and Hospitality Management.
RBS International Bootcamp gave students a unique opportunity to widen their professional horizons and start expanding their business network. Rome Business School is proud to be offering an experience that enables everyone to gain a more international perspective on the world of business. In fact, future managers learned and practiced the latest principles of international business and creativity related to the luxury, fashion, food and tech world, with practical experiences for both learning and doing.
"We are more than happy to prove once again how important international mobility is, to enhance the experiential knowledge of our students: we are not only deepening the global learning about management, but putting into practice with real business challenges and top companies of the sector, the skills of the participants. A real added value that I am more than sure after this intense one-week programme will produce a long-lasting effect and rich networking opportunities" states Eleonora Mantovani, Head of the RBS International Department.