Meet our graduates: "All of my skills evolved during the Master experience."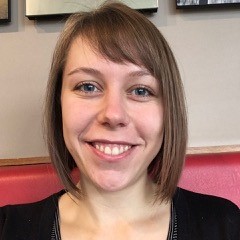 MEET OUR GRADUATES! As the Graduation Ceremony 2022 approaches we want you to meet some of our graduates, who will be celebrating their learning journey and successful achievements on September 18th, at the Auditorium Parco della Musica. Leonie Reschenberg, of the Specialized Master in Arts and Culture Management tells us about her Master experience.
Greatest achievement, favourite lectures and activities.
My greatest achievement learning so many different aspects of the arts and culture sector, my achievement must be the connection of the elements to one big picture in my mind and choosing a path through it. This path will change again with every new experience I gain in the future but being prepared by RBS and using my developed understanding of the field, I will enjoy the whole process.
My favourite events, I could not choose only one, were the company visits with Imago Mundi & Peggy Guggenheim Collection — having insight into such great concepts was extremely inspiring!
My favourite classes were in the first module: "Business Competencies — Strategy" with Prof. Antonio Scialletti.
I am certain that all of us finally understood the extent of business creation and its milestones through the thorough and enjoyable introduction of Professor Scialletti. With motivation and understanding he answered all our questions, developed his explanations according to our previous knowledge and interests and never lost optimism that we would finally understand!
His voice was in the back of our minds during our Capstone Project planning and we gained much more courage and positiveness about our ideas.
Developing new friedships and overcoming challenges
My person for all situations, moments, classes, study periods — without any doubt — is my colleague Enrica Maria Sbicego!
All the notes we shared, all the discussions we kept going after class to answer questions and deepen our understanding, all the emotional support during this exciting time — I cannot thank her enough!!!
The most difficult part of the study path must have been keeping up with the studies next to our daily life with work, family and COVID. There was lack of motivation on some days and procrastination on others, all overcome with success in our studies shortly after.
All of my skills evolved during this experience. If I had to pick one it could be teamwork with international colleagues of very different backgrounds and lifestyles which were even more complicated by COVID and online meetings.
Surely my appreciation for meetings in a real room grew very much! The social aspect of teamwork and meetings had much more obvious impact, now that we had to stay two dimensional.
Plans for the future
My next step is applying for jobs in New Zealand to begin another chapter without studies but a professional work life!
I am thankful to RBS for offering me a chance to keep studying in English and with many different cultural aspects — I really missed this being in Germany!