Cultural Visit: Music Schools for the Modern Age
On Wednesday the 29th of March, the Master in Arts and Culture students paid a visit to Rome's Saint Louis College of Music. It was truly an informative, interesting and engaging presentation the Rome Business School Arts and Culture students had on the recent visit to the Saint Louis School of Music.
The Director Stefano Mastruzzi shared with us his entrepreneurial spirit and experiences by explaining the journey of buying the nearly defunct school more than 30 years ago until it is now a school with a world wide reputation for many musical disciplines but particularly jazz.
The building itself is also very exciting because it is on top of ancient Roman ruins which are being excavated, and who knows what other exciting finds will be discovered in the near future.
The Director of Santa Cecilia Alfredo Santocci​,​ who was also present shared with us his years of experience of how a public school can produce world class opera singers who are gracing our stages today.
A classically trained jazz guitarist, Mastruzzi had returned to Rome after studying at the Berklee College of Music in Boston, only to find that the city was lacking in terms of modern music colleges.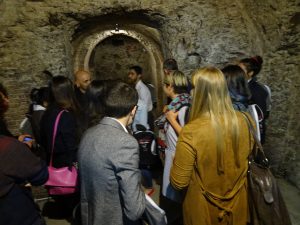 "I wanted to create something new for Rome," he told the group. Since taking over the college at the turn of this century, he has expanded the student body from 87 to 1800, the staff from 16 to 100 qualified tutors and has bought a total of four separate buildings, comprising 50 classrooms.
A renowned school both nationally and worldwide, St Louis earned its reputation as one of the best music schools in Europe through the quality of its teachings but also thanks to the significant investment Mastruzzi made in marketing and promotion.
Thank you Rome's Saint Louis College of Music for such a wonderful experience and a memorable company visit!