"Communicating power", a Rome Business School convention on spin doctoring and political marketing
Rome, February 21st, 6.30pm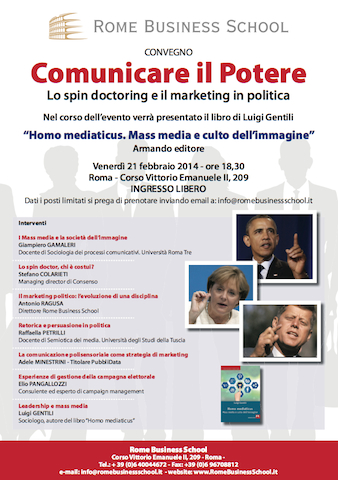 February 21st next, at 6.30pm, at the Rome Business School's headquarters in Corso Vittorio Emanuele II 209 in Rome, a convention will be held entitled "Communicating power – Spin doctoring and marketing in politics". A meeting on the tendencies and perspectives of political-electoral communications and marketing.
Experts will lead participants to the discovery of the most up to date political communication techniques and experiences. Among other topics, the discussion will cover media and politics, leaders' communication styles, electoral campaign management cases and the most current approaches to political marketing and spin doctoring.
Entry to this event is free; however, due to the limited seating availability, you are kindly requested to book by contacting us.