Overview
Rome Business School's Executive Master in Human Resources Management is the ideal choice for anyone who wishes to excel as HR Manager in the digital global era. Top quality training, networking and Career Services will allow the attendants to boost their professional and cultural growth. The methodology is oriented towards a practical approach, and the Master makes use of study cases and grants the chance to put in use the lessons learned, so to provide advanced HR management skills that can be immediatly enacted in the job market. Furthermore, the educational path is designed to develop side managerial skills, allowing the participants to enhance their personal competencies in many fields such as communication, critical analysis and strategic vision, while stressing the focus on subjects of the organizational behavior and digital HR management. The weekend executive formula allows working attendants to carry on their full time job and study at the same time, allowing them to follow their professional objectives while increasing their skills.
Why studying in Rome
The ultimate education experience in the eternal city
The cradle of civilization and homeland of an invaluable cultural and artistic heritage, Rome is the ultimate location to live a higher education experience; take advantage of the many beautiful places and enriching initiatives offered by the roman landscape and learn in one of the most proficuous centers of made in Italy production.
An always growing business ecosystem
With more than 650.000 companies registered in the region and more than 1.000 new startups in the city territory, a growing rate of entreprises of 1,81% in just last year, the italian capital is the second city for number of new business on a national level.
There's no business you can't find
From fashion to food & beverage, from arts to tourism, Rome is the birthplace of multiple renowned enterprises and activities of made in Italy products and services, all of them operating in the business sectors tackled in the school's programmes: an aspect that allows the students to experience first hand the reality they're aiming to access to.
Study in Rome, experience everywhere
Through the company visits and study tours organized by Rome Business School, you'll have the chance to get in contact with worldwide-known institutions and renowned companies, become familiar with different professional environments and expand your network. Our school also offers the opportunity to take part in internships, in Italy and abroad, at prestigious and successful companies.

Structure
⇒ 6 months of lectures
⇒ 6 months dedicated to the Capstone project 
⇒ 1 week for the Bootcamp in Barcelona or Rome
⇒ Visits at international companies and organizations
⇒ Soft Skills programme
⇒ Integrative cultural programme
⇒ Seminars and events
Attendance Mode

Saturdays, from 10-00 am to 5.00 pm
Benefits
Didactic Benefits
International Study tour: Bootcamp in Barcelona or Rome in July 2020
Cultural Program –Walking Tours in Rome
Soft skills programme
Research Methods for Business
Marketing & Sales Plan
Career Benefits
Career Development Workshops
CV and Cover Letter
Job searching tools and self-promotion strategies
Handling different types of interview
Career Services Support
Individual career counseling meetings – to identify your individual job search strategy
Career Services online Platform – where to find internship opportunities available through the school
Workshop on salaries and negotiations techniques
CV circulation in Rome Business School's network
Logistic Benefits
Accommodation support – Accommodation Provider
International Student ID card – ISIC
Contents
Programme of the Master in Human Resources Management – Executive
Managerial Skills
Business Strategy
Business Economics
Entrepreneurship and Business Planning
Project Management
Supply Chain Management
Marketing
Specialistic Skills
HR core
HR Strategy
Selection
Development
Salary
Management and industrial relations
Change Management
Organizational Behavior
The individual
The group
The organization
Innovative and Sustainable Leadership 
Digital Human Resources Management
People Analytics
Social Media ed Human Resources Management
Sustainability, corporate social responsibility and ethics in marketing & sales
Capstone Project:  Human Resources Plan
A team project aimed to develop an HR plan designed to solves a business problem in the area of Human Resources, of an existing or fictitious company in the Marketing & Sales Industry. All teams are guided from the very initial phase of the project.
Objectives:
Developing the skills and techniques required to conduct a research project.
Enhancing the capacity for resolving problems in unfamiliar environments in contexts related to Human Resources Management
Integrating the knowledge you have acquired on the Master.
Teamwork skills development. Understanding the dynamics of the roles and productivity in relation to business project
The Human Resources Capstone Project work has to be presented verbally to the Academic committee composed of: The Dean of the School, Academic Supervisor, Master's Supervisor and in front of Marketing Industry experts and Managers who will all together evaluate the project.
Faculty
Rome Business School's Executive Master in International Human Resources Management are held by highly selected international university professors, trainers and business managers, drawn from a variety of operational and professional fields, from the managerial field to HR Development and innovation applied to this business. The teaching approach is aimed at the acquisition of know-how, in order to transfer truly useful competencies for the attendees' professional development.
Some of our teachers
FABIO PISI VITAGLIANO – Corporate coach, facilitator and teacher of HR subjects.
His mission is helping people to reach their goals and express their potential. In more than 10 years of experience, he acquired solid skills in the training field – design and delivery of courses – as well in the commercial and strategic fields, developed in an international environment in Italy, France, Spain, UK, USA and United Arab Emirates.
ANDREA SOLIMENE – Digital entrepreneur and project manager, expert in smart working and creative entrepreneur, emotionally intelligent manager, decision maker and great coordinator. Intuitive, with strong organiztional and problem-solving skills. Expert in smart working.
GLORIA MENEGHINI – Has worked with renowned communication agencies such as Adnkronos Nord Est, the universities of Padua and Venice and Legambiente (the italian association for environmental preservation). As a consultant, she shares corporate know-hows and savoir-faire, developing training courses for companiues and banks in Italy and abroad. This includes maximizing the growth opportunities for companies and the launch of their products, team building, PR, managerial and commercial skills.
Master's Supervisor
MELANIA MECENATE – Studied in Italy, U.K. and France where she developed open mindset and flexibility. She earned her Linguist University Diploma at City of London Polytechnic and studied, on an exchange study programme, at Sorbonne University in Paris. She has started her professional career in Sigma-Tau, where as Congress Planner, she build her communication and organization competencies. The highest value this Italian pharmaceutical industry imparted her is people. in IBM, she worked in a variety of roles continuing to build her professional skills in a global, ethical, challenging and rewarding organization. In 2013, she started her independent profession as Coach and Development Consultant adding a very valuable ingredient to her work: fun and becoming Co-Founder of DISCLOSE managerial consulting company based in Milan.
Career Services
Rome Business School supports its students even beyond the academic environment, providing them with guidance and assistance in developing a strong professional profile which reflects the most sought competencies in the current job market. In particular, the school offers the following services to the enrolled students:
Support in the management of job interviews
Free review and inclusion of the student's CV in the Rome Business School's database, and its distribution to businesses, organizations and head hunters belonging to the school's international network;
Networking meetings with international managers, professionals and business owners
A personalized search and flagging service for the best job opportunities in Italy and abroad
A one of a kind experience: Bootcamp around the world
Hone your entrepreneurial skills and test them with the ultimate challenge: Rome Business School's exclusive Bootcamp in Rome and Barcelona, organized in partnership with EAE Business School, two beautiful cities at the forefront of innovation and among the most productive start-up ecosystems. An advanced programme designed to put you face to face with realistic business scenarios to solve and provide you with a practical way of learning and skills development. All with the professional support of a tutor from top-class working companies!
Placement rate
At the end of the Master, 96% of the students obtained an internship in internationally renowned companies, such as: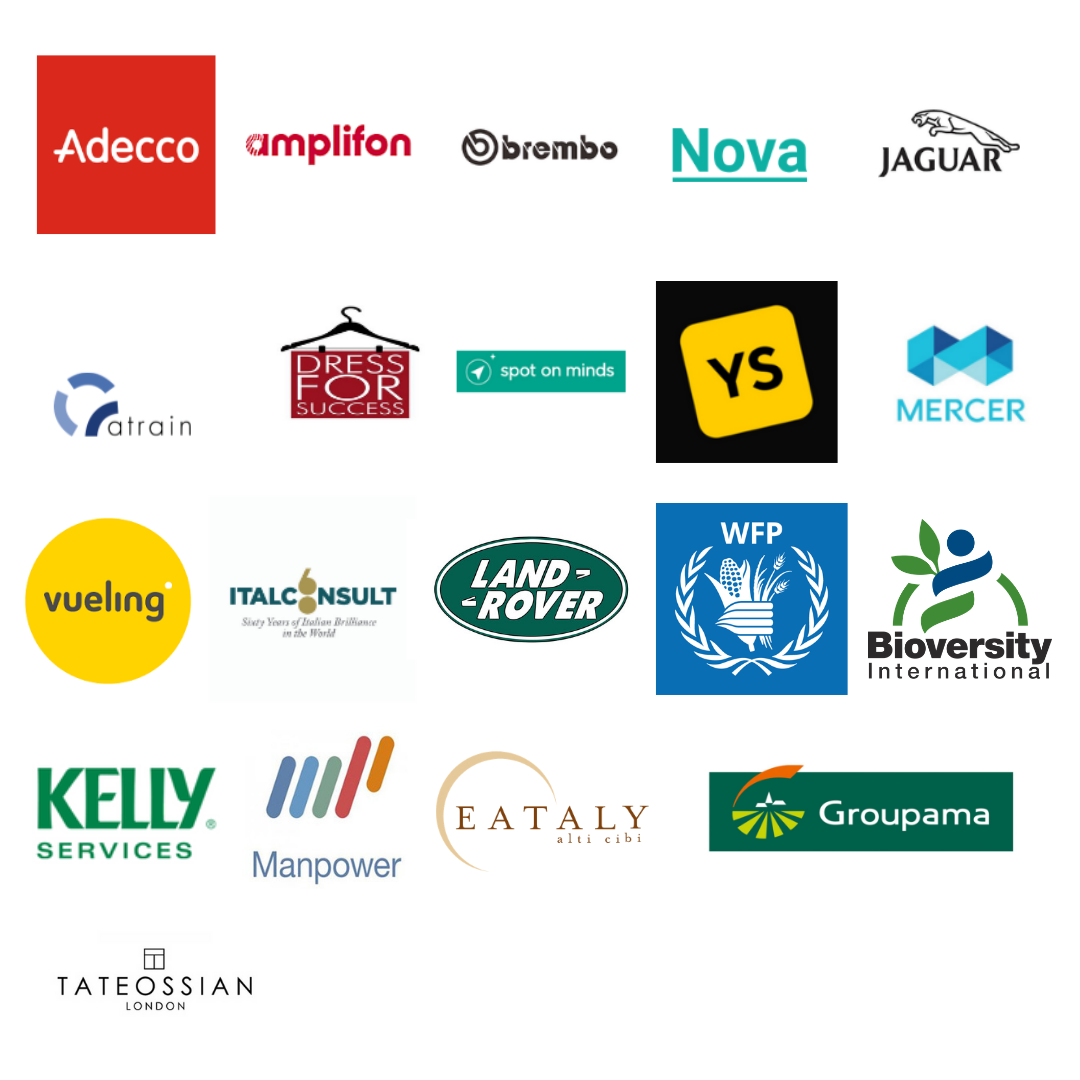 Admission process and graduation
The admission process is aimed to verify the candidate's eligibility to attend the Master. The candidate's academic history, previous experiences in the topics covered in the Master and motivation will be matters of the evaluation.
Once it's sent, the application will be evaluated by Rome Business School's academic committee. In order to ensure the application's suitability, it is important to deliver all of the required documentation.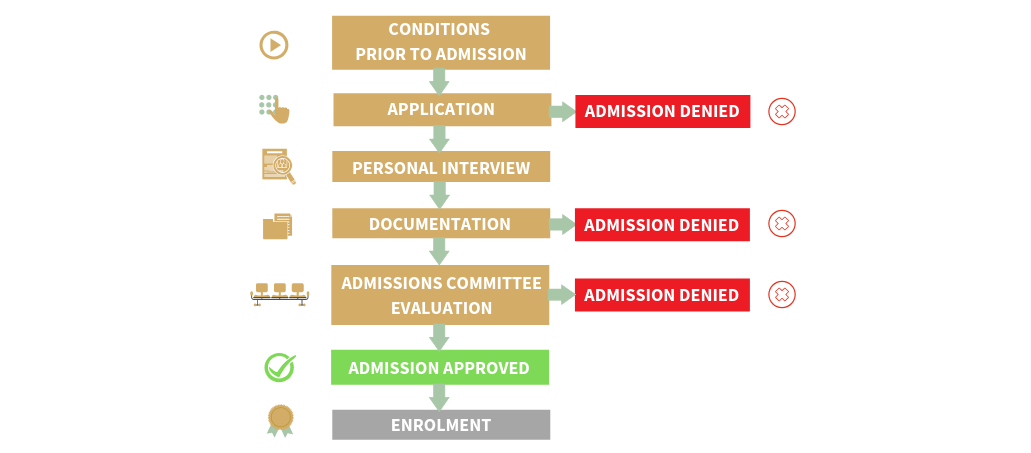 Students who successfully complete the programme will receive a double certification: Rome Business School's diploma and an official certification by Universidad Internacional de Valencia (VIU), which provides 60 internationally recognized credits (60 ECTS).
Scholarships and Tuition
Scholarships
According to the individual profile, experience, and proved motivation, the candidate can be awarded a scholarship covering part of the overall tuition fee (up to 20%). The eligibility for a possible scholarship will be decided by Rome Business School's academic committee during the evaluation of the candidate's application.
Scholarships are available for all of the didactic formulas.
Tuition fee
The tuition fee for this Master is: 6.500 Euros
It can be paid:
in installments
in a single solution (this option grants the student a 10% discount on the overall amount of the tuition fee)
CONTACT US