The Rome Business School visits Palazzo Barberini
Saturday the 18th of April 2015 saw a new edition of the "LeARn To" programme. Through this programme, the Rome Business School intends to use art as a communication tool, and also to develop creativity and innovation in the field of management. The widespread student participation was a crucial aspect of the success of this programme and of its objectives of personal and cultural growth.
The Rome Business School students met in the historical Via delle Quattro Fontane and, guided by a art history expert, visited Palazzo Barberini, the construction of which began in 1627 under the direction of the architect Carlo Maderno. Cardinal Maffeo Barberini's sophisticated humanistic culture influenced his whole pontificate and the powerful Tuscan family Barberini decided to build one of the most prestigious representation palaces. Today, this architectural jewel is one of the most important examples of a baroque residency.
After a brief tour of the garden, the students visited the Barberini Palace's National Gallery of Ancient Art, instituted in 1895 and hosting masterpieces from the 13th to the 18th centuries.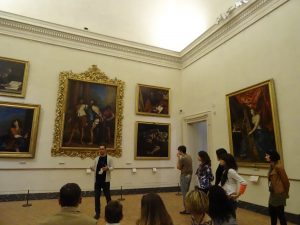 Among the most important works admired during the visit, we can mention Raphael's "La fornarina", Titian's "Venere e Adone", Caravaggio's "Narciso" and Jacopo Tintoretto's "Cristo e l'adultera". Furthermore, the outstandingly beautiful Salone di Pietro da Cortona, which is named after the author of the baroque fresco painting on its ceiling.
Adding to the many past visits, this one aimed at instilling into the students the value of an universal language such as that of art. Art is a fundamental tool for enriching an interdisciplinary education aimed at developing managerial competencies of excellence.