Graduation Ceremony 2014
On Friday the 10th of October, the Rome Business School celebrated the achievements of 11 students who graduated from master degree programs in Marketing and Communications and International Human Resources Management. These graduates join the ranks of the many outstanding RBS alumni who are making an impact in the world.
In his introductory speech, Dr. Antonio Ragusa, Founding President and Director of the Rome Business School, emphasized how important  is for graduates to reach this stage of their education. "One year has gone, maybe too fast, but it was an year whereby students learnt something new: competences, technical skills, knowledge, professional abilities, but most of all something new for their lives in terms of values and possibility for personal development (……)What we have tried to do, was to provide an education which is based not only on technical knowledge, but on values which are aimed at make them Better Managers for a Better World."
He also stressed the key factors of the Rome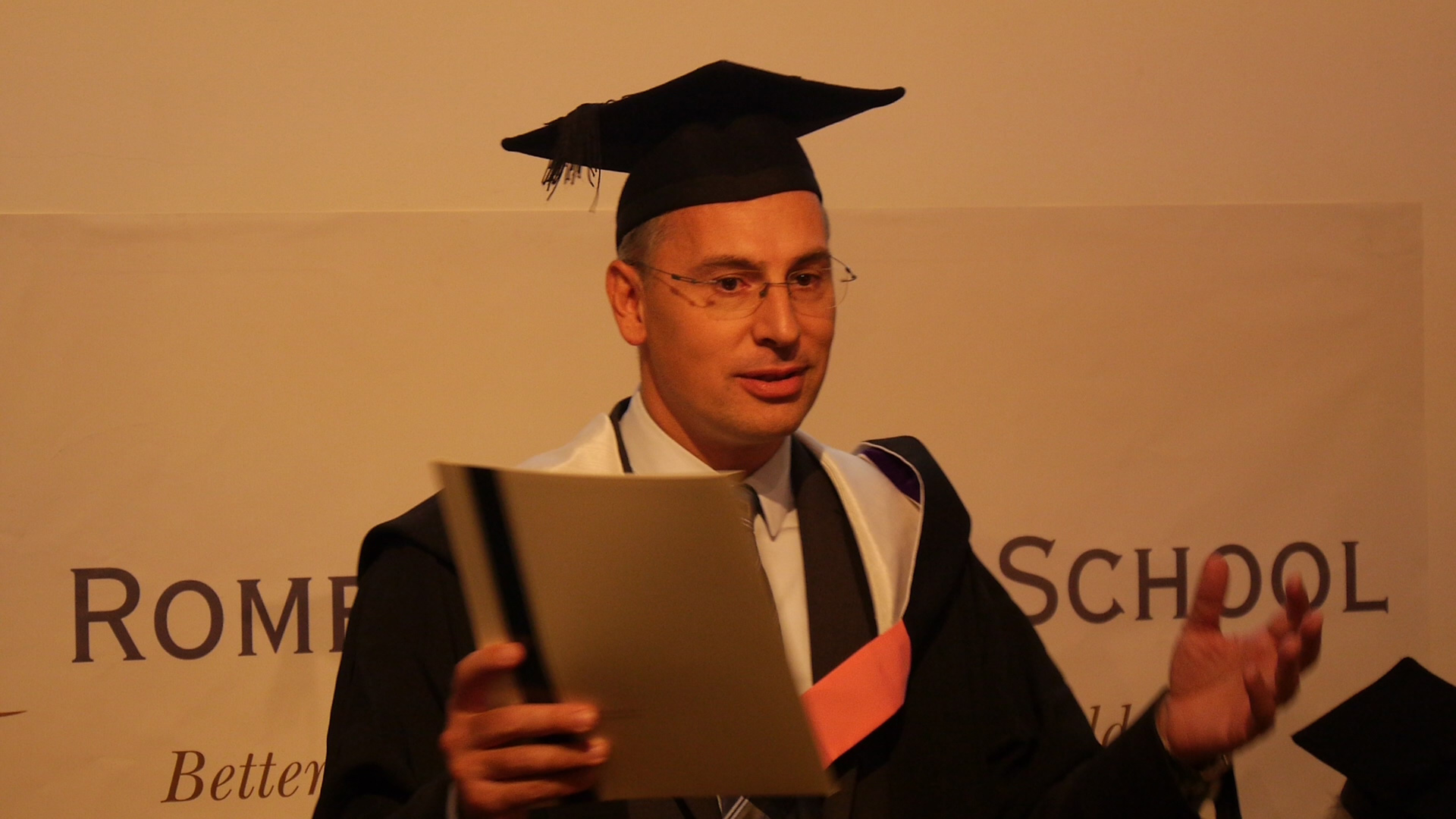 Business School's approach, such as the centrality of individual, the concept of value for the society we live in,  the social and sustainable approach, the importance of establishing relationships based on quality and trust, and finally on the added value that the Rome Business School offers: the multiculturalism and Internationalism. The Rome Business School hosts every year students coming from several countries, and Dr. Ragusa highlighted the importance of interact with different cultures as a tool to open our minds to new perspectives in order to take the best from everyone, especially in the era of globalization.
Prof. Aarop Mahanty also gave his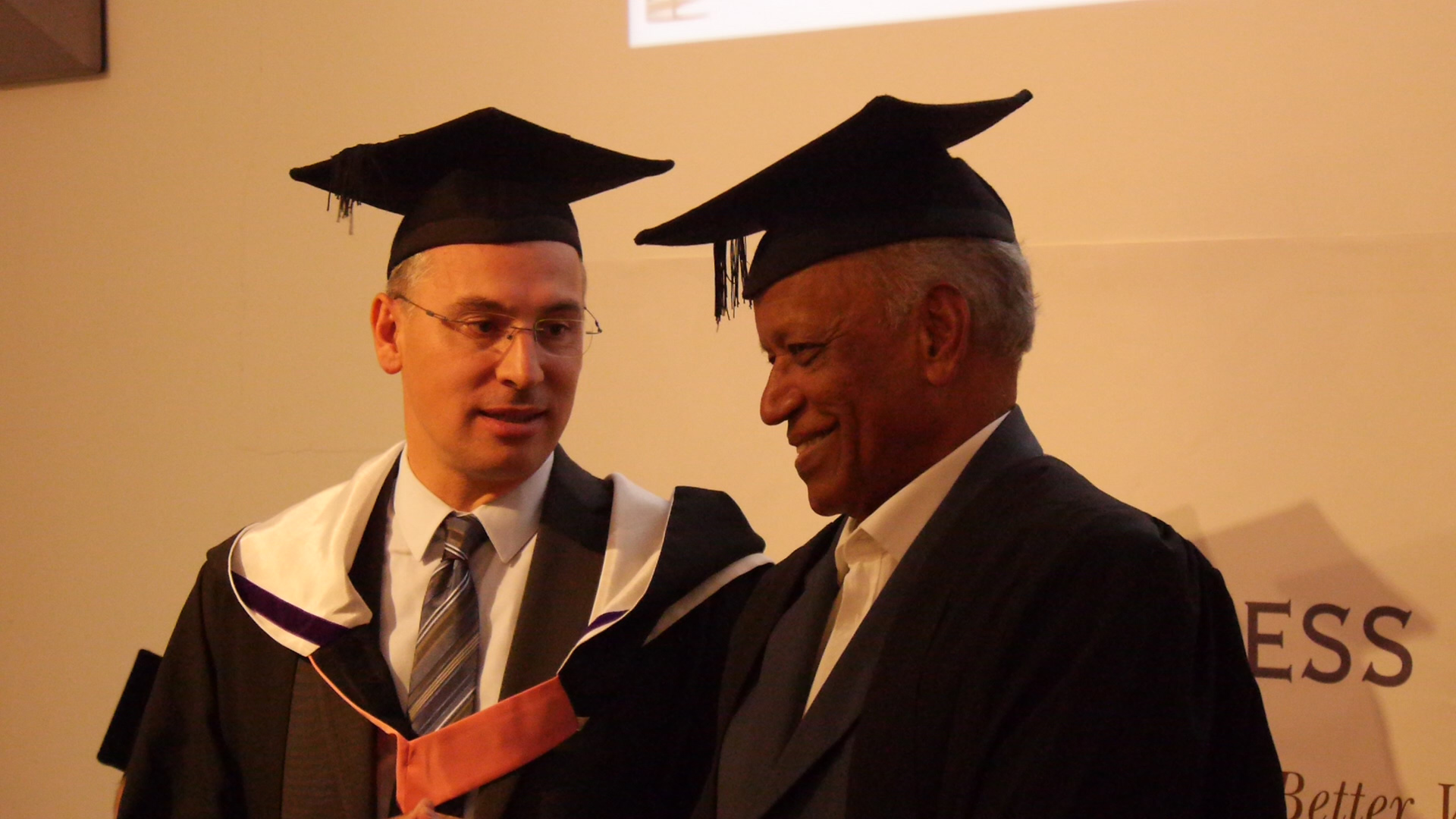 opinion the inner spirit of the Rome Business School: "Rome Business School simplify 3 countries: Italy, America and England. English are very well known for the rigor of their training, their education is respected all over the world and the Rome Business School reflect it with its thoroughness.  The American aspect is pragmatism, they do what works, and this is another aspect to highlight in the Rome Business School's mindset. Finally, Italians are very famous for creativity and for combining circumstances, needs and solutions, and I would like to stress the human aspect of them, as the people I work with here."
The following graduates received their awards at the ceremony:
Sherifat Abubakar – Master's Degree in Marketing and Communications
Francis Okechukwu Amaechi – Master's Degree in Marketing and Communications
Giovanni Cerasoli – Master's Degree in Marketing and Communications
Lucian Gigi Leampar – Master's Degree in Marketing and Communications
Katia Ingegneri – Master's Degree in Marketing and Communications
Temitome Mariam Jaja – Master's Degree in Marketing and Communications
Paolo Piga – Master's Degree in International Human Resources Management
Marco Rosci – Master's Degree in Marketing and Communications
Elena Roberta Secchi – Master's Degree in Marketing and Communications
Lily Settinieri – Master's Degree in International Human Resources Management
Omar Walid – Master's Degree in Marketing and Communications