Rome Business School continues its collaboration with the Nigerian embassy in Italy
On Tuesday 5 June 2018, in Rome, the Rome Business School's President and Founder Antonio Ragusa and Academic Supervisor Melanie Mueller met His Excellency Yusuf Jonga Hinna, the Nigerian Ambassador to Italy. The meeting provided the setting for the exploration of new opportunities for cooperation between the Rome Business School and Nigeria.
The "giant of Africa", as Nigeria is defined, currently hosts two Rome Business School sites—located in Lagos and Abuja—that not only offer students the possibility to attend Master courses in Business Administration and in Marketing & Communications, but also include courses tailored for the Nigerian environment and aimed at professionals and companies in their training offering.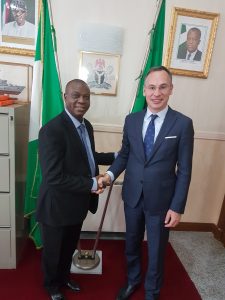 Rome Business School Nigeria, in fact, is the end result of a specific philosophy adopted by the Rome Business School: all countries have their own uniqueness, which is made up of the distinctive features of their environments, economies, and different market entry techniques; in consideration of this, any training offering must respect and satisfy its targets' specific needs, albeit never neglecting global standards.
The Rome Business School wishes to thank the Nigerian Embassy for the opportunity, with the certainty that the meeting represented a step forward towards an ever more active cooperation.