Porsche, Coca-Cola HBC, KPMG and Rai Cinema at the Welcome Week of Rome Business School welcoming over 740 students
Rome Business School opens its doors to its new students: 40% Italian, 60% international of which 68% European, 32% from the rest of the world, the main countries: Germany, Greece, Holland, Egypt, United States, Switzerland;
They will be welcomed by 10 top managers from leading global companies including Porsche, Qatar Airways, KPMG, Rai Cinema, Coca-Cola HBC, HMD Global;
A Welcome Week during which they will explore all the opportunities offered by RBS such as the Career Accelerator and the RBS4Entrepreneurship program, get to know the Faculty, learn networking techniques, soft skills, take workshops in communication and leadership with top companies and mentors from all over the world.
Rome, 14 April 2022. Rome Business School welcomes more than 740 new students with the Welcome Week 2022, seven days on campus that initiate students into the courses, through workshops and meetings with faculty, staff, mentors and top managers of major Italian and multinational companies that are RBS partners, including: Porsche, KPMG, Coca-Cola HBC, HMD Global, Qatar Airways, Rai Cinema, Oracle.
Rome Business School, this year for new students widens its offer with 6 new Masters, 15 specific elective courses, introducing company shadowings, three new bootcamps in Silicon Valley, Paris and Tuscany, which are added to the existing ones in Rome and Barcelona, reaching more than 200 Faculty Mmebers, both national and international, 616 partner companies and 85 members of the Corporate Advisory Board, among which are top managers from leading companies such as Amazon, EY, Adidas, Sky and Bulgari.
The first to speak Massimiliano Cariola, Marketing Director of Porsche Italia, who explained to students the extent to which goals and passion can shape their future careers. "My suggestion is to feed your passion. Passion is the only way to succeed and it can sustain you even when things are tougher". Not only that, he continues: "When I'm hiring, the crucial thing I look at is attitude. Bring what you are to the table, if you are only an 'interpreter' of a job, you will be average." Finally, he adds that focusing on the customer is what makes the difference in today's increasingly competitive market.
As early as during the Welcome Week, students are given the opportunity to navigate their future job prospects by listening to the experiences and advice of top managers. Carlo Rodomonti, Strategic Marketing and Digital Marketing Director of Rai Cinema at RBS told his professional story, from his first steps in the world of cinema to how he managed to lead Rai Cinema from being a small division with a limited budget to what it is today: "How did I do that? First I analysed the sector and what was in it, then I tried to find something to differentiate us and to do so I studied other markets and the opportunities to reposition our brand. What I would say I learned in the second half of my career is that being calm and reflective is key. It is more important to be competent than to be quick". In his current role, Rodomonti launched Italy's first VR (virtual reality) app dedicated to film content. "At the moment the technology is widely developed, but there is a lack of content, and I believe films can be that. The opportunities of these new technologies are endless," spurring students to stay up-to-date on new trends in order to foresee and be able to seize possible business opportunities.
Filippo Marchetti Parma, HR Manager at Qatar Airways provides precious advice to the more junior profiles: "When you choose a company, you're actually choosing your boss, so choose wisely, especially early in your career, consider whether their values align with yours. One question to ask in job interviews is 'What makes your best employees stand out?' You'll understand a lot about the leadership style with this question."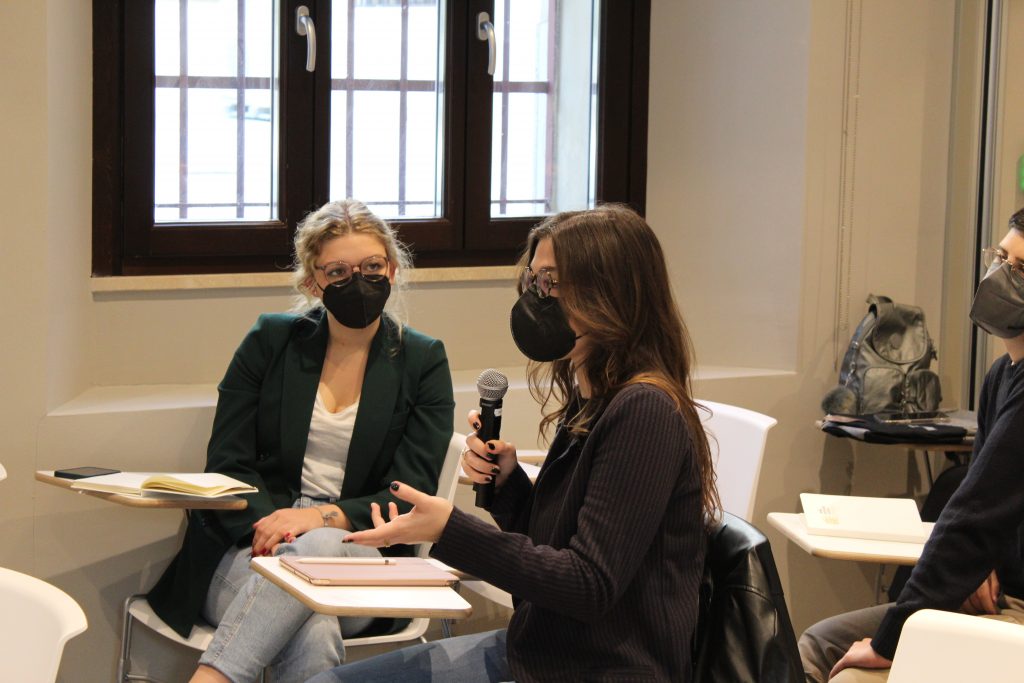 Several themed workshops happened at the Welcome Week: "How to Become a Networking Ninja", "Global Mindset and Cross Cultural Communication" and "Leaders of Tomorrow" offer career advice and on how to improve one's ability to network and relate in multicultural environments, including RBS. In 2022, once again RBS confirms itself as the most international Business School in Italy, with 62% of foreign students, mainly from Germany, Greece, Holland, Egypt, United States and Switzerland.
During Welcome Week, students also learn about the Career Services, a key factor in their professional growth. Last year there were 2,592 job and internship offers provided by the RBS Career Services, which has allowed the Business School to achieve a 98% professional placement rate of its students, 43% of whom in large multinational companies, approximately 71% employed abroad and 37% in managerial positions. All of this is generated by RBS's strong ties with companies, the continuous updating of its educational offerings, the internationality of its partners, its membership in Planeta Formación y Universidades, one of the most important educational networks in the world, and more than 52 partnerships and cooperation agreements with institutions in 26 different countries.
The 700+ students were also able to meet RBS Alumni, former students now part of the RBS Global Community, who shared with them their journey and some important advice on what opportunities not to miss. Fabrizio D'Abate, Alumnus of the Professional Master in eHealth Management said, "One of the most relevant opportunities offered by the Master was the chance to develop the key soft skills that a manager needs. The RBS4Entrepreneurship program taught me how to develop these skills by putting me in contact with important companies from all over the world, discussing with managers, providing me with a broad view of the market aspects of multiple realities operating in different fields." Marco Prosperi, Team Member of the startup LampoVet winner of the RBS4Entrepreneurship program added that the experience with RBS allowed him to "learn how to manage a team and resources for the best development of my startup project. I met people from all over the world and an international environment that helped me grow professionally and personally."
In this intake, Rome Business School strongly reaffirms its commitment to training the leaders of the future, based on a methodological approach oriented towards doing, strongly connected to the needs and new trends of the world of work, designing courses that are the result of constant comparison with management realities from all over the world. Through Practice Labs, Company Shadowing, Company visits, bootcamps in Silicon Valley, Paris, Barcelona, Rome and Tuscany, and the many opportunities for meeting and networking, students immerse themselves and interact with the world of management from their very first days at RBS.
Commenting on the Welcome Week 2022 Antonio Ragusa, Dean of Rome Business School, said: "I am very pleased with this extraordinary Intake because it reflects well the spirit and value of our educational mission. In fact, Rome Business School wants to have a real positive impact on the professional and personal growth of its students. This is why we have created, from the very beginning, opportunities to meet and exchange ideas with leading figures from the business and entrepreneurial world. This represents an enormous opportunity, because by listening to their professional experiences from their own voices, students can learn valuable lessons. In addition, we immediately gave a message and an invitation: that of believing in one's dreams and pursuing them without fear."
______________________
About Rome Business School:
Rome Business School is a business school based in Rome but operating on a global scale. It offers Master, MBA and Executive training programs. The quality of the Masters is recognized in the international rankings of Eduniversal 2021 and accredited at national level by ASFOR. Rome Business School has also obtained the EOCCS (EFMD Online Course Certification System), a certification that attests to the quality of the digital training offered issued by EFMD, the most authoritative accreditation institute in Europe.
Rome Business School welcomes every year hundreds of students, professionals, entrepreneurs and companies of over 100 nationalities who are guided towards the acquisition of a preparation of excellence thanks to open, flexible and functional models suitable for any professional level. In its commitment to the growth of students Rome Business School managed 2,972 job offers during 2020 thanks to its more than 300 partner companies. The development of "Career Services" during the year allowed RBS to achieve a 96% job placement rate for its students and an average salary growth of 34% 6 months after completion of studies.
Rome Business School is a member of Planeta Formación y Universidades, an international network created in 2003 by De Agostini and the Planeta Group, which embodies the two companies' strong commitment to university and management training. Planeta Formación y Universidades, the educational division of Grupo Planeta, represents the group's commitment to university and professional training. It has an international network of 22 educational institutions in Spain, France, Italy, Colombia, North Africa and the United States. Each year, more than 100,000 students of 114 different nationalities are trained in its business schools, universities, specialized schools and professional training centers through more than 500 programs. Professionals at all levels of higher education are trained at its institutions in face-to-face, distance or blended courses, in close collaboration with businesses.