Graduation Ceremony October 2015
On Saturday, October 10th , 2015, the Rome Business School celebrated the Graduation Ceremony of the students who received Master's degrees in Marketing and Communication, Political Marketing and International Human Resource Management.
During the ceremony, the Founding President and Director of the Rome Business School, Dr. Antonio Ragusa, highlighted the importance of the educational course that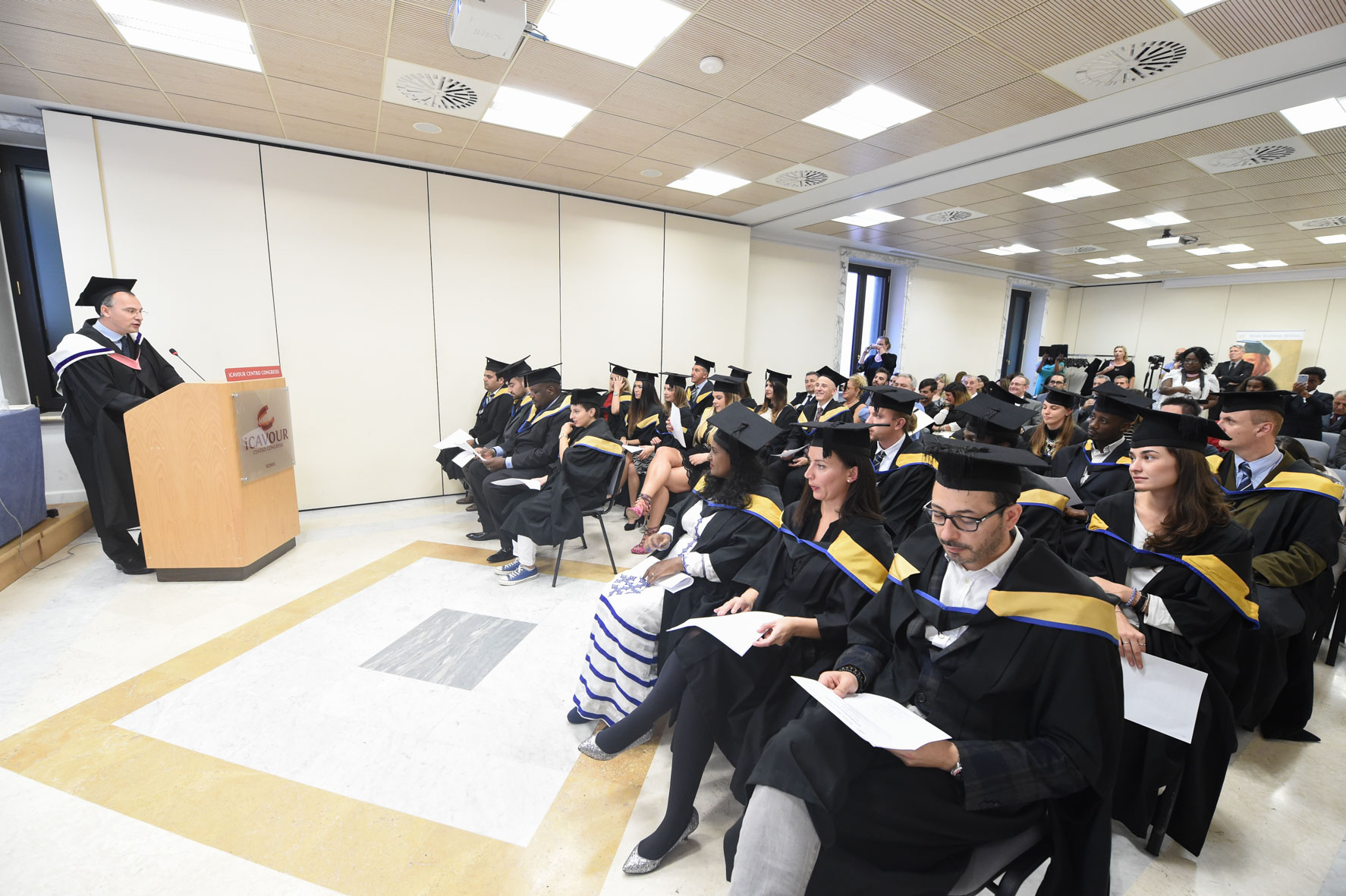 led the students to this fundamental result. Academic, professional and personal growth: these are the ingredients that characterized the students' journey. And then friendships, both long and short distance ones, discoveries, work experiences, changes of prospective. Coming from different countries, opposite backgrounds, every student received something unique from Rome Business School. Every experiences has been rewarding in a different way. And this is what differentiates our institute: attention towards the growth and development of the single individuals. The promise that they will go on with their future and will make the world a better place. Better Managers for a Better World.
The students who earned the Master:
Abdel Aziz Abdun B. Sc. – Master in Marketing and Communications
Sofia Bakirli – Master in International Human Resources Management
Addiszemen Bogale Birhanu – Master in Marketing and Communications
Nadia Di Battista – Master in International Human Resources Management
Nikole Michelle Kjærsgaard Eriksen Cervallos – Master in Marketing and Communications
Sayed Mahmood Fazlì – Master in International Human Resources Management
Natalya Ivzhenko – Master in International Human Resources Management
Evangelos Kremmydas – Master in Marketing and Communications
Serena Legittimo – Master in Marketing and Communications
Richard Tedwillie Makondi – Master in Political Marketing
Alberto Matrone – Master in Political Marketing
Paola Vania Medina Mendoza – Master in Marketing and Communications
Robert Sam Miezi – Master in Political Marketing
Philip Dustin Morgenroth – Master in Marketing and Communications
Wolfgang Müller – Master in Marketing and Communications
Jean Chrysostome Ndamuzeye – Master in International Human Resources Management
Romina Pirini – Master in Marketing and Communications
Mohammad Sarmad Qazi – Master in Political Marketing
Gur Rosen – Master in Marketing and Communications
Jana Staňková – Master in Marketing and Communications
Katerina Soukia – Master in Marketing and Communications
Marta Diana Wacura – Master in International Human Resources Management
Aytül Aktay  –  Master in Marketing and Communications
Areej Amin – Master in Marketing and Communications
Younas Ammar – Master in Political Marketing
Eglė Augutavičiūtė – Master in Marketing and Communications
Giovanna Azuni – Master in Marketing and Communications
Imene Benanchure – Master in Marketing and Communications
Ruben David Blanco Abuazi – Master in Marketing and Communications
Ana Maria Burda – Master in International Human Resources Management
Ivan Cottone – Master in Marketing and Communications
Veronica Di Buò – Master in Marketing and Communications
Maria Elena Diamanti – Master in Marketing and Communications
Chiara Distante – Master in Marketing and Communications
Rafael Ernesto Echavarria Garcia – Master in Marketing and Communications
Sampson Ifeanyi Ezikeanyi – Master in Political Marketing
David Geracitano – Master in Marketing and Communications
Ana-Ilinka Hristodorescu – Master in Political Marketing
Catalin-Dan Iordache – Master in Marketing and Communications
Jolanta Barbara Jaworska – Master in International Human Resources Management
Anna Kazakova – Master in Marketing and Communications
Marta Karolina Kurdziel – Master in International Human Resources Management
Rosanna Losacco – Master in Marketing and Communications
Maria Eugenia Moreno – Master in Marketing and Communications
Haifa Elmubashar Mohamed  Mustafa – Master in International Human Resources Management
Ifeanyi Chukwuka Onwuneme – Master in International Human Resources Management
Dunja Prgomet – Master in Marketing and Communications
Elena Ruffato – Master in Marketing and Communications
Abdel Moniem Saleh – Master in International Human Resources Management
Omar Alexandros Saltout – Master in Political Marketing
Eirini Segkou – Master in Marketing and Communications
Laila Soldà – Master in Marketing and Communications
Eleni Georgios Tsapnidou – Master in International Human Resources Management
Nino Tvaltvadze – Master in International Human Resources Management
Elida-Laura Ungurean – Master in Marketing and Communications
Justine Walter – Master in International Human Resources Management