E-commerce: when a hosting service becomes a shop
Literally meaning electronic commerce, e-commerce is the currently widespread market practice of purchasing and selling online. It is a system that has weakened the common concept of "the shop" being the only physical place in which purchases can be made, replacing it with a comfortable and fast way to shop.
Behind the virtual screen, the buyers and sellers involved in e-commerce are real figures, both active subjects in the transactions involved in online commerce and joined in considering it a form of buying and selling that is more rational both in terms of its related comfort and time saving features.
Today, e-commerce can count on a remarkably high share of users and appears to have become the key formula for doing business.
However, not all product categories have the same appeal in terms of sales; according to a global research conducted by Nielsen, it would appear that durables—such as books, electronics, clothing, travel, and videogames—are the most popular goods among the online shopping community, while consumables—such as flowers, beauty products, food, restaurant deliveries—struggle to be considered online over-the-counter products[1].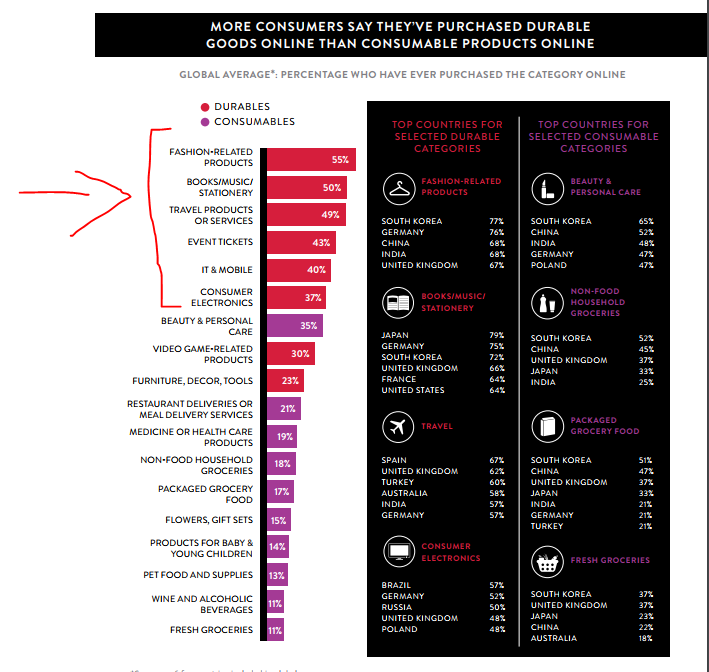 A statistic published by EUROSTAT and relating to the year 2016 highlights how central and northern European countries are those that practice internet shopping the most. In 2016, the UK held the title for the highest population percentage that had made at least one order online (83%), followed by Denmark, Norway, Luxembourg, Sweden, the Netherlands, Germany, and Italy (with 71%).
A certain degree of e-commerce illiteracy persists in Bulgaria (17%), Romania (12%), Macedonia (15%), and Turkey (17%).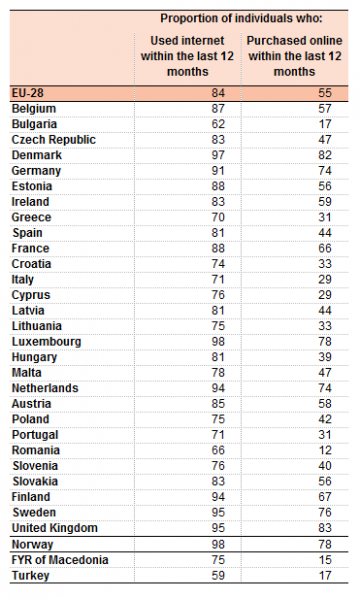 …it is an opportunity for customers and companies.
What are the benefits of online purchases?
Lower prices: generally, products cost less online that on the high street; furthermore, many brands incentivise purchases by waiving postage & packing fees.
Easy availability: to say that an online product is more easily sourced is stating the obvious: the whole shopping challenge, the search for a specific product, which would require us to visit many shops, is delegated to a search engine that, through network indexing, will direct us to our favourite brand's seller by simply typing the name of the brand or the type of product we wish to purchase.
Your purchase is brought to you: one of the greatest benefits is that your purchases can be delivered to any address.
Customer protection: in order to make informed choices, consumers can browse a product's description and features, washing instructions in the case of clothing (e.g., Amazon), previous buyer feedback, any flaws (in the case of second hand goods), free returns (e.g., Zalando).
Payment security: payments (on delivery, bank transfer, credit card, Paypal) guarantee the highest degree of protection and data confidentiality.
Increasing numbers of companies feel the need to invest in a hosting service to begin their online sales adventure.
Offering a purchasing option directly from their own websites is a business opportunity both for companies and end users. If customers prioritise getting exclusive online deals, companies find e-commerce to be the best way forward to enlist client loyalty; this is why, before venturing into e-commerce, companies would need to carefully assess their online sales chances, also taking into account the overwhelming virtual competition and, most of all, the need to ensure maximum service efficiency before, during, and after the sale.
[1] www.nielsen.com/content/dam/nielsenglobal/jp/docs/report/2016/Nielsen-Global-Connected-Commerce-Report-January-2016
---
Myriam Caccavelli