Overview
Our Specialized Master in Tourism and Hospitality Management, under the patronage of Castel Volognano (Chianti area), aims to develop professionals who will embark on a career in the tourism sector. The program will also allow professionals to build a tourist offer that integrates local cultures, environments and flavors through an approach aimed at increasing knowledge of the most advanced techniques in the world of hospitality management.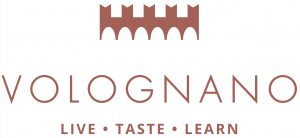 The Volognano Castle is located in the heart of the Chianti Colli Fiorentini area and is an Italian excellence in the production of young and aged wines IGT Chianti Colli Fiorentini, grappa, extra virgin olive oil and Vin Santo.
Rome Business School guarantees a multidisciplinary experience oriented to an increasingly interconnected market: to guarantee this, we boast belonging to the most ambitious group "Planeta Formación y Universidades", an international network created in 2003 by De Agostini and the Planeta group, market leader in university and continuing professional education.
Why choose our Specialized Master in Tourism and Hospitality Management?
Studying in Rome: the location of our Master in Tourism and Hospitality Management is the most famous Italian city for national and international tourism and this will allow our students to enter directly into contact with the hospitality activities of the Italian capital
92% of our students get a job offer at the end of the master
72% of our students applied the new skills acquired by the Master in their current position
Networking: we have more than 221 partners from the largest companies in the world market and, thanks to our workshops and company visits in companies such as Hilton and Sheraton, students will have continuous opportunities and networking.
Among our partner:

Program
Our Specialized Master in Tourism and Hospitality Management successfully blends essential theoretical principles to have an international career with the most advanced modern techniques marked by a practical approach aimed at the digital market.
Structure

Contents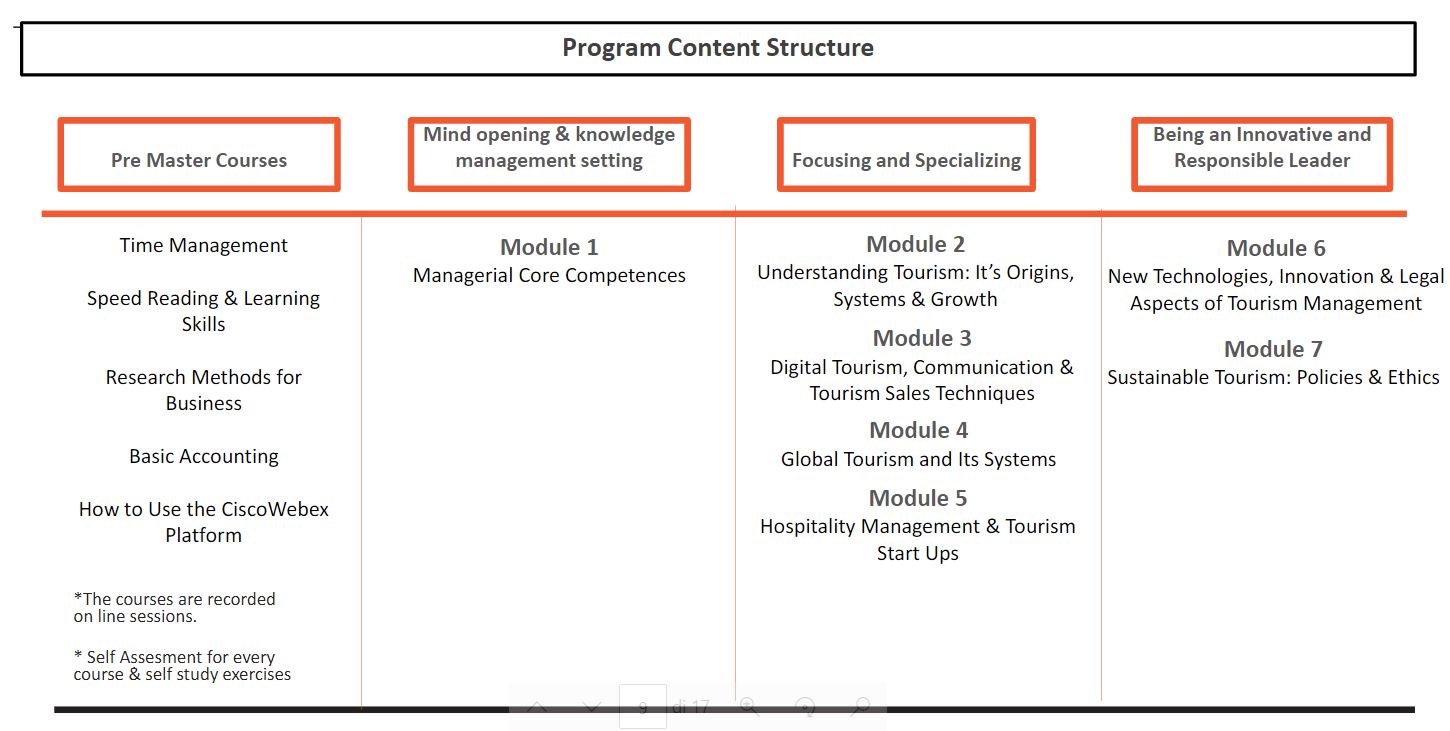 Captstone Project:
At the end of the path, a group project is envisaged that aims to develop a plan to solve a problem of an existing or fictitious company. All teams are led from the initial phase of the project.
Learning Outcome:
Thinking critically
Apply knowledge and into practice
Competitive spirit
Practice Public speaking skills
Professional development & Networking
Teamwork and collaboration
Goal setting
Research skills
Creativity & Problem solving
The Challenge
Students will be invited to choose between two different options
Work on one of the 2 Business Challenges in line with the Industry, proposed by the Program Director
Work on your own Business Challenge, based on companies where students work
Methodology: " Circular Learning " following the EFMD Circle for Quality Assurance
By adhering to the highest standards regarding the teaching methodology provided by EFMD, the Master will be taught through interactive lectures, case study analyzes, classroom exercises, discussions, role plays, teamwork exercises, video conferences, business analysis and sessions presentation of students. Case studies will be used to generate discussions and illustrate business problems. Students will be encouraged to read and engage in discussions and debates. The teaching methodology is based on learning by doing, through which teachers implement a student-centered approach, involve students and provide activities that allow students to apply the knowledge acquired.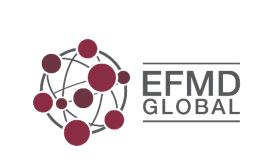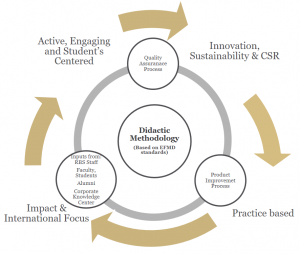 Life & Soft Skill Program
Soft skills are the "secret key" of a well-managed workplace and a progressive career path. With the Life & Soft Skills Program, we offer you the opportunity to develop the soft skills necessary for your personal and professional growth.
The Life Soft Skills Program is a path that will lead toward self-discovery, empowerment and reinvention. The program is practice-based consisting of 5 interactive courses, including self-assessment tests, roleplay and quizzes.
In detail the personal growth program is structured as follows: 10 hours in total for 5 interactive and self-reflective courses on soft skills (the certificate will be provided upon completion of the program):
Communication & Persuasion in the Digital Age
Team Work & Collaboration
Agility & Adaptability
Critical Thinking & Problem Solving
Emotional intelligence
Global Experience
Students will choose between two exclusive Bootcamps scheduled for Summer 2021, both designed to develop and refine students entrepreneurship skills, to let students experience international leading companies culture with two company visit and to improve students business network:
Barcelona (Spain): "Bootcamp for Innovative Leaders" – In collaboration with EAE Business School
Rome (Italy): "Bootcamp for International Business Leaders" – At Rome Business School
Faculty
The courses for Rome Business School's Specialized Master in Tourism and Hospitality Management are held by highly selected international university professors, trainers and business managers, drawn from a variety of operational and professional fields, from the academic domain to management and marketing in this sector.  The teaching approach is aimed at the acquisition of know-how, in order to transfer truly useful competencies for the attendees' professional development.

Camilla Carrega – Graduated in Viticulture at the University of Florence Oenology and master's degree in Oenology, she was Wine instructor, Wine Department Chair and Academic Coordinator of Food and Wine Studies at Apicius International school of hospitality in Florence, traveling several times to the USA to promote The Italian lifestyle through food and wine, collaborating with the James Beard foundation in New York, and several American universities Camilla was the coordinator of the academic programs of the Gambero Rosso in its Rome office, the undisputed leader in the world for so-called Knowing how to live English Italian Food, Wine and Lifestyle Gambero Rosso is the Number One Multimedia Company in Italy, always at the forefront of discovering and launching new trends and strongly committed to promoting the best of "Made in Italy" . For 30 years Gambero Rosso has been contributing to the creation of the best Italian cuisine and wines, combining tradition and novelty, authenticity of raw materials and production innovation. He is also Mentor for Startupbootcamp FoodTech, the leading accelerator of startups that support and scale companies that innovate and revolutionize the food industry, where he mentors everything related to food and wine management, business model, international education. Today Camilla is Property Owner Chief Operating Officer in Volognano, www volognano com and free consultant in branding and communication strategy for food beverage companies.
PROFESSORS
DAVIDE SCARPARO – Many years of experience gained in the field of tourism and sporting events. After many experiences in luxury hotels, such as Forte Village, he was responsible for the "incoming" project for the Internazionali BNL d'Italia, the most important tennis tournament in Italy. Today he is Marketing Manager at the Expedia group.
CARLO ROSSI CHAUVENET – is the Co-founder of the National Center for IOT and Privacy, Sweet Legal Tech and Iubenda, a legal startup. He is also a founding member of the FamTech Association and co-owner of Massimago, a Verona-based winery specialized in the production of Amarone wine.
MICHELE CRIPPA – Professor of the history of Italian cuisine. He has gained experience as a consultant for companies such as: dry media srl ​​(for the television format "STREET FOOD BATTLE" for Coca-Cola Italia and Mediaset Italia1), FIERE DI PARMA SPA, EXPO MILANO. He has also worked for LOVEATWELL srl, as High Quality Food Product Selector for the loveatwell.com e-commerce and librodeisapori.de. He also collaborated with Gambero Rosso, for reviews, and with Endemol Shine Group – Australia (AUS), for MASTERCHEF Australia – season 7 as Coordinator F&B and Hospitality – Italian Tour – Emilia-Romagna.
MARSHALL LANGER – A native of Miami, Marshall had a 12-year career in various commercial and financial sectors in the US and Europe, worked on Wall Street in investment banking and risk arbitrage for companies like Donaldson, Lufkin & Jenrette, as well as trading for BNP Paribas.
ELEONORA ODORINO – Many years of experience gained as a sales manager at Firenze Convention & Visitors Bureau, she is now Office Coordinator & Membership. Operating since 1995, Destination Florence Convention and Visitors Bureau is the official promoter of the destination, with the mission of increasing the quality and importance of events, weddings and the luxury market in Florence.
FILIPPO GALANTI – Co-Founder & Business Development at Divinea. Divinea is a market for wine tourism, which makes wineries and wine experiences more accessible to everyone. The digital platform directly connects producers and wine lovers with the opportunity for wineries to promote and sell traditional and innovative wine experiences. Among his experiences, he worked as business innovation & development manager at E-Novia, (a unique institution in the Italian industrial panorama, an 'Enterprise Factory' that assists and optimizes the transformation of research into products, researchers into entrepreneurs and start- up in companies
ROBERT SONNABEND – comes from an international business background Global marketing executive with a manufacturing background, has developed manufacturing and distribution channels in China and India, including factories in Tianjin, China and Bangalore, India, for medium-sized computer and software Ha also worked with companies in Japan, the UK, France and the Netherlands, as well as extensively in the US and the Americas Worked as CEO at Enhanced Training Technologies Crawley W Sussex England, as Vice President and Director of International Relations at Charles River Data Systems US as director of operations for Inconix cooperation, United States etc.
LETIZIA SEBREGONDI – CEO & FounderatGr @ pes – company for digital marketing campaigns and online sales with a focus on wineries. Letizia graduated in Economics and Marketing and entered the world of wine as Export Manager for Castello del Terricio. Shehasalsoworkedasa Sales Planning Manager at Tannico.it and asa Sales & Brand Manager at Vinci Importadora – Mistral Group
Career Services
With our help, you can create your career strategy through a journey of self-reflection, exploration and results. This program is designed to help you find internships or positions that match your ambitions and expectations. In particular, the master is particularly suitable for those who want to pursue a career in the following roles:
Travel consultants;
Travel Manager,
Organizers of fundraising activities aimed at promoting tourism activities within public and private entities and companies;
Collaborators of Tour Operators and Travel Agencies for the creation of tourist offers;
Housing manager
Sector consultants for farms and entrepreneurs for the promotion of food and wine products;
Public sector consultants for the planning, organization and management of local tourism promotion actions;
Promoters of food and wine products and tourist-cultural itineraries.
Each year, Rome Business School presents the Employment Report, a document that collects data on the official results achieved by our students and former students in terms of employment and professional growth following their master's degree at Rome Business School. The results obtained were possible thanks to the commitment of our students and the incredible professionalism of our Career Services who, with diligence and dedication, were able to direct students towards the desired career path in the world of work.
In particular, according to the most recent statistics:
60% of our students obtain a job offer within 6 months of the end of the master
92% of our students get a job offer at the end of the master
43% of our students have obtained a job position in large multinational companies;
37% of our students are currently successful managers;
72% of the students obtained a salary increase at the end of the master
RBS EXPERIENCE
Networking and partners
Rome Business School has established solid partnerships with several world-renowned leading companies, such as Enel, Fendi, Bulgari, Eataly, IBM Italia, Land Rover and many others. To ensure that our students can build a strong professional network, we constantly organize guest meetings, visits, events and lectures with representatives of elite business ecosystems, encouraging interaction between leading professionals and students, and facilitating the process learning.
Multicultural classes
Thanks to the school's purely international mold, students will have the opportunity to take part in classes with students from more than 150 countries. This will allow participants to increase their knowledge of other cultures other than their own.
Student Hub
Every year we welcome students from all over the world: from cities and small towns, of all cultural, ethnic and religious backgrounds. Rome Business School enhances the experience of students, supporting them in obtaining visas and identifying accommodation, creating opportunities for learning, involvement, personal and cultural development that go well beyond the lessons.
Events
Our students will be able to participate in various activities: visits out of town, Coffee Meetings with the CEOs of prestigious multinational companies, company visits or simple events designed to promote socialization and intercultural exchange which has always been the central point of our school.
Admission process
Rome Business School works hard to maintain the highest standard of quality in the programs we offer. That's why, in order to ensure the eligibility of the candidates, all applicants must undergo and successfully pass a selection process structured as follows:


The admission process is aimed to verify the candidate's eligibility to attend the Master. The candidate's academic history, previous experiences in the topics covered in the Master and motivation will be matters of the evaluation. Once it's sent, the application will be evaluated by the Rome Business School's academic committee. In order to ensure the application's suitability, it is important to deliver all of the required documentation.
Scholarships and Tuition
Payment
Payment of the participation fee of  € 7,200 can be made in the following ways:
In 6 interest-free installments
Single solution (this option guarantees a 10% discount on the total amount)
Scholarships
Based on their personal profile, experience and proven motivation, the candidate may be awarded a scholarship to partially cover the participation fee. In fact, Rome Business School offers the most deserving candidates the opportunity to benefit from 8 different types of scholarships. These partial economic hedges can consist of 6 months of interest-free financing.
Early Bird Enrollment Scholarship
Study in Italy Initiative Scholarship
Lifelong Learning Scholarship
Academic Excellence Scholarship
Executive Women Grant
Entrepreneurial Grant
Better Managers for a Better World

Student Loan Assistance Grant
Competition for scholarships increases as the starting date approaches and funds are limited, so it is advisable to apply as soon as possible.
CONTACT US