Overview
Four of our Masters are officially recognized among the best at a global level by Eduniversal, in which the Fashion area is also featured
Top 50 – Global Ranking
Ranked N 40 in Fashion Management, Worldwide

Rome Business School's Master in Fashion and Design is the ideal choice for all those wishing to develop solid management skills to work in the Fashion & Design Management industry and become fashion and design specialists, trend researchers, fashion communicators, brand specialists and be competitive in the international job market. Participants will gain knowledge and value by studying the concept of ''Made in Italy'', the Italian fashion tradition and the Italian style. We offer world class interactive and engaging training, a participant centered teaching method, international internships, professional and networking opportunities on a global scale. The Master makes use of in class exercises, high quality practical activities in a real design studio and lectures given by experts from the fashion world.  This master provides the 4key's to success in the Fashion & Design Management industry: creative long term vision, business model, design management and communication. 
Why studying in Rome
The ultimate education experience in the eternal city
The cradle of civilization and homeland of an invaluable cultural and artistic heritage, Rome is the ultimate location to live a higher education experience; take advantage of the many beautiful places and enriching initiatives offered by the roman landscape and learn in one of the most proficuous centers of made in Italy production.
An always growing business ecosystem
With more than 650.000 companies registered in the region and more than 1.000 new startups in the city territory, a growing rate of entreprises of 1,81% in just last year, the italian capital is the second city for number of new business on a national level.
There's no business you can't find
From fashion to food & beverage, from arts to tourism, Rome is the birthplace of multiple renowned enterprises and activities of made in Italy products and services, all of them operating in the business sectors tackled in the school's programmes: an aspect that allows the students to experience first hand the reality they're aiming to access to.
Study in Rome, experience everywhere
Through the company visits and study tours organized by Rome Business School, you'll have the chance to get in contact with worldwide-known institutions and renowned companies, become familiar with different professional environments and expand your network. Our school also offers the opportunity to take part in internships, in Italy and abroad, at prestigious and successful companies.

Structure
⇒ 6 months of lectures
⇒ 6 months dedicated to the Capstone project 
⇒ 2 months for the international internship
⇒ 1 week for the Bootcamp in Barcelona or New York
⇒ Visits at international companies and organizations
⇒ Soft Skills programme
⇒ Integrative cultural programme
⇒ Seminars and events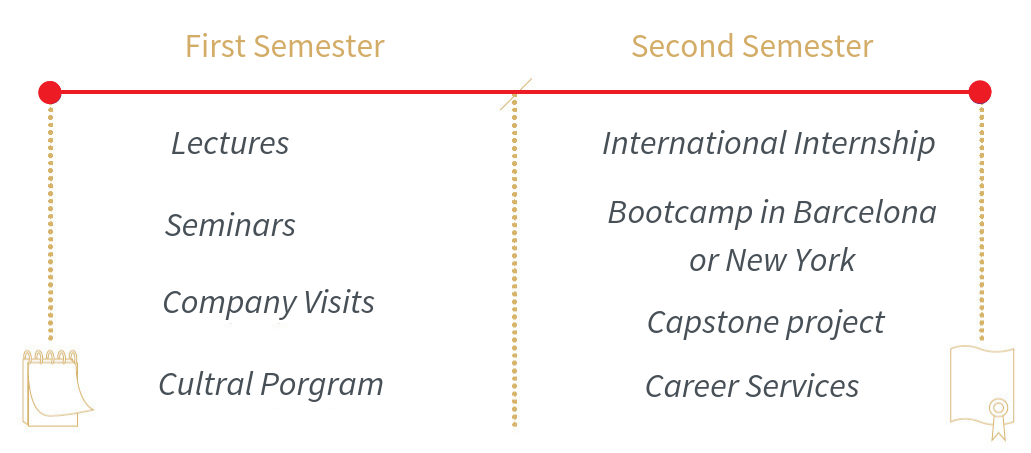 Attendance Mode

From Monday to Thursday  (10.00am to 12.00am); Fridays are reserved for other activities such as the Capstone project preparation, Soft Skills Program,  Italian classes and so on
Benefits
Didactic Benefits
Italian Language Course – Beginner level (A1 & A2)
Company visits – Examples include Gucci, Fendi, Valentino, Bulgari
International Study tour: Bootcamp in Barcelona or New York in July 2020 (optional not included in the fee)
Cultural Program –Walking Tours in Rome
Soft skills programme
Lectures in Design Studio based in Rome
Capstone Project: Fashion & Design Business Initiative
Development & communication  of fashion & design business initiative
Career Benefits
Career Development Workshops
CV and Cover Letter
Job searching tools and social media strategies
Handling different types of interview
Career Services Support
Individual career counseling meetings – to identify your individual job search strategy
Career Services online Platform – where to find internship opportunities available through the school
Workshop on the Italian job market
CV circulation in Rome Business School's network
Logistic Benefits
Accommodation support – Accommodation Provider
International Student ID card – ISIC
Contents
Programme of the Master in Fashion & Design
Mind Opening & Knowledge Management Setting 
Marketing
Digital Marketing
Project Management
Managerial Economics
Supply Chain Management
Entrepreneurship and Business Planning
Business Strategy
Focusing and Specializing 
The Fashion Market and Culture
Fashion & Design Management Products
Communication Strategy and Fashion Events
The Power of Branding in Fashion
Be a Future-Oriented Leader
Fashion, Design & New Technologies
Fashion Design Techniques
Design Studio Management
Fashion & Design Trends
Capstone Project: Fashion & Design Business Initiative
A team project aimed to create, develop and communicate a Fashion & Design Business Initiative for an existing or fictitious company or a specific product in one of the 4 fashion industry areas: womenswear, menswear, children's wear, accessories & jewelry. The project is tutored from the beginning.
The Project work has to be presented verbally to the Academic committee composed of: The Dean of the School, Academic Supervisor, Master's Supervisor and in front of Fashion Brand Industry experts and managers who will all together evaluate the project.
Faculty
The courses for Rome Business School's Master in Fashion Management are held by highly selected international university professors, trainers and business managers, drawn from a variety of operational and professional fields, from Fashion Recruitment to Marketing in this sector.  The teaching approach is aimed at the acquisition of know-how, in order to transfer truly useful competencies for the attendees' professional development.
Some of our teachers
ISGRID VAN GEUNS – Recruiter and Head Hunter for a wide variety of national and international fashion brands, s, specializing in a high-fashion and luxury segment of the market; founder of ISRID, a company dealing in Fashion Recruitment.
Master's Supervisor
MICHELA BONAFONI – Michela Bonafoni holds a degree in Fashion Marketing and Communication at La Sapienza Univesity of Rome and one in Fashion Marketing and Communication at Central St Martins College of London. She has worked for many companies in Italy and in New York; she owned a Communication and PR agency named 360 + OneQuarter, specialized in launching new fashion designers in partnership with Vogue Talents. Ms. Bonafoni has been teaching since her time in the Univesity, and is specialized in fashion semiotics and communication. She has been teaching at IED ROME for five years. Now, she is a Fashion Trend Researcher for the most important brand of Wella Hairstyling, MITU' CREATIVE HAIRSTYILING, and she works with the Creative Direction of this company. In 2017 she also started working as a a radio speaker at R.I.D. 96.8 fm radio, hosting a program about actuality and socialite matters.
Career Services
Rome Business School supports its students even beyond the academic environment, providing them with guidance and assistance in developing a strong professional profile which reflects the most sought competencies in the current job market. In particular, the school offers the following services to the enrolled students:
Support in the management of job interviews
Free review and inclusion of the student's CV in the Rome Business School's database, and its distribution to businesses, organizations and head hunters belonging to the school's international network;
Networking meetings with international managers, professionals and business owners
A personalized search and flagging service for the best job opportunities in Italy and abroad
A one of a kind experience: Bootcamp around the world
Hone your entrepreneurial skills and test them with the ultimate challenge: Rome Business School's exclusive Bootcamp in Barcelona, organized in partnership with EAE Business School, and in New York, in partnership with Pace University, two beautiful cities at the forefront of innovation and among the most productive start-up ecosystems. An advanced programme designed to put you face to face with realistic business scenarios to solve and provide you with a practical way of learning and skills development. All with the professional support of a tutor from top-class working companies!
Placement rate
At the end of the Master, 96% of the students obtained an internship in internationally renowned companies, such as: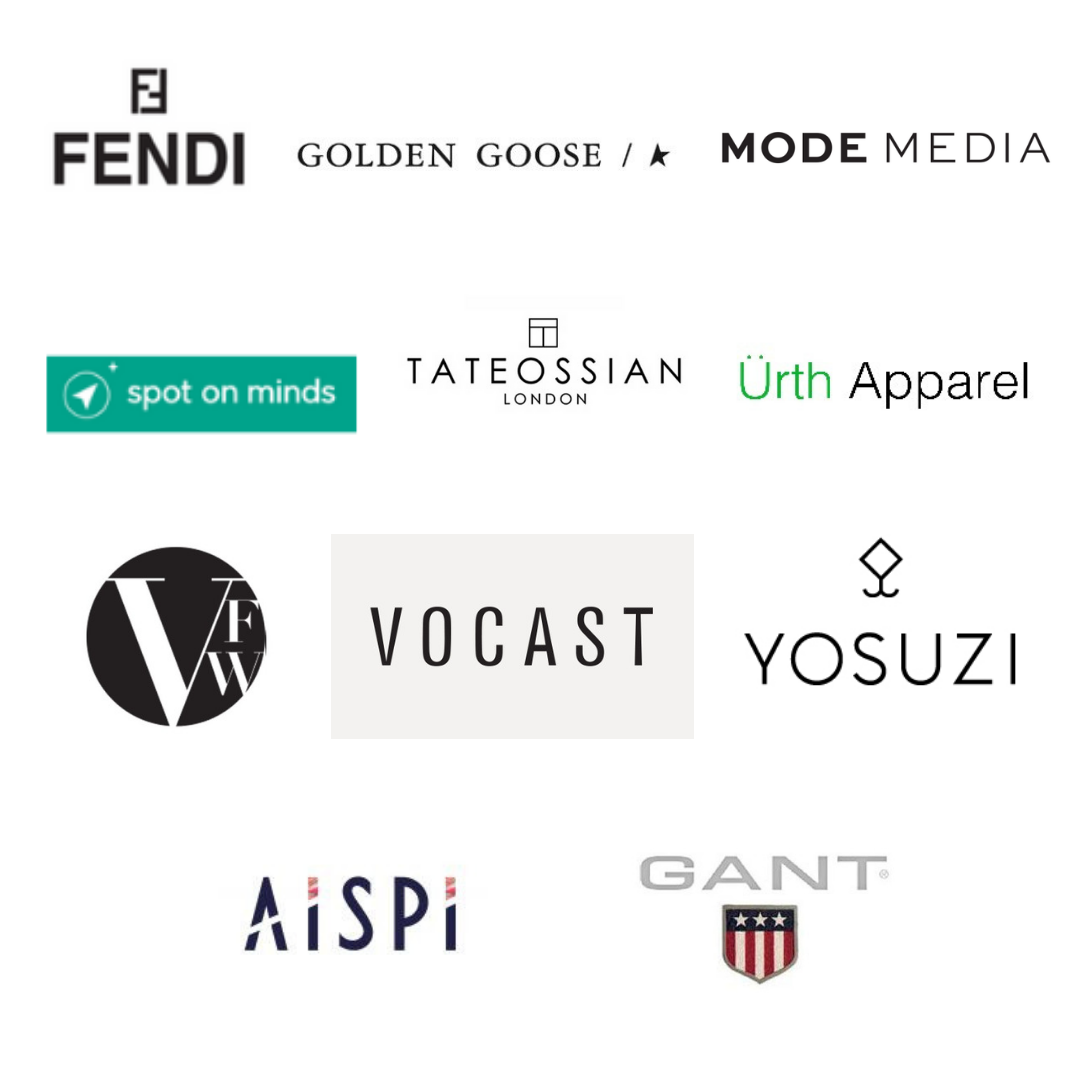 Admission process and graduation
The admission process is aimed to verify the candidate's eligibility to attend the Master. The candidate's academic history, previous experiences in the topics covered in the Master and motivation will be matters of the evaluation.
Once it's sent, the application will be evaluated by Rome Business School's academic committee. In order to ensure the application's suitability, it is important to deliver all of the required documentation.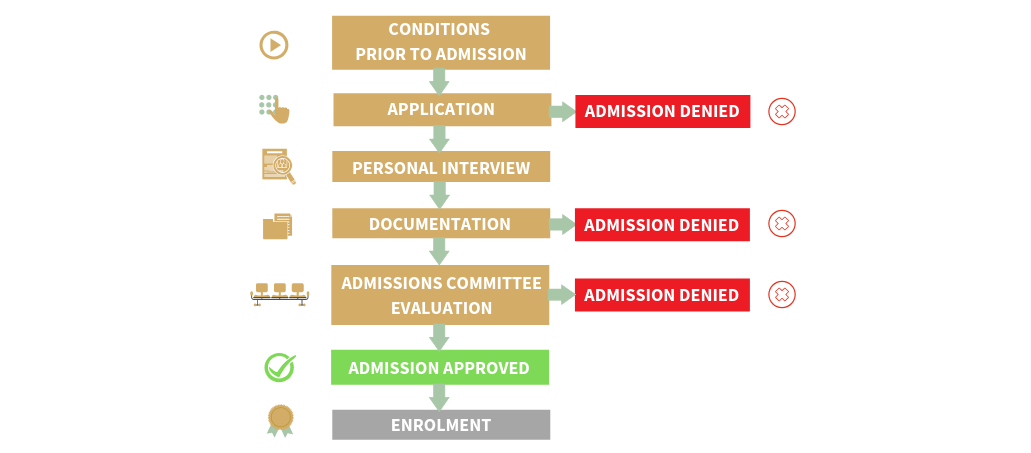 Students who successfully complete the programme will receive a double certification: Rome Business School's diploma and an official certification by Universidad Internacional de Valencia (VIU), which provides 60 internationally recognized credits (60 ECTS).
Scholarships and Tuition
Scholarships
According to the individual profile, experience, and proved motivation, the candidate can be awarded a scholarship covering part of the overall tuition fee (up to 20%). The eligibility for a possible scholarship will be decided by Rome Business School's academic committee during the evaluation of the candidate's application.
Scholarships are available for all of the didactic formulas.
Tuition fee
The tuition fee for this Master is: 11.000 Euros
It can be paid:
in installments
in a single solution (this option grants the student a 10% discount on the overall amount of the tuition fee)