Incontro tra Rome Business School e London School of Business and Finance
Nuove prospettive di crescita in Europa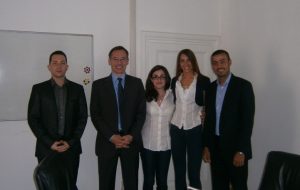 Il 19 giugno 2012 a Roma ha avuto luogo un incontro tra rappresentanti della Rome Business School e della London School of Business and Finance per individuare percorsi di collaborazione che permettano agli studenti di entrambe le business school di accrescere le competenze professionali e linguistiche, nonché di vivere esperienze internazionali di alto contenuto formativo.
All'incontro erano presenti per la London School of Business and Finance Jhon Valencia (Associate Director – Europe) e Francesco Zoffoli (Business Development Manager); per la Rome Business School Antonio Ragusa (Founding President), Sidita Kasemi (International Programs e Alumni Network), Martina Di Loreto (Department of Research e Web management) e Salvatore Antonio Fiorelli (Career Service).
L'incontro ha evidenziato la volontà comune alle due business school di strutturare programmi didattici d'eccellenza e creare reali opportunità di crescita in ambito internazionale per giovani e professionisti.
Dopo questo primo incontro seguiranno altri contatti per approfondire i percorsi di partnership tra la Rome Business School e la London School of Business and Finance, nell'importante compito di trovare strategie per incentivare gli scambi di studenti tra Italia e Inghilterra, nell'ottica di una formazione internazionale che sappia cogliere e valorizzare il meglio di queste due grandi realtà.