Overview
Rome Business School's Master in Human Resources Management is designed to equip Human Resources professionals to respond to the needs and challenges of the market from the perspective of people management. Professionals who embrace change as the most effective way of generating competitive advantages, who can capitalize on new technologies, who have a solid grasp on the new generations of professionals joining the employment market and fully understand the importance of the work/life balance and ethical conduct and, above all, are committed to developing, attracting and retaining talent as the best way to ensure success in the new business ecosystem.
In addition, this master is available in online version, in order to offer quality learning wherever you want! We have more than 10 years in online learning education and we are member of Grupo Planeta, leader in providing programs in online mode, our "distance" courses offer all the contents of classroom learning, in order to use a complete and professionalizing experience.
Why choose a Master in Human Resources Management Full Time
International Bootcamp in Barcelona, New York or Rome
Rome Business School offers you the chance to hone your competencies and enrich your knowledge of entrepreneurship, innovation, and other key topics in the business world by taking part in our International Programs in Rome, Barcelona and New York, where you can also expand your professional network. This residential program comes at an additional cost.
Internships in Italy, USA or Dubai
Thanks to its worldwide network of partners, Rome Business School can provide you with access to a wide range of guaranteed internship opportunities in amazing destinations. Top 4 students of the intake will have the possibility to go to Dubai or the USA for an internship.
Soft skills are the 'secret key' of a well-managed workplace and progressive career path. Soft skills are personal attributes that can affect relationships, communication, and interaction with others and are crucial for business success and effective leadership, in this high-tech world in which we live. With the Soft Skills Program, we offer you the opportunity to develop the soft skills necessary for your personal and professional growth. The Self Growth Program is optional and is structured as follows: 10 hours in total for 5 interactive and self-reflective soft skills courses (Certificate will be provided upon completion of the program):
Emotional Intelligence
Public Speaking for Business
Time, Stress & Self-Management
Cross Cultural Communication
Conflict, Problem Solving & Negotiations
Rome Business School has solid partnerships in place with several globally renowned leading companies, such as Enel, Fendi, Bulgari, Eataly, IBM Italy, Land Rover and many more. To ensure our students can build a strong professional network, we constantly organize meetings, visits, events and guest lectures with representatives from elite business ecosystems, encouraging interaction between leading professionals and the students, and facilitating the learning process.
Our skilled and professional Career Services Team provides our attendants with a personalized Career Path specifically designed to shape his or her own professional profile in order to become a competitive figure in nowadays' job market. Workshops focusing on the hottest topic of job seeking and career networking, individual career counseling meetings, our exclusive event 'Rome Business School Talent Focus' and more invaluable benefits are at your disposal to ensure the best start or a great boost in your career!
The cradle of civilization and homeland of an invaluable cultural and artistic heritage, Rome is the ultimate location to live a higher education experience; take advantage of the many beautiful places and enriching initiatives offered by the roman landscape and learn in one of the most proficuous centers of made in Italy production.

Structure

Contents
Mind Opening & Knowledge Management Setting 
The first part of Rome Business School's Master in Human Resources Management provides you with comprehensive preparation for the HR sector and crucial aspects of other related fields, initially giving a wide overview of the broader management world.
Analyze all of the specific subjects and aspects of HR Strategy, Development, and Management.
Talent Development & Management
Strengthen your competences and enable you to take on responsibilities in the Human Resources Department of any company, while also developing your skills in every aspect of this field and providing you with a thorough knowledge of the best practices and techniques to effectively work Talent Development and Management.
Behavior and Change Management
Further insight into the analysis and exploration of trends and best practices of behavior and change and how they can be effectively applied to the HR Industry.
Capstone Project:  Human Resources Plan
A team project aimed to develop an HR plan designed to solves a business problem in the area of Human Resources, of an existing or fictitious company. All teams are guided from the very initial phase of the project.
Teamwork project with a scope to develop a Management Report that solves a business problem in the area of agribusiness management of an existing or fictitious companies in the Hr Industry. All teams are guided from the initial phase of the project
After the completion of the capstone project, students should be able to:
Think critically
Implement creative solutions and solve managerial problems
Apply and connect theory with practice
Communicate and present business reports/ideas more effectively
Carry out business research and business analysis
Demonstrate collaborative leadership skills
Work effectively in teams
Communicate cross culturally and make compromises for a common goal
Set goals and implement projects effectively
Faculty
Rome Business School's Master in International Human Resources Management are held by highly selected international university professors, trainers and business managers, drawn from a variety of operational and professional fields, from the managerial field to HR Development and innovation applied to this business. The teaching approach is aimed at the acquisition of know-how, in order to transfer truly useful competencies for the attendees' professional development.

NATASHA VALENTINE – Diploma in Human Resources Administration from Seneca College (Toronto, Canada) and certification from AIRS in CIR (Certified Internet Recruiter) and CSSR (Certified Social Sourcing Recruiter) in London, UK; more than 20 years of international experience from the legal to the IT field.
Career Services
With our help, you can create your career strategy via a journey of self-reflection, exploration, and achievement. This program is designed to help you find internships or positions in line with your ambitions and expectations.  In particular, the school offers the following services to the enrolled students:
Individual Career Counselling Meeting
Rome Business School's Official Career Portal
Professional Workshops
Mock-interview Day
Webinars For Entrepreneurs
Rome Business School's Talent Focus
Possibility to be selected for an internship program abroad: Usa Or Dubai
Rome Business School supports its students even beyond the academic environment, providing them with guidance and assistance in developing a strong professional profile that reflects the most sought competencies in the current job market.
Thanks to the commitment of our students and the continuous work of our assistance service, we have achieved important results in terms of employment and achievement of the aspirations of the individual participants in our courses.
In particular, according to the most recent statistics:
38% of our students have pursued an international career;
43% of our students have obtained a job position in large multinational companies;
37% of our students are currently successful managers;
72% of our students benefited from a salary increase at the end of the course of study (in the case of the Master Full Time, a growth in the pay packet of 16% was noted);
68% of our students have increased their job responsibilities at the end of the master;
92% of our students received new job offers upon completing their studies.
What can I do with a Master in Human Resources Management Full Time
At the end of the Master, 96% of the students obtained an internship in internationally renowned companies. Some of our professional partners: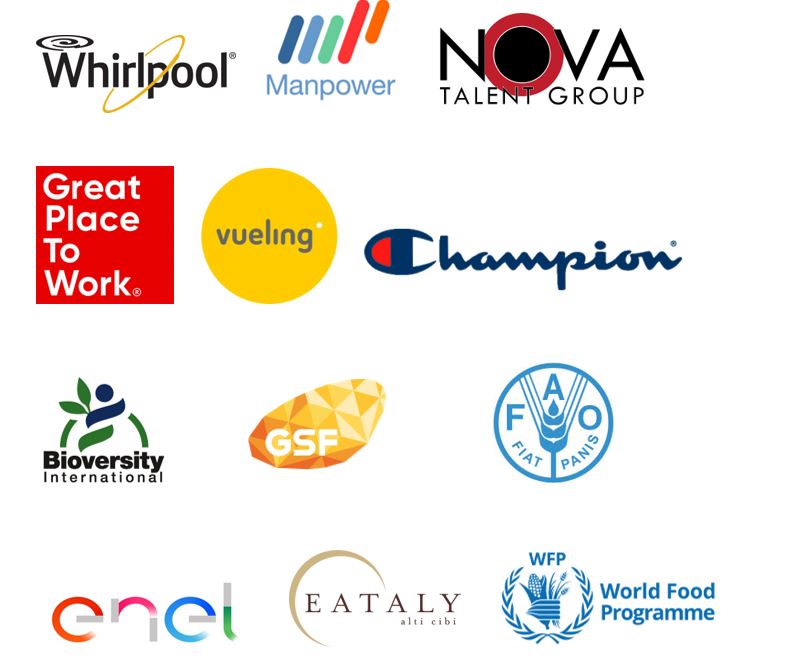 Bootcamp around the world
Hone your entrepreneurial skills and test them with the ultimate challenge: Rome Business School's exclusive Bootcamp in Barcelona, organized in partnership with EAE Business School, and in New York, in partnership with Pace University, two beautiful cities at the forefront of innovation and among the most productive start-up ecosystems. An advanced program designed to put you face to face with realistic business scenarios to solve and provide you with a practical way of learning and skills development. All with the professional support of a tutor from top-class working companies!
Admission process
Rome Business School works hard to maintain the highest standard of quality in the programs we offer. That's why, in order to ensure the eligibility of the candidates, all applicants must undergo and successfully pass a selection process structured as follows:

The admission process is aimed to verify the candidate's eligibility to attend the Master. The candidate's academic history, previous experiences in the topics covered in the Master and motivation will be matters of the evaluation. Once it's sent, the application will be evaluated by the Rome Business School's academic committee. In order to ensure the application's suitability, it is important to deliver all of the required documentation.
Degree
Students who successfully complete the programme will receive a double certification: Rome Business School's diploma and an official certification by Universidad Internacional de Valencia (VIU), which provides 60 internationally recognized credits (60 ECTS).
Scholarships and Tuition
The tuition fee for this Master is 12.000 Euros. It can be paid:
in 6 instalments without interests
in a single solution (this option grants the student a 10% discount on the overall amount of the tuition fee)
According to the individual profile, experience, and proved motivation, the candidate can be awarded a scholarship covering part of the overall tuition fee (up to 30%). Indeed, Rome Business School offers the opportunity to the most deserving candidates to benefit from 7 different types of scholarships. These partial economic coverages can consist of 6 months of interest-free financing.
The competition for scholarships increases as the start date approaches and funds are limited, so it is advisable to make the request as soon as possible.
Job Opportunity with a Master in Human Resources Management Full Time 
If you are looking for top-quality advanced training in a particular business area, countless opportunities for skills development and testing yourself, ways to expand your professional network and make contact with elite professionals working in several business fields, we have exactly the program for you. From there, it's all up to you! Your determination and willingness to learn and experience new ways of thinking are all you need to make the most of one of our programs and start making your way along the path towards success in your career.
CONTACT US