Under the patronage of:
Overview
The Rome Business School's Master in Agribusiness Management is the ideal academic course for professionals seeking a world-class degree programme in these disciplines, leading to a successful global career in the agro network field (production, seed and crop, harvest and stock in agriculture, market of commodities, food supply chain, food and wine business).
With the Rome Business School's international perspective, the programme offers a unique learning experience and a global professional exposure, enabling participants to study in one of the best cities of the world or online. The programme's quality teaching and networking services all contribute to make it the perfect fit for anyone who is looking to rise to the top in the world of farming, food production, or in the start-up agribusiness system.
Target Recipients
The Master in Agribusiness Management is a course of excellence aimed at a maximum of 20 participants and is designed for those who are already working in the sectors of agriculture, farming, start-ups, foodtech, or production, but intend to expand and update their knowledge, and for those who are seeking their first exposure in these topics.
Structure (duration – 1 year)
Six months of lectures
Six months dedicated to final project work
Visits at international companies and organizations
Integrative cultural programme
Seminars and events
Modes of attendance
This Master course can be attended in English, either on campus or by distance learning, in Part-Time formula (2 three hours lectures per week).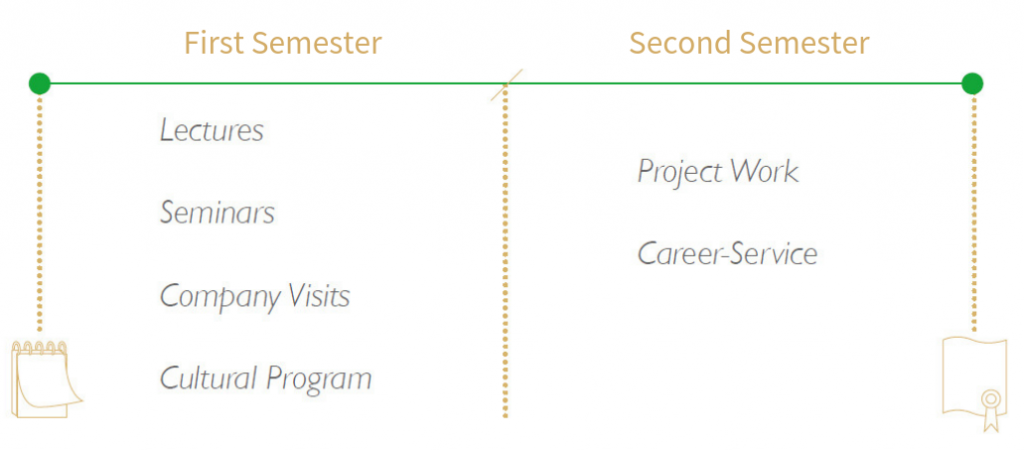 Contents
Introduction and Scenario
Agribusiness and the World Food Economy
Management
Agri-food Strategic Management
Principles of Marketing
Food and Agribusiness Marketing
Digital marketing for Agribusiness
Financial accounting for Agribusiness
Business planning for agribusiness
Project management
Human Resources Management in the Agri-Food System
Agri-Food Supply Chain Management
History
A history of European agriculture
The evolution of agronomic models. The recent history of global agriculture: enterprise and science.
The Start-up System
Innovative Start-ups and SMEs, Industry 4.0: opportunities for forward-looking enterprises.
Seeds&Chips: the Foodtech and Agtech innovation fair
Startupbootcamp: the Foodtech and Agtech start-up incubator and accelerator
Innovation
Technological innovation
Agro-pharmaceutical innovation and new techniques for sustainability
Multifunctionality in agriculture
Social farming, opportunities for a new business model
Internationalization and International Experiences
International cooperation
Common agricultural policy in Europe
Multilateral processes and global policy processes on agriculture
Career Services
Attending this Master's Degree course entitles to:
The inclusion of your CV in the Rome Business School's database and its distribution to businesses, organizations and head hunters belonging to the Rome Business School's international network;
A free CV review;
Support in the management of job interviews;
Networking meetings with international managers, professionals and business owners;
A personalized search and flagging service for the best job opportunities in Italy and abroad.
Learning Objectives
On completing the programme, participants will be able to:
Understand the characteristics and trends of the agri-food market and the role played by the farmers, industrialists, and their representatives in the organizations
Recognize the intersection of agribusiness with other areas of economic and social concern, such as economic development and new ways of production and business diversification (organic farming, biofuel, biogas, circular economy, etc…)
Identify and manage the characteristics of the main food businesses and develop effective managerial strategies
Develop a comprehensive business plan for agri-food corporations
Utilize the most advanced marketing techniques to promote businesses and organizations
Manage the financial dimensions related to agricultural activities
Understand and utilize project management techniques for agricultural businesses
Manage the agri-food supply chain
Learn about the start-up ecosystem related to agribusiness
Master the use of new technologies within farmer or industrialist organizations and the most advanced production tools and channels
Learn about the international organizations operating in the agribusiness sector and the international policies and support linked to this economic sector
Meet farmers or food producers that changed their companies by taking new and radical approaches.
Benefits
World Class Teachers
The Master's Degree course faculty is made up of highly selected international university professors, trainers and business managers, drawn from a variety of operational and professional fields and thus able to bring to the table a rich array of up-to-date experiences and competencies. The teaching approach is aimed at the acquisition of know-how, thus at transferring competencies truly useful for the attendees' professional development.
Accreditation
Rome Business School's Master in Agribusiness Management is accredited by VIU – Universidad Internacional de Valencia. At the completion of the course you will therefore be awarded with a double certification: a diploma from Rome Business School and one from VIU, with 60 internationally recognized university credits (60 ECTS).
Tutoring
For both the on-campus and the distance-learning courses, attendees can always count on the assistance of a tutor for any clarifications they may require, for the completion of the tests and exercises required by each module and for the final project
Learning Materials
Students registered for the Master's Degree course will be issued with a wealth of learning materials, including slides, textbooks, case studies, articles, videos, and useful internet links.
Registering In The Rome Business School's Alumni Association
Attendance in the Master's Degree course entitles to become part of the Rome Business School's Alumni Association, the international network through which students of the Rome Business School can share ideas, experiences, and projects. Many facilitations are also available for attending further training courses.
Internationality
The Rome Business School prizes intercultural exchange as a source of personal and professional development. Students from 5 continents regularly attend its courses.