Overview
Under the patronage of

Rome Business School's  Master in Agribusiness Management grants a top-level managerial training which combines economic, strategic and planning techniques and deep knowledge of the market with the mechanisms and dynamics of the agricultural business. The training provided by this programme is designed to develop professional figures able to start a successful career in this sector and/or effectively lead an agricultural company in the complex and competitive reality of nowadays' international market.
Why studying in Rome
The ultimate education experience in the eternal city
The cradle of civilization and homeland of an invaluable cultural and artistic heritage, Rome is the ultimate location to live a higher education experience; take advantage of the many beautiful places and enriching initiatives offered by the roman landscape and learn in one of the most proficuous centers of made in Italy production.
An always growing business ecosystem
With more than 650.000 companies registered in the region and more than 1.000 new startups in the city territory, a growing rate of entreprises of 1,81% in just last year, the italian capital is the second city for number of new business on a national level.
There's no business you can't find
From fashion to food & beverage, from arts to tourism, Rome is the birthplace of multiple renowned enterprises and activities of made in Italy products and services, all of them operating in the business sectors tackled in the school's programmes: an aspect that allows the students to experience first hand the reality they're aiming to access to.
Study in Rome, experience everywhere
Through the company visits and study tours organized by Rome Business School, you'll have the chance to get in contact with worldwide-known institutions and renowned companies, become familiar with different professional environments and expand your network. Our school also offers the opportunity to take part in internships, in Italy and abroad, at prestigious and successful companies.

Structure
⇒ 6 months of lectures
⇒ 6 months dedicated to the Capstone project work
⇒ Visits at international companies and organizations
⇒ Integrative cultural programme
⇒ Seminars and events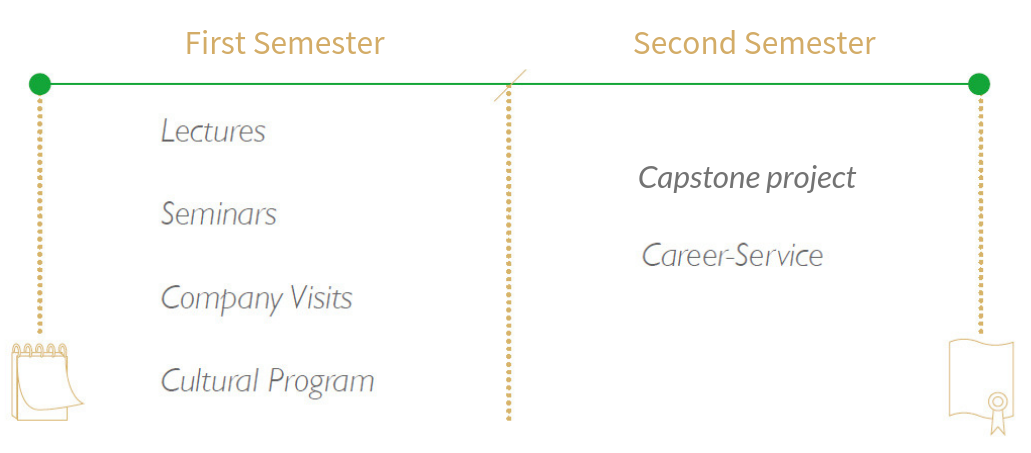 Benefits
Didactic Benefits
Italian Language Course – Beginner level (A1 & A2) – only for those studying on campus
Company visits -FAO, WFP, Confagricoltura, Bioversity, IFAD, Casale del Giglio, Caprai Winery
Cultural Program –Walking Tours in Rome
Recording links of all lectures available on line on an electronic platform, for 6 months
International Study tour: Bootcamp for Innovative Leaders in Barcelona in July 2020 (optional not included in the fee)
Research Methods for Business
Career Benefits
Entrepreneurial Thinking and Action Workshop
• Learn how to build a professional network
• How to pitch anything yourself, your ideas and your project
• Crowdfunding and International Funds for financing your Agribusiness projects
Career Services on line platform
• Access to the school's job platform and to all professional opportunities
• CV circulation in Rome Business School's Network
Logistic Benefits
Accommodation support – Accommodation Provider
International Student ID card – ISIC
Contents
Programme of the Master in Agribusiness Management
Managerial Competencies
Agri-food Strategic Management
Principles of Marketing
Agribusiness and the World Food Economy
Food and Agribusiness Marketing
Digital marketing for Agribusiness
Basic Accounting
Business planning for Agribusiness
Project management
Human Resources Management in the Agri-Food System
Agri-Food Supply Chain Management
Job Health and Safety
Financial Management Principles
The Start–Up & Associative environment in Agribusiness
Innovative Start-ups and SMEs, Industry 4.0: opportunities for forward looking enterprises
Federalimentare
Startup bootcamp: the Foodtech and Agtech start-up incubator and accelerator
Innovation & History
A history of European agriculture
Technological innovation
Social farming, opportunities for a new business model
Economics and History of Market place
UN Sustainability Development Goals
Multifunctionality in agriculture
Agro-pharmaceutical innovation and new techniques for sustainability
Internationalization and International Experiences
Common agricultural policy
International cooperation
Multilateral Processes and Global Policy processes on agriculture
European Research Programs for Agriculture
Rethink food to reshape the world
Circular Bioeconomy
Faculty
The courses for Rome Business School's Master in Agribusiness Management are held by highly selected international university professors, trainers and business managers, drawn from a variety of operational and professional fields, from the research and innovation in the agricultural and food industries to large-scale distribution companies; the teaching approach is aimed at the acquisition of know-how, in order to transfer truly useful competencies for the attendees' professional development.
Some of our teachers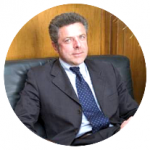 Daniele Rossi
Graduated  cum laude in Statistics And Economics at the Rome's University "La Sapienza" and  PhD in UCLA in Los Angeles; he's the Delegate for Research & Innovation in the Confederation of Farmers (Confagricoltura), Secretary General  of AgroNetwork, Chairman of the Research & Innovation Working Party RES in Copa – Cogeca (Bruxelles); he was Director General of Federalimentare (Italian Federation of Food & Drink Industry – Confindustria).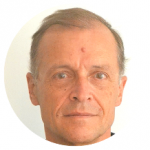 Stefano Bisoffi
Scientific and Technical Director of CREA (Council for Agricultural Research and Economics, Public Research Organisation in Italy) 2004–2007, 2013-2017; President, Permanent Executive Committee, International Poplar Commission, Statutory Body of FAO (2000-2012).
Master's Supervisor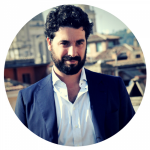 Raffaele Maiorano
A journalist specialised in communication and media; he presides over the Giovani di Confagricoltura-Anga (the Italian Young Farmers Association) and is vicepresident of the Global Forum on Agricultural Research (GFAR); teacher at Gambero Rosso
Career Services
Rome Business School supports its students even beyond the academic environment, providing them with guidance and assistance in developing a strong professional profile which reflects the most sought competencies in the current job market. In particular, the school offers the following services to the enrolled students:
Support in the management of job interviews
Free review and inclusion of the student's CV in the Rome Business School's database, and its distribution to businesses, organizations and head hunters belonging to the school's international network;
Networking meetings with international managers, professionals and business owners
A personalized search and flagging service for the best job opportunities in Italy and abroad
EAE Business School Barcelona Bootcamp
Rome Business School's Master in Agribusiness Management offers you the opportunity to take part in the exclusive EAE Business School Barcelona Bootcamp, an intensive programme of the duration of 1 week in the wonderful Spanish city of Barcelona, in cooperation with the prestigious EAE Business School. Get the chance to learn all of the secrets of entrepreneurship, techniques of Design Thinking and the Lean StartUp methodology!
Admission process and graduation
The admission process is aimed to verify the candidate's eligibility to attend the Master. The candidate's academic history, previous experiences in the topics covered in the Master and motivation will be matters of the evaluation.
Once it's sent, the application will be evaluated by Rome Business School's academic committee. In order to ensure the application's suitability, it is important to deliver all of the required documentation.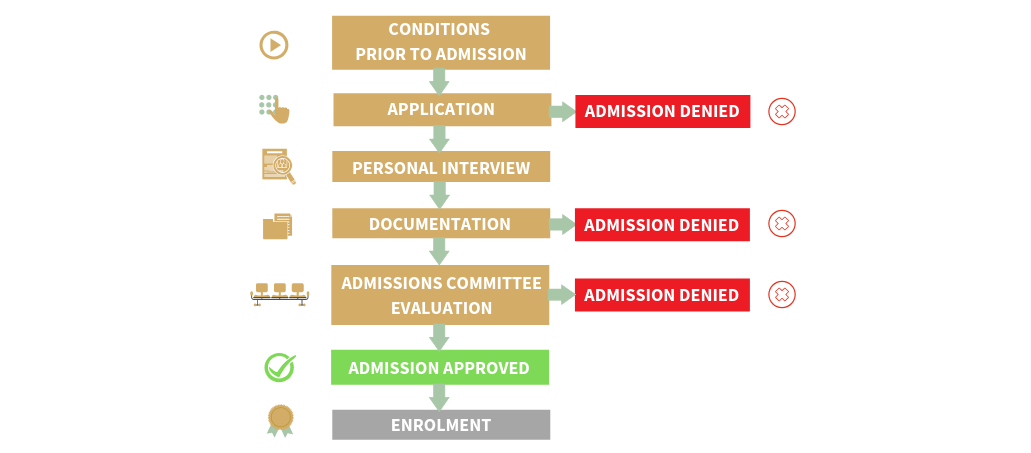 Students who successfully complete the programme will receive a double certification: Rome Business School's diploma and an official certification by Universidad Internacional de Valencia (VIU), which provides 60 internationally recognized credits (60 ECTS).
Scholarships and Tuition
Scholarships
According to the individual profile, experience, and proved motivation, the candidate can be awarded a scholarship covering part of the overall tuition fee (up to 20%). The eligibility for a possible scholarship will be decided by Rome Business School's academic committee during the evaluation of the candidate's application.
Scholarships are available for all of the didactic formulas.
Tuition fee
The tuition fee is 5.500 Euros and can be paid:
in installments
in a single solution (this option grants the student a 10% discount on the overall amount of the tuition fee)